IIT KANPUR
Breaks into top 50 best Asian Universities
The Institute has been ranked 48th in the prestigious QS University Rankings Asia 2016. It is hailed as a major progress over the last year's rankings where it stood at 58th position.
Wins a top slot in the Energy category at 'Make in India' Hackathon 2016
An unconventional wind turbine designed by Ashwin Gandhi (shown with the prototype in the picture) and Saurabh Anand won the top slot in the energy category at 'Make in India' Hackathon held at IIT Bombay. The aesthetically designed lightweight wind turbine model for residential buildings can generate one unit of power at a wind speed of 8 km/h. The duo is planning to present the model as a start-up idea.
In the exhibition, the Institute also displayed the other technological innovations recently developed by its students and scholars.
Bolsters its efforts towards building a centre of excellence in cyber security
The Institute has recently established a new Centre for Cyber Security engaged in developing cutting-edge cyber security technologies, methodologies and frameworks to keep the country's cyber space secured. Towards this direction, it has signed MoUs with Bombay Stock Exchange (BSE) and Blavatnik Interdisciplinary Cyber Research Center (ICRC) at Tel Aviv University. While the former collaboration is aimed at developing ground-breaking tools and methods to secure financials markets, the latter will facilitate bilateral scientific relationships, cooperative research and teaching projects in select areas including smart agriculture, smart city, sewage and water treatment, machine learning, signal processing, big data analytics, utilities, transportation, and privacy-preserving cryptography.
Builds an Innovative Robotics Learning Device
Keeping true to its innovative and entrepreneurial spirit, the Institute has rolled out yet another technical marvel. Built and conceptualized by Agilo Technologies, a company founded in 2015 by students and robotic enthusiasts at the Institute, evive is an open-source embedded platform useful across spectrums including students, hobbyists, educators and researchers to help them learn, build, debug their robots and other projects.
evive is powered by an Arduino Mega 2560 R3 that allows users to re‐program it for their specific needs. It is available on the largest global crowdfunding platform Indiegogo. The evive team has also partnered with Robotrix India, an organization that is working towards promoting robotics education in schools in India.
Inaugurates a Bio-Incubator at SIIC
On 4th March 2016, the Bio-Incubator at the SIDBI Innovation and Incubation Centre (SIIC) was inaugurated by Dr. Renu Swarup, Managing Director, BIRAC in the presence of Professor Indranil Manna, Director, IIT Kanpur.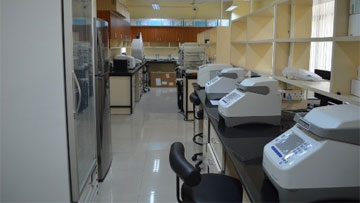 The Incubator is established by BIRAC under the Bio-Incubator Support Scheme (BISS). It is a huge fillip to budding entrepreneurs working in the areas of Biologics, biopharmaceuticals, biomedical instrumentation & nano biotechnology.
So far, it has successfully incubated 10 biotech companies with 2 more in the pipeline.
Celebrates the first ever Technology Day on 11th May 2016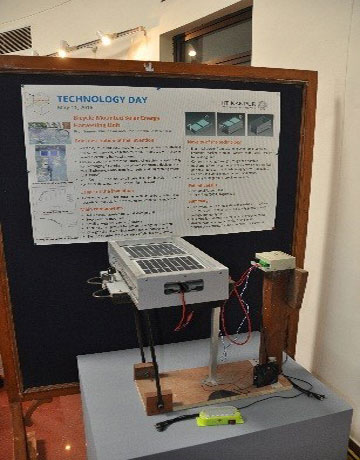 The Institute celebrated its first ever Technology Day on 11th May 2016 with Dr. R.K. Sinha, Homi Bhabha Chair Professor (former Chairman, Atomic Energy Commission and Secretary, DAE, and former Director of BARC, Mumbai) as the Chief Guest. On this occasion, two invited lectures were delivered by Mr. Vishnu Agarwal, CMD, Technical Associates Limited, and Mr. Rajiv Kumar, CEO, HAL Accessories.
Hosts the world's largest student cyber security games
The world's largest student-run cyber security event founded 13 years ago by the New York University Tandon School of Engineering came to the campus premises. The Institute, along with NYU Abu Dhabi and NYU Tandon, played host to the final rounds of the event where the best of the best students from India, the Middle East, North Africa and the United States competed simultaneously to prove their mettle. The event was held from 10 to 12 November 2016.
ALUMNI GIFTS
13.5%
Funding received so far
14%
Funding received for Academic Initiatives
12%
Funding received for Student Initiatives
15%
Funding received for Infrastructure Initiatives
A Gift of Education to those who are denied
AN ALUMNI GIFT
IIT Kanpur is known for being one of the most premier institutes of higher education in India. However, a certain section of society which is an integral part of the campus community fails to draw benefits of education from the institute. The Opportunity school, as the name implies, is a platform that offers underprivileged kids living in and around the campus a chance to learn, grow and evolve into responsible citizens of the society. Since last 49 years, the school has transformed lives of hundreds of bright children many of whom have succeeded in creating a niche for themselves.
The foundations of the school were laid down in 1967 when a few large-hearted people joined hands to address the concern. The initial years were fraught with difficulties as the adequate infrastructure was not available and funds were to meagre to run the daily expenses of the school. In those difficult times, numerous alumni came forward and contributed generously. A few of the faculty too raised funds for the school. Another person who is worthy of admiration and applause is Mr. R.S. Srivastava who joined the school in July 1967 as a teacher and went on to play a pivotal role in running the school. He donned several hats including that of a teacher, guardian, fund raiser and eventually a principal. The services rendered by Mr. Srivastava will ever reflect as a hallmark on the school's history.
Today, the school runs classes till 8th and is affiliated to the UP Board of Education. The number of students has increased from 4 to 6 in the formative years to 340. Emphasizing on the overall development and holistic growth of a student, the school management has adopted several new teaching methodologies. Students are taken on frequent trips to nearby areas where classes are held outdoors. They are encouraged to participate in competitions like reading, poetry recitation, Sanskrit quiz etc., acquire computer skills, use an interactive science lab, and learn book craft and home science. Under Prof. H.C. Verma's Chairmanship, the school team has recently started a program that focuses on identifying individual talent and providing opportunities to hone these skills further by inviting specialized teachers for dance, art, jewelry making, quilling, mehndi designs, etc.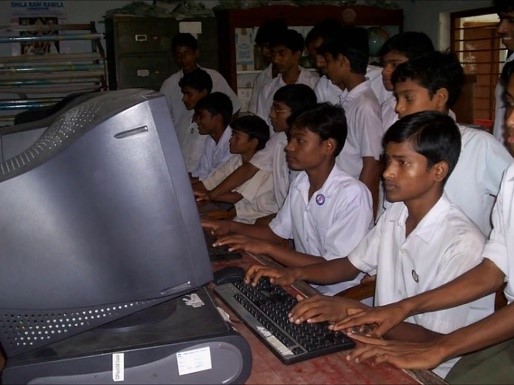 Through the untiring efforts and dedication of several people, the school has reached its present status. Its reputation has grown so high that an intense pressure is felt at the time of admissions every year. Parents from the neighboring areas are keen to send their wards to the school. In future, the school aims to upgrade till Class 10 and accommodate more girls who usually give up education as their parents are not willing to send them to expensive schools outside the campus.

The Opportunity school community expresses its deepest gratitude to all the friends and well-wishers who continue to support us in our endeavors.

Special thanks to: Pioneer batch 1965 for creating an Endowment Fund; 1966 Batch; 1967 Batch for Science Lab creation; 1972 batch for Books and Stationary; 1988 Batch; Dr. Singh for new school building and upgradation of the school till class 10; IIT Kanpur for providing a helping hand and financial aid without which the school would not have reached its present status; Kendriya Vidyalaya, Campus School and Kislaya school for helping with the study material and teaching resources; and all other alumni, non-alumni and Institute's employees for generously contributing to sustain us.

(Photo credits: The Opportunity School)
GIFTS RECEIVED RECENTLY
The Opportunity school has received a substantial amount of funding for construction of its new building and upgradation of the classes till 10th.
A new 'Smt. Saroja Krishnan Scholarship' has been instituted for needy and meritorious girl students. It is meant to promote higher education amongst girl students. The selected student will be personally mentored by the benefactor.
The campus community has received a valuable gift in the form of a new shopping area called the 'Aashiyana Shopping Complex'. With the increasing campus population, the complex was much needed.
The Park 67, which continues to be an iconic landmark of the institute, will soon undergo a renovation with the help of money received from well-wishers.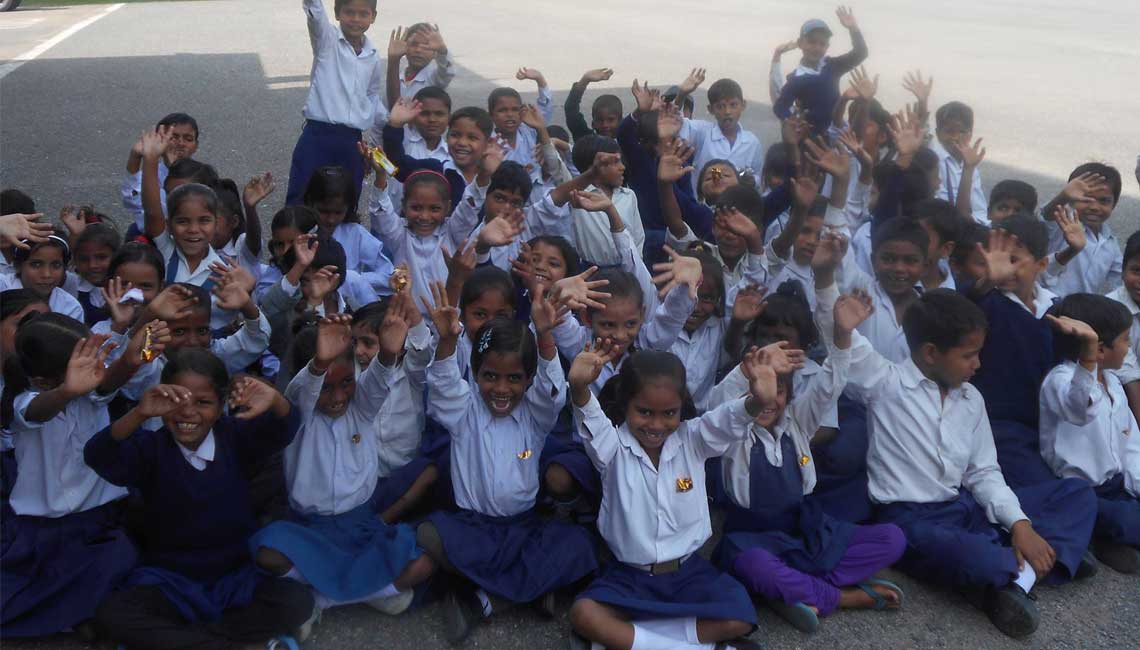 DISTINGUISHED TEACHER'S AWARD 2016
Prof. Jitendra Kumar is a part of the Materials Science Program. He is fascinated with nano electronic and magento recording, hydrogen energy storage materials and electron microscopy. Having taught courses like Characterization of Materials and Structural and Magnetic Properties of Materials, he has left a profound impact on several students.
Prof. Prakash M. Dixit of the Department of Mechanical Engineering completed his B.Tech. in Aeronautical Engineering from IIT Kharagpur in 1974 and his Ph.D. from the University of Minnesota, Minneapolis, in 1979. His interests are focused on metal forming, large deformation elasto-plastic impact/contact problems, ductile fracture and finite element method.