Ranjit Singh Rozi Shiksha Kendra
Set up through the generous donations from Late Dr. Ranjit Singh and his wife, Ms. Martha Carreno, Ranjit Singh Rozi Shiksha Kendra (RSK) building was inaugurated on 18 November 2021. The inauguration of the building was done by Ms. Martha Carreno, who shared her vision of the RSK Centre. Director, IIT Kanpur; Prof. Abhay Karandikar, IITK Deputy Director; Prof. S. Ganesh, and committee members overseeing the Center were also present during the inaugural ceremony.
---
Mobilization Campaigns
Mobilization campaigns were held in villages to generate visibility of RSK Center and its activities. During the campaigns, RSK team visited selected villages for at least two consecutive days, during which announcements about events and activities were made, pamphlets were distributed and door-to-door visits were made. Meetings were held at village schools separately with farmer groups, women groups and youth. Through these campaigns a large number of villagers were reached out, and connected to the elected members of the village panchayats, government functionaries and other grassroot organizations active in the region.

From time to time, support of government officials is sought to converge efforts with the ongoing public programs. During the months of August and September 2021, the team joined hands with the health officials in raising awareness about Covid-19 vaccination. Earlier, the drive of formation of Self-Help Groups (SHGs) under the National Livelihood Mission was conducted and encouraged RSK trainees to associate with the programe.
Mobilization of villagers by RSK team at Baikunthpur, Mohammadpur, Hridaypur, and Lothar villages
---
Workshop on Stuffed Toy Making
In partnership of DrigShram Swayam Sevi Sanstha, an organization for the uplift of people with disabilities, a workshop was held on stuffed toy making. In this one-week workshop held during 3-9 March 2022, trainees learnt how to make a variety of stuffed toys. Their products were packaged and sold in a shop on IIT Kanpur campus and received good reviews. The workshop was followed by a survey of nearby areas of IIT Kanpur campus to identify young people (18 to 35 year old) who have disabilities, to understand their training needs.
RSK undertook the task of skilling young people in tailoring to get them employment and training to set up social enterprises. Training partner, Pratham Education Foundation, offered courses certified by NSDC, Govt. of India. Three batches completed the course, in which 50 trainees were given training of Sewing Machine Operator. Three Self-Help Groups of women were formed in the villages and were registered under National Rural Livelihood Mission. With credit linkages, now they are already setting stalls in exhibitions and ready to take orders from the market.
Training of stuffed toys at the RSK Center
---
Skill Training Programme
The RSK Centre is working towards creation of a cadre of skilled manpower and generating work opportunities. In line with the Sustainable Development Goal 8, the aim is to ensure sustainable economic growth with highly skilled manpower and productive work for all.
Training session of sewing machine operator course
---
RSK Centre entered into a partnership with Pratham Education Foundation to offer Sewing Machine Operator course for rural youth. Funding support has been sought from National Bank of Agriculture and Rural Development (NABARD) to train 300 youth in two years. This 35-day two level course is a certified course by National Skill Development Corporation, Government of India, with focus on employment in industries. Trainees are given theory and practical lessons, along with soft skills and motivational talks.
Trainer giving demonstration of pattern cutting
---
The course started on 07 September 2021 with the help of two trainers. During the period September 2021 till March 2022, 156 young boys and girls took training at the RSK Center in 6 batches, and 137 completed both levels successfully. Fifty-nine percent of got employment with prominent garment factories in Kanpur (Mahavir Spin Fabs, Rahman Exports and Global Exports).

For young girls and women, it has been a challenge to cross the social barrier to move out of their homes for training and work. In the first batch, RSK conducted the first level of training at the Ishwariganj village school so that women could join the course. For the second level course that included practical classes, conveyance was organized to bring women to the Center everyday. After completing the training, many started working in industries, and three set up their own shops. The success stories of these young women encouraged others from nearby areas to register for training programs. Currently, people come to the Center from more than 40 villages far and wide.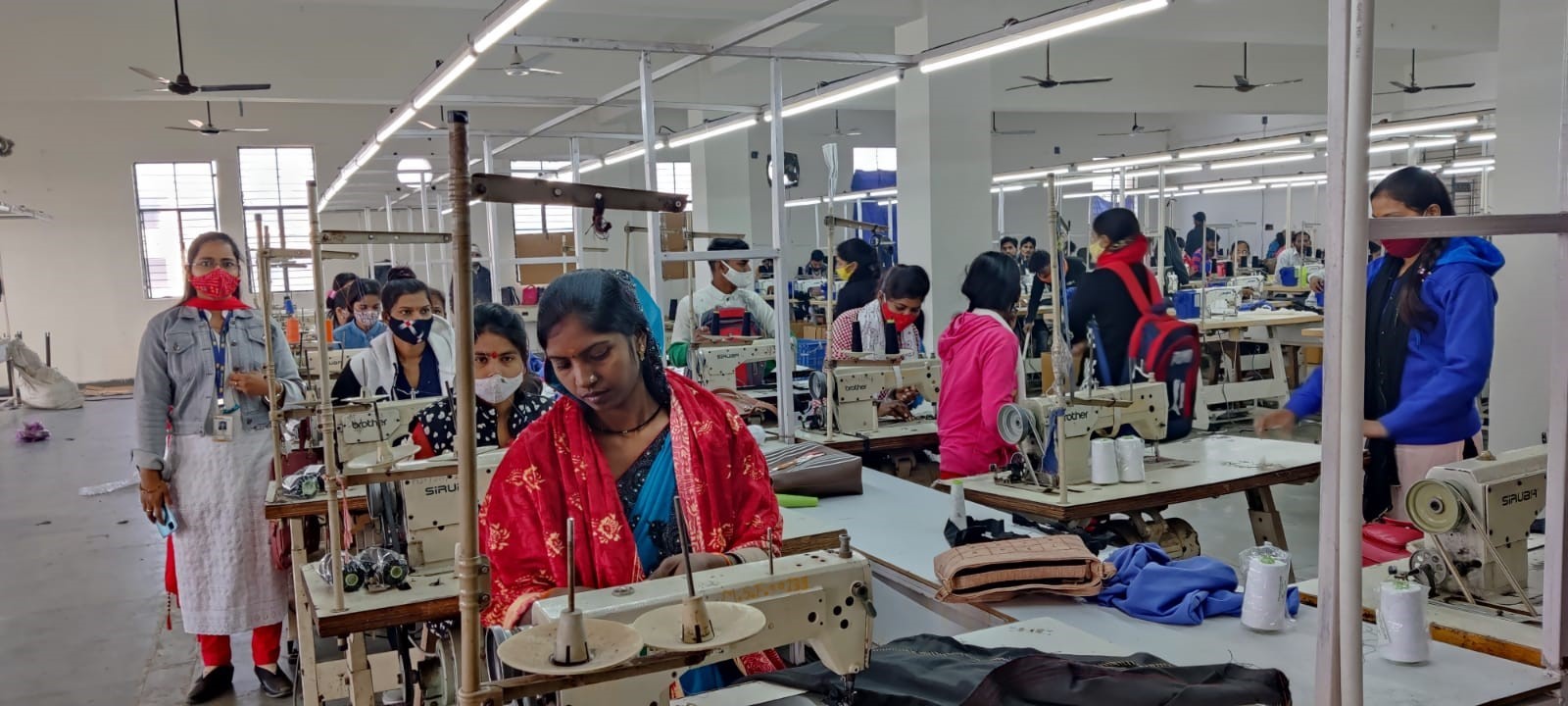 Trainees at work in a garment factory at Unnao
---
Microenterprise Development
Trainees who have completed the Sewing Machine Operator course, and have gained sufficient training in industries, are encouraged to start their own micro enterprises. They are encouraged to pick orders from the market, seek credit linkages and work as SHGs. These groups are also provided linkages with the government schemes for assistance. Women are now venturing out to participate in exhibitions and are ready beginning to take orders from the market.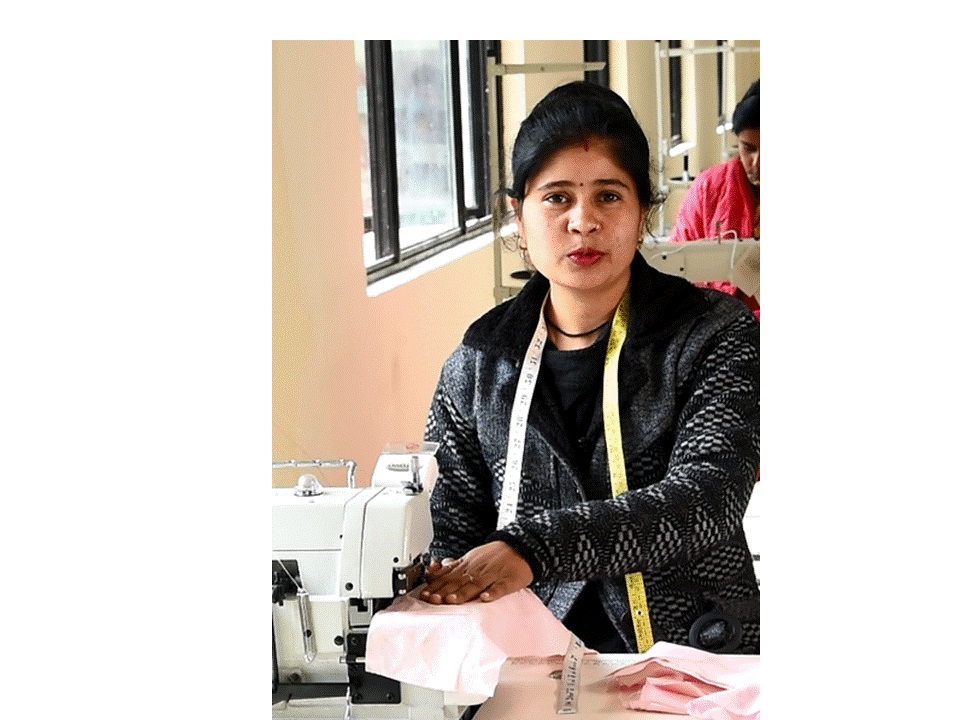 Roshni is a postgraduate, and lives in a joint family. Her husband rented a shop four years back and began selling readymade garments. The sale hovered around Rs 10000-15000 per month which was not sufficient to meet the family expenses. When Roshni learned about the sewing course at RSK Centre, she enrolled and picked up the skill from basics. Only after that she realized she has a knack for sewing, and has a creative mind. She decided to sit in her husband's shop, purchased a sewing machine and began taking tailoring orders. Soon, her work picked up. Encouraged by RSK team, she formed a Self-Help Group and began taking job orders from the market, and got other girls from the village who came to RSK for training, to sew for her. She is also exploring the market of mending of old clothes. She makes masks, dresses for readymade markets, and sells in the whole sale market. In six months, the revenue of the shop soared 5 to 6 times. Roshni is quite upbeat and now exploring the possibility of taking a loan and expanding her business further.
---
Mobilization of Potters
Pottery is an ancient artform that is still being practiced by thousands of potters in the villages of Kanpur and around. Typically, the whole family of a potter comes together to make pottery items- preparation of clay, wedging, throwing on wheel, trimming and cleaning up, drying, firing, coloring and packaging. The sector offers huge employment potential to people in villages and plays a vital role in the economy building. Unfortunately, a large number of village potters are not able to meet their two ends though they have excellent pottery making skills. They are compelled to work as laborers at construction sites. The growth of village pottery is stifled due to lack of new designs and technology.
---
Beneficiary potters at Pachaur, Baikunthpur and Luv Kush villages respectively who received training and government certification
RSK plans to work for the revitalization of this traditional handicraft that will offer work opportunities to many. It is observed that they are typically make utility items like diya, kullhad, matki and during festival times they switch to clay toys and idol making. Though the artisans have high skill level, and pottery industry is witnessing high growth rate, local potters are unable to reach out to the market with products that appeal to consumers. Some of the activities conducted are -

a) A preliminary survey was carried out to identify potters in Kalyanpur block. There are government schemes that artisans are unable to avail due to lack of awareness. RSK worked with around 72 potters households and got them registered in the Vishwakarma Scheme of Government of Uttar Pradesh. Out of these so far 44 have received training and got electric potters wheel and tools through the government scheme.

b) RSK brought the potters together and requested local administration to allot them a lease of ponds from where they could dig out clay. The problem of clay has been resolved now.
---
Online Rural Education Initiative
This year online rural education initiative has been launched with the aim of not only offer education to the students from unprivileged rural India but also provide them 'quality education'. Under this initiative, teaching is done in hybrid mode wherein teachers and students meet offline, as well as online. A pilot is being conducted at a rural government aided school 'Ram Janki Inter College, Bithoor' to teach Class IX children online. Teaching is done in the after school hours, by student volunteers of IIT Kanpur, and resource persons.

For the online classes a smart classroom is set up in the school with the facility of WiFi projector and other necessary equipment for live online classes. A Class Coordinator is placed at the classroom to manage the children.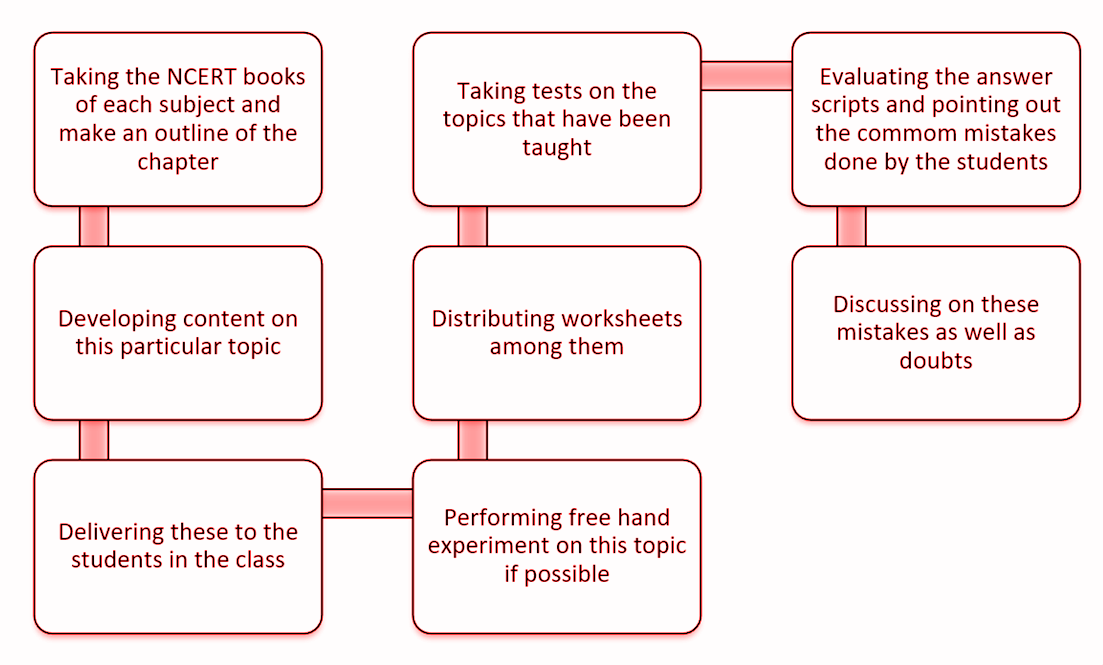 ---
RSK student volunteer showing Chemistry experiment to students at Ram Janki Inter College, Bithoor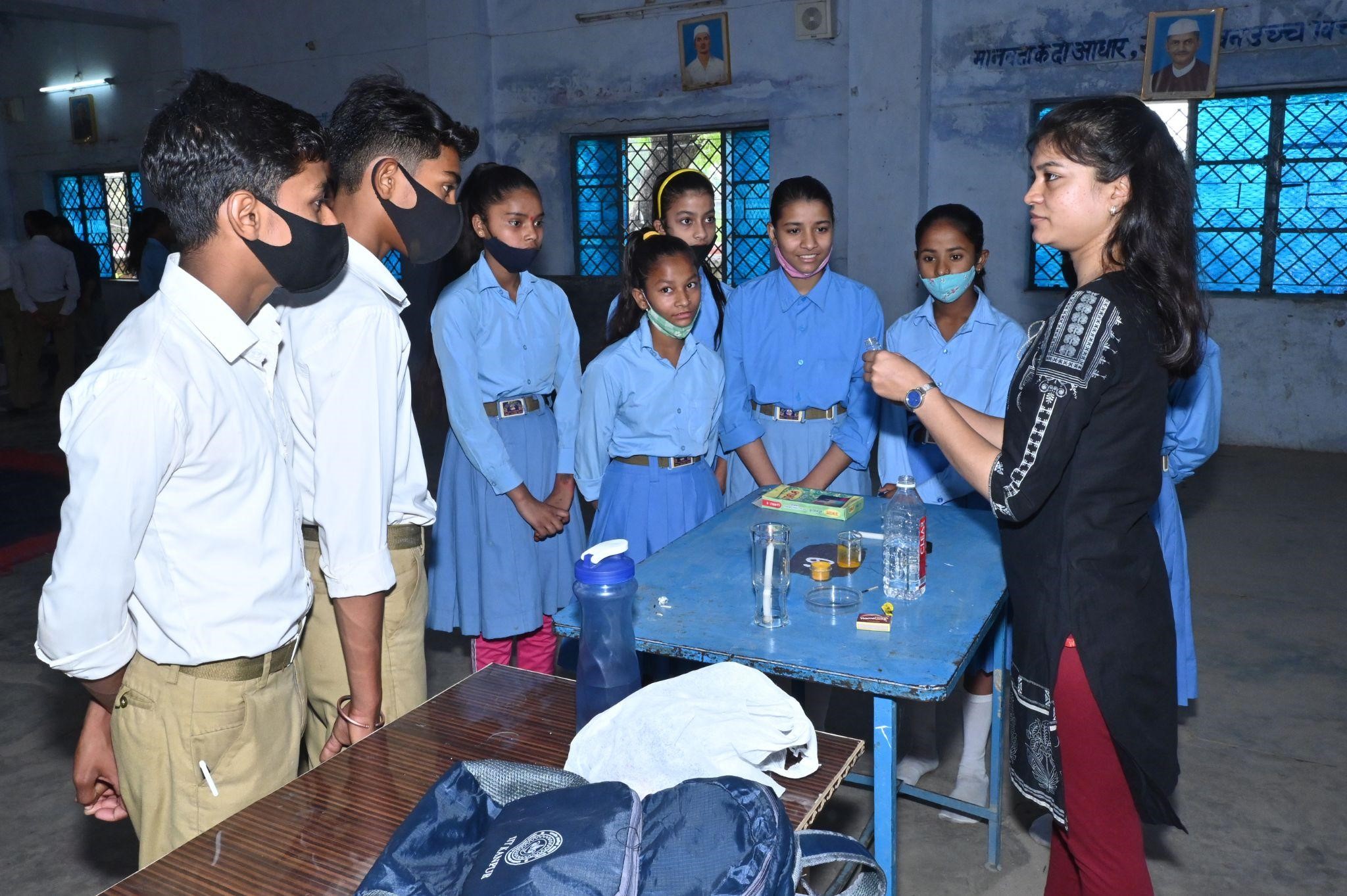 ---
Resource person taking Physics class in a hybrid mode at RSK Center