A Spark Interview with Mr. Narayana Murthy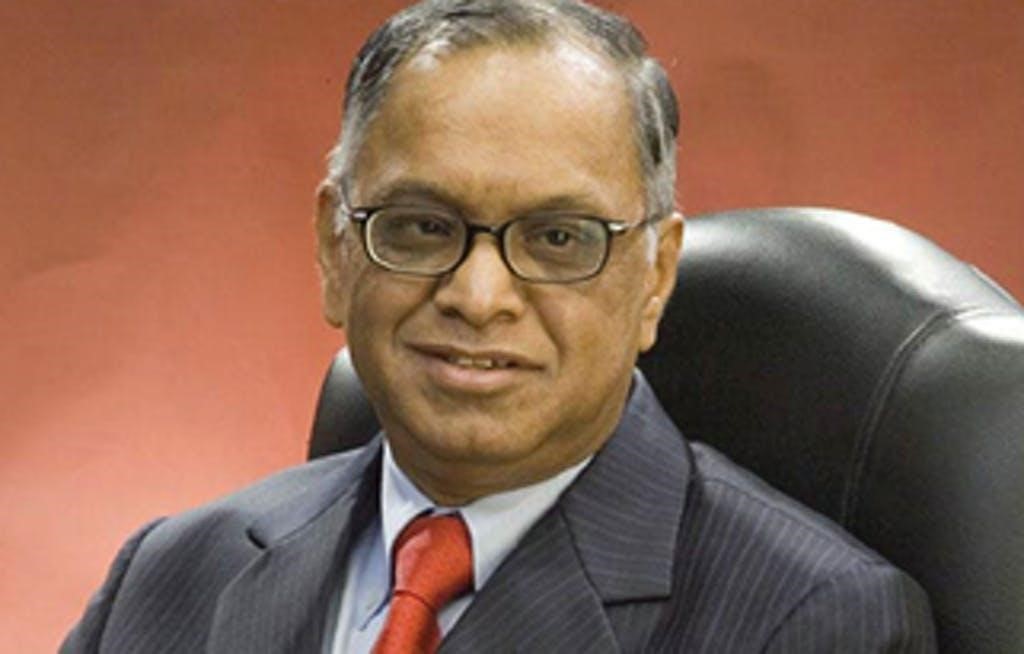 In August 2021, the Spark interviewed Mr. Narayana Murthy, the founder of Infosys Limited, on his formative years at the Indian Institute of Technology – Kanpur (IITK). The transcript of this conversation follows. The Spark team was represented by alumni Shirish Joshi and Aseem Shukla, DORA Jayant Singh, and Content Writer Gauri Sharma from the DORA Office.
Spark: Good evening Mr. Murthy. Thank you for your time in talking to us today. Our conversation will focus on IITK, your arrival to the campus, your experiences there, and your career upon graduation. Your story is an inspiration for the students and alumni of IITK, who look up to you and see themselves achieving their own version of success as you did. With this in mind we have some questions on the topics we would like to discuss.
Coming to IITK
Spark: You come from a traditional middle-class family. Tell us about your memories of your childhood in Mysore.
NM: Well, let me first thank every one of you on this call for this opportunity to interact with you.
I came from a lower middle-class family. My father was, for most of his career, a high school teacher who taught English, Physics and Mathematics. We were eight children - three brothers and five sisters. My grandmother lived with us. Therefore, when I say that eleven people depended on the salary of a high school teacher, my economic background becomes very clear!
While we were poor, we were rich in culture and values. There was considerable focus on aspirations, achievement, studies, and good behavior. My father believed that performance was the only escape velocity we had from the orbit of poverty we were trapped in.
I did reasonably well in my studies. I obtained the fourth rank in the state in my SSLC examination in 1961. I got the third rank in the state in my PUC examination in 1962. There were only two universities in the state at that time.
I could not go to IIT for my undergraduate education. My father would have had to foot the bill or take a loan for the tuition fees and hostel expenses. He just could not afford to do that with eight children. I did get the national scholarship. But, those days, the scholarship money would be disbursed at the end of the year which would have been too late. My father felt that it did not matter where I studied. The goal, for him, was for his children to do well in whatever they did. I decided to continue my engineering studies in Mysore while staying at home.
51
---
Spark: Can you recall any events that moved you to Engineering and possibly not Medicine (the other career of choice in those days)? And why did you want to do an M Tech?
NM: Those days, job opportunities were very few. Almost all reasonably competent students studied either Engineering or Medicine. I decided to pursue Engineering because I was not very comfortable with Medicine. I was uncomfortable with blood, cutting animals and all that. So, I joined the National Institute of Engineering (NIE) in Mysore. NIE had been founded in 1946 and was already a sixteen-year-old excellent institution with good teachers in 1962. Every year, I used to be one of the top two or three students in the university while at NIE. I chose Electrical Engineering because, those days, the toppers pursued Electrical Engineering (EE).
I was heavily influenced by a professor of mine at NIE. He taught me the basics of Control Systems which are based on Mathematics. I decided to apply to the Indian Institute of Science in Bangalore (IISc) for my graduate studies. Those days, Tata Institute (as IISc was known during that time) was 'the' place. Engineering students in Karnataka did not think there was any Indian higher educational institution for science and engineering better than that.
I joined the Tata Institute in July 1967. But I was not very comfortable with the choice of courses at IISc those days. (By 1972, when my wife joined IISc for her graduate studies in EE, the curriculum had changed significantly. It had become like the course requirements at IIT Kanpur.) But, in 1967, it was still old fashioned. After a month or so, I went to the head of the department and sought his permission to leave the programme since I had a different expectation of graduate studies.
I did not consult my parents. I just packed my bags and went home to Mysore from Bangalore. They were shocked.
Spark: Why IITK? And, why so far from Mysore? It would have been a long haul to go from Mysore to Kanpur. Train to Madras, another train to Jhansi, yet another train to Kanpur, and then a tempo to campus!
NM: When my father asked me what I would do, I told him that I had heard about an institute called IIT Kanpur (IITK) which was supported by nine top quality American universities. I told him that there would be lots of freedom for students to select whatever courses they wanted, apart from a small number of compulsory courses. I also told him that there would be the opportunity to learn from professors from top quality American Universities. I finally told him that I would look for a job in the Electricity Board in Karnataka if I failed to get into IITK. I was fortunate to be selected in the December 1967 batch. That is how I went to IITK. The train trips were another matter and were very interesting in themselves.
Spark: Well congratulations! That was quite a story! You went a long way! If you had joined the KSEB, maybe we would not be having any power issues! Do you remember the name of the Controls professor in Mysore?
NM: His name was Prof. Satyanarayana Rao. He is no more. He was the person who influenced me a lot. I learned two things in my undergraduate engineering course. The first was Mathematical Modeling and the second was Negative Feedback. I had never heard of that concept till then. Prof Rao explained to us how Negative Feedback brings stability to a system. I continued my interest in control systems at IITK. Prof. I G Sharma was the person that taught us Modern Control Theory and Optimal Control Theory at IITK. He was the one that we looked up to in this area. If I am not wrong, he left IITK for IISc in 1970 or 1971. He was an extraordinary professor!
52
---
Life at IITK
Spark: What did you think of your life at IITK, both in academics as well as student life? The way the curriculum was structured, the academic freedom, the approachable faculty, and overall informality, especially after the structured education in your UG days? A KIAP professor motivated you to change from Controls to IT. How did that happen? Who was he?
NM: The third semester was about to start in 1969. One Sunday, I was having breakfast in the mess (the dining hall) of Hall 5. A visiting professor from the US was sitting at the next table. He was there that morning since he had been invited for breakfast by a group of students. If my memory serves me right, he was either Prof. Wilhelm from Ohio State or Prof. Acton from Princeton. I could be completely wrong in my recollection. The professor was giving a brilliant expose on how computers would transform our lives in the future. His imagination was just unbelievable. I went and sat at his table with his permission, and I asked him if he could suggest three or four papers that I could read. He suggested some papers. I went to the Central Library after breakfast and read them. Monday morning, I went to Prof. I G Sharma and requested his permission to change my specialization to Computer Science (CS). Those days, you could graduate in EE and specialize in CS.
Prof. I G Sharma was a very open-minded and kind person. He asked me a few searching questions. He wanted to ascertain whether my infatuation with CS was a passing fad and whether I was flitting from one major to another. It looked like he was convinced of my genuine interest. So, he let me drop the Advanced Control Theory courses and take the Computer Science ones instead. And that is how I shifted to Computer Science at IITK.
Spark: We find it fascinating that a discussion in the Hall 5 mess opened doors to this opportunity and that professors interacted with the students in the mess and gave valuable advice.
NM: Yes, there was a lot of interaction with faculty. We also had some extraordinary student role models for us in the department. Muthu (Prof C R Muthu Krishnan) who was doing his Ph D in CS then was one such. There was another genius in Buddhe (Prof Hari Sahasrabuddhe). I did my master's thesis with Prof Sahasrabuddhe.
My own role model was my classmate, Mohan Rao. He was extremely intelligent and, more importantly, he was very humble. He went to TELCO. Unfortunately, I lost touch with him. There were several bright students with me including Ganapathy, Jairam Murthy, Jamuar and S Ramakrishnan. Prof. Rajaraman was, of course, the head of the computer center and the head of the department. Prof Mahabala was an eloquent teacher. Prof Viswanathan was the master of everything he taught. Prof R N Biswas was our favorite with his deep subject matter expertise and unimaginable kindness.
Spark: It is remarkable that all these professors, who were so good, were also so accessible. You could go to them and there was very little in terms of hierarchy. If you have a professor sitting in the Hall 5 mess having breakfast, that itself tells you about what the environment was like. If you take the academics out of it, they were just people like you and me.
53
---
NM: There is no doubt about it. Almost every one of them, including senior people like Prof C N R Rao, was very accessible.
I knew Prof C N R Rao well because Kannada was the mother tongue for both of us, I would go to his house often. As hosts, his wife, Indumati, and he were very kind. There were quite a few Kannada speaking professors on campus, including Prof. Srinath, Prof. Ramachandra, Prof. Vasudev, Prof. Mahabala, Prof. Lakshmi Viswanathan, Prof. Kadambi and Prof. Muthana who was the Deputy Director then. Prof. Muthana became the Director later. There was a lot of informality on the campus.
Student Life, Maharishi Mahesh Yogi
Spark: So, you lived in Hall 5. Do you remember the wing / room number?
NM: I used to live in Hall 5. My room number was C-209.
Spark: Other than academics what else do you remember from Hall 5? You had aloo parathas on Sunday morning?
NM: Aloo parathas were the main attraction on Sundays. We looked forward to Sunday breakfast. How can I forget those?
The most memorable event of my stay in Hall 5 was when Mahesh Yogi visited us. Mahesh Yogi had become very famous in 1968 because the Beatles had adopted him as their guru. He came to IIT Kanpur in 1968 and gave a lecture on Transcendental Meditation (TM). It was in L-7 on a Saturday evening. At the end of his talk, he offered to initiate some students into TM in their hall of residence. There was a lottery. Hall 5 was chosen.
For most of the students, Saturday evenings were normally spent playing cards, sleeping at 2 am, and then getting up at 9:30 am to feast on aloo parathas. That Saturday, we just stayed up for the 5 am TM session by continuing to play cards through the night. We went straight to the Common Room (also used as the TV Room; we had closed circuit TV those days -- it was gifted by a KIAP university) at 5 am.
We trooped in and some of us were quite sleepy. Mahesh Yogi came in at 5 am sharp and sat down. He called us one by one. There were probably about 30 to 40 students. He asked me who my favorite God was. I played truant and said I did not play favorites with Gods! He told me that the TM exercise was to close my eyes and repeat the name of Ram non-stop till he asked me to stop. The TM exercise started after every student was initiated like I was.
After about 10 minutes, Mahesh Yogi asked us to stop our TM exercise. He asked one of the students to describe what he had felt while he was practicing TM. The student replied he felt fantastic, and that he totally forgot where he was. I must have been looking very sleepy. So, Maharishi pointed to me and asked me how I felt. I was mischievous and honest. I told Maharishi that I slept off. I did not tell him I was awake the whole night!
What Maharishi said in his reply astounded me and my friends. He said, 'You are the only one who has learned the art of Transcendental Meditation!' He even offered me free admission to the advanced course in TM at Rishikesh as a reward for being the best disciple of Maharishi from Hall 5!
Spark: Because you told him the truth, not what he wanted to hear!
NM: I do not know whether TM was supposed to induce sleep or not. The reality was I was very tired after being awake the whole night!
Spark: That would be Bridge we presume?
54
---
NM: Most played Bridge. Some played Teen Patti. My hostel room was like a Common Room. It was a meeting place for my friends. Many students would come. They would have bilateral games and discussions. They would behave as if it was their room. Hall 5 rooms were quite small. But, as a student, you do not need much space. What you need is the company of fun-loving young minds and hearts.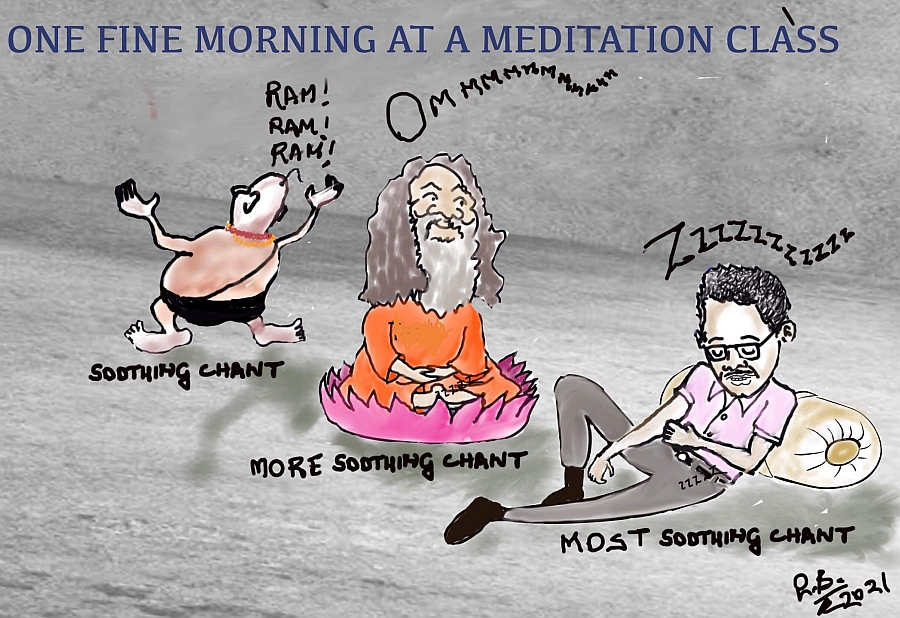 Credits: Sketched by Raman Bhatia (BT, ME, 1977-82)
Spark: How was the food in those days in the mess? When we were there in the 1970s and the 1980s it was quite bad. We used to bring our favorite pickles and ghee from home. How about you?
NM: Food quality was OK. It was a new experience for us from South India. We had to fight hard to get rice and sambhar at least twice a week. Let me tell you a story about the food crisis in Hall 5. Hall 5 had the unique experience of supplies being cut off from the Central Stores because either some students had not paid their monthly dues in time to the mess, or the funds had been mismanaged by the mess committee members. The result was that the Central Stores cut off supplies of rice, atta, vegetables, oil, and condiments. That left us with nothing to prepare food to eat. What was left in the mess kitchen was just a small mountain of mangoes. Some were ripe, and some were unripe. So, we had the unique experience of managing two days just eating mangoes!
Spark: Hall 5 probably had the best food in the 1970s, after the Girls Hostel. We were always trying to make friends there so that we could get invited over for dinner.
NM: During my time, the quality of food was clearly the best in Hall 4, and then, probably, in Hall 1. But the best food by a large margin in any institute of higher learning in India during those days was at IISc. Absolutely top quality! The joke among students of the sixties at IISc was that IISc was an institute attached to a high-quality mess, just like ASCI in Hyderabad (which had an excellent bar) was called an institute attached to a bar!
Spark: What other extra-curricular activities were popular? Did you watch movies in L-7? Did people go to the dhabas at the Transport Section and the Chungi, or dine at Chung Fa in the city?
55
---
NM: Yes, we used to have movies in L-7, but I did not know Hindi. Even today I do not know Hindi well enough. So, only those days when there was an English movie, we used to watch it in L-7. The quality of the projector and the quality of the sound system were not good. So, I would not say that it was a big attraction at that time. It may have become a much bigger thing later.
We used to go often to Chung Fa in the city. We enjoyed the Chinese food a lot. The graduate students did not participate in many games those days. Very few of us participated in extracurricular activities. Those facilities were almost exclusively for undergraduates. For some reason, there was a mindset divide between the graduate students and the undergraduate students those days. Graduate students were primarily focused on their studies. They were made fun of by undergraduates as Medhaks. I do not know why they called us so even today.
Director Kelkar introduced a novel scheme to bring undergraduate students and graduate students together. This pilot was started in Hall 5 in 1968. All the single rooms were allotted to graduate students, but the double rooms were allotted to two freshmen undergraduate students. I made good friends with several freshman undergraduates. They were very bright and lots of fun.
Hall 5 was very well designed. I enjoyed my stay there. We were the first occupants. It was new, and we had many choices for our rooms.
Personal Values
Spark: You have displayed a very adventurous streak in your personal life and risked family and personal freedom in your early adventures around the world. Where did you get this strong, independent streak from? Where else has it manifested itself? How do you see today's kids striking out on their own?
NM: Rather than those esoteric words, let me speak about some interesting events that happened while I was at IITK.
Let me tell you about my Mysore-Kanpur-Mysore journey four times a year. I used to take a train from Mysore to Bangalore, wait a few hours, take the second train from Bangalore to Madras, wait several hours, take the third train to Jhansi, wait a few hours, and take the fourth train from Jhansi to Kanpur. The journey took about 36 hours. It was quite an adventure since I didn't even know any Hindi. But what impressed me much was the affection and care that the poor farmers and the rural people on the Jhansi-Kanpur passenger train showed us even at 3 am. Their desire to help students pursuing higher education was just extraordinary. They knew we were students going to Kanpur. They would make space for us to sleep on the bench, they would sit at the edge of the bench, and not disturb us at all. When I think about this sacrifice of our poor to help us, the students, get a good education and become better, I have a lump in my throat. I continue to be a compassionate capitalist even today, thanks to such wonderful memories of the kindness of the poor and rural folks in India.
When I joined IIT Kanpur I had heard that there were three IBM computers. One day, during the first week of my stay, I went with a friend to see these computers. One machine seemed busy, and it was making a lot of noise. Hollerith cards were going in and the machine was spewing out printed sheets. I must confess that I found it a little strange that electronic computers were making so much noise. That evening, at dinner with hostel mates in Hall 5, I discovered that I had been fooled and that I had only visited the printer room! I was at the receiving end of jokes for many months.
56
---
The ancillary equipment area in the Computer Centre which housed the printers and card readers. Visible here are the IBM 1311 drives that were used to transfer data from the IBM-1401 to the IBM-7044.
picture Credit: Shirish Joshi, 1977.
People used to do interesting things with those printers by punching a sequence of cards with specific letters so that you could get images to print on the line printers. My master's thesis used that idea. It was titled, "Toroidal Structures in Picture Processing".I used languages called LISP and SLIP and generated output using the IBM-407 printer. That was all the equipment we had for picture processing at IITK in 1968!
Spark: So, you had some fun there, even with your thesis!
An image of MAD magazine's Alfred E. Neumann created on a line printer at IITK.
Credits: Sanjiva Prasad, Festival Souvenirs, 1982 and 1983.
57
---
Career
Spark: Tell us a little bit about the years after IIT Kanpur. You started your career conventionally, taking up a job at IIM-A. But something made you start Softronics. What encouraged you to start a private company? What learning experiences did it provide? How have your learnings at IITK contributed to your success and that of Infosys?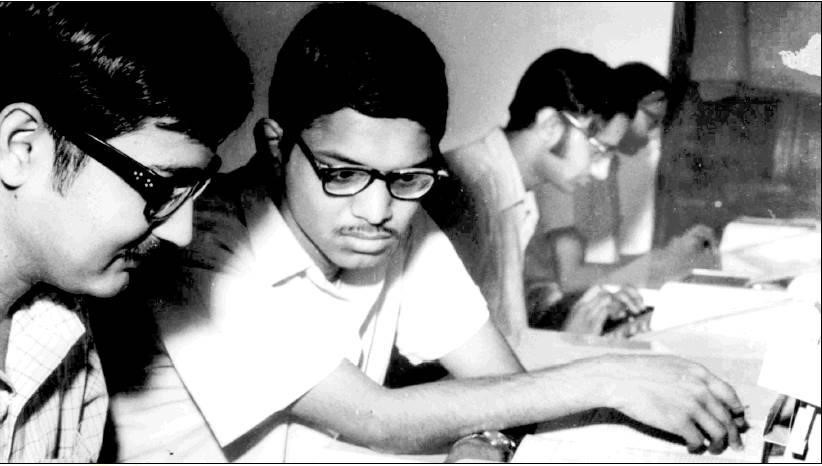 Mr. Murthy at IIM-Ahmedabad, shortly after graduating from IITK in 1969
NM: We were around 10 to 12 students who got their degrees in EE with specializations in CS from IITK in 1969. Each of us got 3 or 4 jobs as programmers. There were job offers from many companies including TELCO, TISCO, Air India, and HMT. I was somewhat lazy. I had not accepted any job offer for several weeks.
One day, Prof. Rajaraman suggested that I meet Prof. Krishnayya who was visiting IITK from IIM Ahmedabad (IIMA) looking for some graduate students to join the IIMA computer center. He wanted to install India's first time-sharing system at IIMA. The Harvard and Stanford Business schools had installed similar systems. IIMA would be the first educational institution in India and the third business school in the world to install such a system. The job was very exciting, but the salary was half of what was being offered by the companies from which I had already got job offers. Based on Prof Rajaraman and my father's advice to focus on learning, rather than earning, at that stage of my career, I accepted the IIMA offer. It was the best advice I could have gotten. IIMA was probably the best institute of higher education in India at that time and continues to be so even today. In many ways, I learnt a lot at IIMA. IIMA influenced me much more as a human being than IITK.
We developed a simulator for TDC 312 on HP 2116B at IIMA. Using this simulator, we developed a BASIC interpreter based on John Kemeny's ideas. We also developed several computer-aided training applications for teaching Finance, Production, Economics, Queuing Theory, and Inventory Management. We even developed some interactive management games. We worked 20 hours a day at IIMA and enjoyed every minute of our work. There was much learning. IIMA remains a great institution.
Spark: You travelled abroad from IIMA, got knocked around in Eastern Europe (knocked about so much that it changed your socialist approach to compassionate capitalist). What encouraged you to start a private company? What learning experiences did it provide? What was the trigger that started Infosys?
58
---
NM: I went to work in France from IIMA. I was a strong leftist those days. I had been brought up under Nehruvian socialism. But in Paris, I was in for a shock. There was prosperity. The trains ran on time. People were healthier. Everything was clean. There was no corruption. My belief in leftism started crumbling.
During the weekends, I attended lectures at the Sorbonne on the Left and Right philosophies. I even met George Marchais, the then head of the French Communist Party. After deep introspection, I was convinced that pursuing Leftist ideology was not the solution to remove India's poverty. On the way back to India, while travelling through Eastern Europe, I was incarcerated for 80 hours in a room in the local railway station for simply questioning Leftist philosophies in a train conversation. That is what irretrievably converted me from being a confused leftist to being a determined compassionate capitalist.
When I came back to India, I initially started working for a non-profit think tank called Systems Research Institute. Then, I started a company called Softronics. But I had not done the assessment of the market size which is an essential step for any entrepreneur. Pretty soon, I realized that there was no market for software in India at that time since there were very few computers. I folded that company within 8 or 9 months. I then took up a job as the General Manager of the software group at Patni Computer Systems Private Limited (PCS). PCS was a software company where I learnt many valuable lessons from my smart, kind, and generous boss, Sri Ashok Patni. I also learnt about the export market. Then, I founded Infosys with six of my junior colleagues.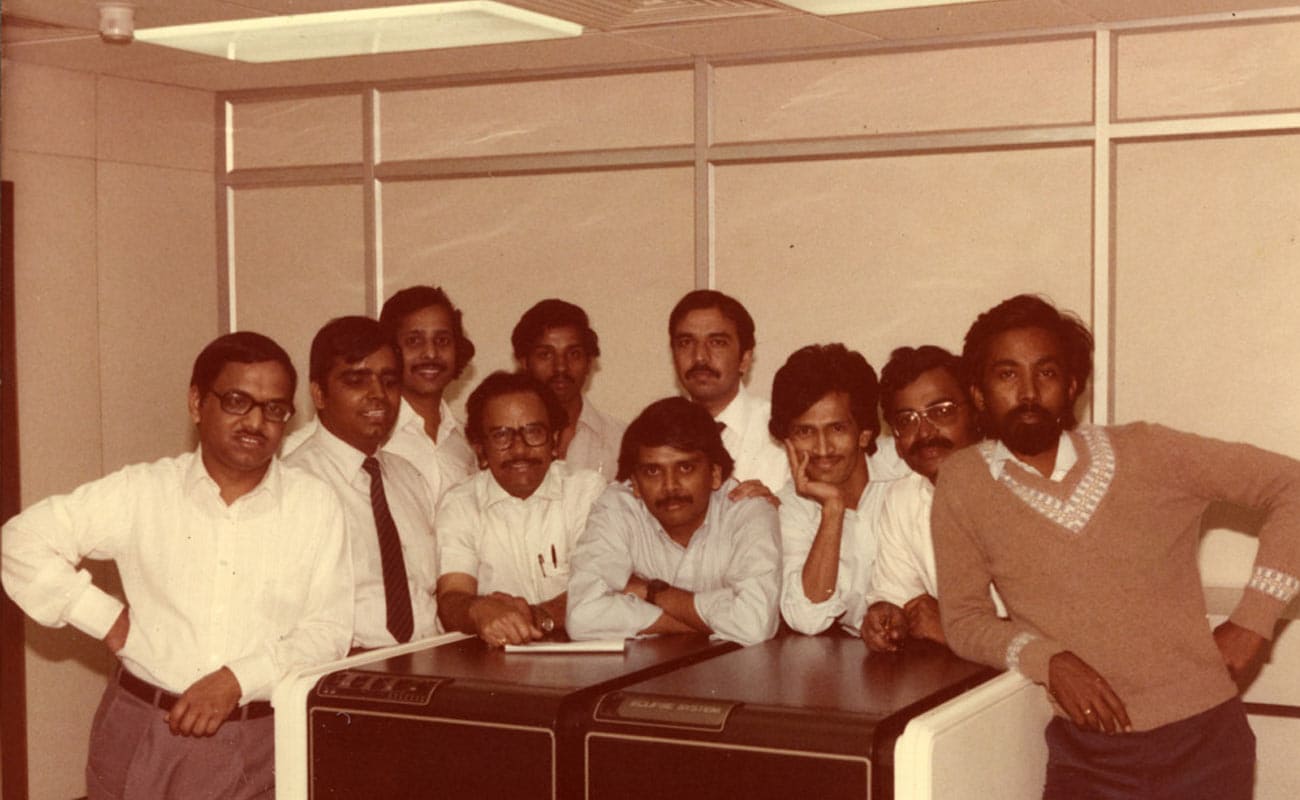 The founders of Infosys, in an image from the early 1980s. Mr. Murthy is at the very left in the group
Spark: You have said repeatedly that there was much more than revenue when measuring the success of Infosys. Please tell us about the success of the company. In your experience, have other businesses used similar principles to measure success?
NM: Infosys was founded as an experiment in entrepreneurship to create jobs, and to prove my conviction that the only way poverty could be addressed in India was by creating jobs with good income. In parallel, I wanted to create a few more firsts in the country. I wanted to create India's first truly professional company. I borrowed the words of President Abraham Lincoln and called Infosys a company "of the professional, for the professional, and by the professional".
Our philosophy was that everything we did at Infosys should be benchmarked with the best global standards; should use merit-oriented talent; should leverage the best technologies, systems, and processes; and be executed according to rules of good management and governance. We stipulated that no one should use corporate resources for personal benefit. We decided that we should put the interests of Infosys ahead of our personal interests in every transaction. While I was a capitalist in mind, I was a socialist at heart. I defined the concept of compassionate capitalism as early as the middle seventies and we created the country's first large experiment in the democratization of wealth. As of today, we have given away 19% of our equity to non-founding employees, worth almost US $20 billion. No other company in India has done that.
59
---
We also created several global competitive advantages for Infosys through innovation in every function. While we continued to lead austere lives personally, we built a financially strong and asset-and-knowledge strong Infosys. We installed globally-best systems, technologies, and processes so that our youngsters were as productive working in India as they would be while working abroad. We wanted our youngsters to experience world class infrastructure while working in India. We did not want them to be overawed by the first world infrastructure when they reached our customer offices in an advanced country like the US.
At the end of the day, we were lucky. God was kind. You need luck. You need destiny on your side. It can come in the form of blessings from elders and good wishes from well-wishers. I would attribute a lot of whatever good has happened to Infosys to that.
Spark: We think there is one other factor that you do not mention and that is the determination part. You chose to leave IISc which was the premier institute at that time, and then went to North India where they did not speak your language, and you ate unfamiliar food. But you chose to go there anyway, following your conviction. And then, you found something that was more challenging than what you had gone for. You were determined enough to talk to your professors and make the change. After seeing what capitalism was all about, you coined your own term of Compassionate Capitalism. You founded a company based on human values and not just on commercial principles. Most people talk about these concepts. But you have made it happen. At the end of it all, is it not more than luck? Is it not a result of very solid principles and a drive to succeed?
NM: We are the product of what our parents, our teachers, our bosses, our colleagues, and our friends have taught us. Almost every principle that I adopted at Infosys was taught to me by my parents, my teachers, or my bosses. I have had friends and cohorts much smarter than I could ever be. I learnt from them. I met some extraordinary students and teachers at IITK. I have already mentioned them. I was very average by their standards. I was a little bit more adventurous than others. My parents, due to our circumstances, pushed me to be as independent as possible. They helped me to focus on doing the best I could in a situation.
At the end of the day, every one of us gets many opportunities. God gives some of us wisdom, blessings, and strength to seize one of these opportunities. That is what I define as luck. Some do not receive that wisdom, strength, and blessings. I feel that one must be lucky to have the right team and the right values. Success is about teamwork, and a set of opportunities.
Attributing things to luck also brings a little bit of humility. Humility is important in life as is faith in God. I am very comfortable with faith, I am comfortable with humility, I am comfortable with luck and God's will. I am comfortable with acknowledging the superiority of others and my desire to learn from them, no matter what culture, religion, or region they come from.
60
---
Message for Institute Leadership and Current Students
Spark: Are there things you would like to see IIT Kanpur and the CSE Department address?
NM: Each generation is smarter than the previous generation. They have access to much more knowledge, information, skills, and tools than the previous generation. They have more opportunities. They learn more. They meet a larger variety of people. They hear more opinions. So, I personally feel that the quality of students at IIT Kanpur today is clearly better than those in the late sixties.
My humble request to our political leaders and bureaucrats is to help IIT Kanpur make it easy for the exchange of faculty and students with world-class educational institutions (in India and abroad) that have performed better than IITK. We need such exchange of ideas to become smarter, solve bigger problems, and gain recognition and approbation from peers. That is the only way India can be strong and prosperous. That is the only way we can redeem the dreams of our founding fathers.
Spark: Which part of your career would you like current students to emulate? What would you wish that today's group of prospective and current IITK students use as a guiding principle as they learn and build their future?
Today's youth live in an India which offers a lot of opportunities. The rest of the world has higher expectations from India than it had during our time. The India of today has demonstrated that if she is determined, she can achieve great things. My request to the students of today is to seize this opportunity and demonstrate that our country is second to none in fulfilling the dreams and aspirations of our founding fathers. Their dream was to ensure that the poorest child in the remotest part of the country has decent access to nutrition, health care, education, shelter, and hope for a better future, for the child itself and for his or her progeny. I think that the current generation has an extraordinary opportunity to do this. I want this generation to benchmark with the best in the world in everything and create world records in their accomplishments.
About Mr. Narayana Murthy: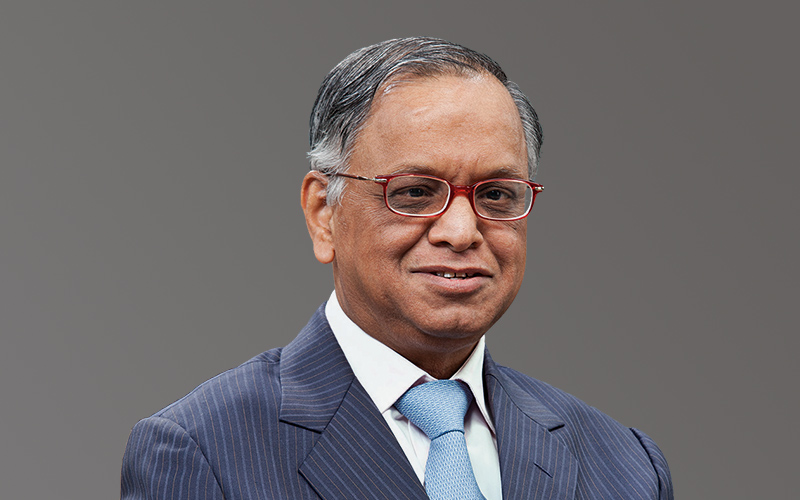 Mr. Narayana Murthy received his Bachelor's degree in Electrical Engineering (EE) from the National Institute of Engineering, Mysore in 1967, and his Master's degree in EE from IIT Kanpur in 1969. He was recognized as a Distinguished Alumnus of IITK in 1998.
In 1981, Mr. Murthy founded Infosys Limited, the first Indian company to be listed on the NASDAQ stock exchange. Under his leadership, Infosys became the leader in innovation - in technical, managerial and leadership training, software technology, quality, productivity, customer focus, employee satisfaction, and physical and technological infrastructure. By December 2021, the company had 260,000 employees and a market capitalization of US $95B.
In 2014, Mr. Murthy was ranked 13th among CNBC's 25 global business leaders and in 2012 he was listed among the '12 greatest entrepreneurs of our time', by Fortune magazine. He has received the Legion d'honneur from France, the CBE from Britain, and the Padma Vibhushan from India. The Economist ranked him among the 10 most-admired global business leaders in 2005. He was ranked among the top 10 in the Financial Times' list of "Business pioneers in technology", published in March 2015.
61
---
He was elected as a member of the prestigious American Academy of Arts and Sciences in 2019. He is a foreign member of the US National Academy of Engineering and a Fellow of the Indian National Academy of Engineering. He received the Founders Medal in 2018, the Hoover Medal in 2012 and the Ernst Weber Medal in 2007, all three from IEEE. He has received the Thomas Jefferson Medal and the James C. Morgan Global Humanitarian Award.
Currently, Mr. Murthy serves on the boards of the Institute for Advanced Study at Princeton, New Jersey, and the United Nations Foundation. He has served on the boards of Ford Foundation in New York, HSBC, and Unilever in London. He is a member of the advisory board of the University of Tokyo (Japan), ESSEC Business School (France), IESE Business School (Spain) and Fundação Dom Cabral (FDC – Brazil). He is also a member of the Board of Governors and Trustees of the Asian Institute of Management, Manila.
He has served as a member of the boards of several well-known universities, including Cornell University, the Wharton School at University of Pennsylvania, the Graduate School of Business at Stanford University, and the Rhodes Trust at Oxford. He was the Chairman of the Indian Institute of Management (Ahmedabad), and the Public Health Foundation of India (PHFI). He has also served on the international advisory boards of Yale University, University of Illinois at Urbana-Champaign, William F. Achtmeyer Center for Global Leadership at the Tuck School of Business, Singapore Management University, INSEAD (France), Asian Institute of Technology (Bangkok), the Indian School of Business (Hyderabad), and the International Institute of Information Technology, Bangalore.
In keeping with his philosophies, and his goals for making education available to India's masses, Mr. Murthy has become the largest benefactor in IIT Kanpur's history. While his most visible donations have funded the H.R. Kadim Diwan Building (the home to the CSE Department), on an ongoing basis, his donations provide yearly support to 17 Academic Departments and five Interdisciplinary programmes. They have supported chair professorships, grants for new faculty, fellowships for PhD students, travel grants for national and international conferences, awards for student publications, and endowments for teaching excellence. The funds have supported maintenance of the CSE building, upgrades of student messes, construction of visiting faculty apartments, and new labs for earthquake engineering.
Thank you, Mr. Murthy, for your support to the Institute, and for being an inspiration to us all!
The H.R. Kadim Diwan Building, IITK, September 2021