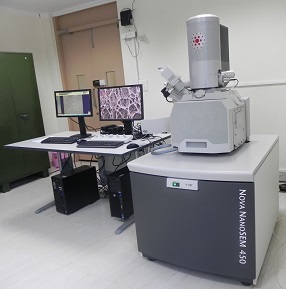 ABOUT INSTRUMENT (NOVA NANOSEM 450)

The advance SEM (Nova NanoSEM) operates with Field-emission gun, which attains ultra high imaging resolution. The NanoSEm Schottky FEG source allows the user to achieve high imaging resolution at a range of operating voltage 0.2-30 kV. Secondary electron (SE) imaging can be undertaken in both field-free and immersion mode for comprehensive low-to-high resolution imaging of a variety of samples. The Nova NanoSEM is configured with a Bruker SDD-EDS detector and can be manually fitted with a backscattered electron detector for the convenient visualization of compositional differences across the specimen surface. This facility also capable of conducting in-situ analysis in Tensile mode.

This facility includes gold sputter coater for coating on non-conducting samples.
This facility is mainly used for research purpose as well as teaching. Apart from IITK users, this facility also opened for the users from other academic institutions, national research labs and industries.