The National Education Policy (NEP 2020), as it completes 3 years of implementation, has been a pioneer in bringing affirmative changes in India's education system, from primary to higher education level.
We, at llT Kanpur, have been in the forefront of introducing, incorporating and implementing a forward approach to not just our academic curriculum, but also bringing technical knowledge and learning to more and more individuals.
Curricular Revamp
Flexible Academic Programs
Majors, Double Majors, Dual Degrees, Masters
Non-Formal Education Models
e.g. Global Olympiads
Expanding Scope of Study in SCHEME
Honours Degree, Inter-department Programs
Credit Recognition
Entrepreneurial Ventures & Industry-based Learning
Exchange Options
Bachelors-Masters Dual Degree
Online Learning
mooKIT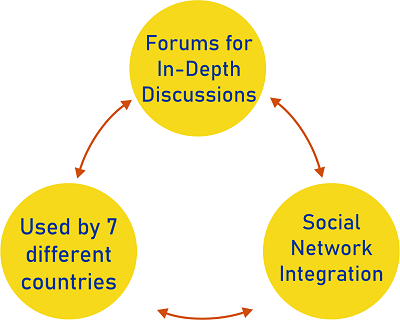 Seamless learning through over 60+ courses benefiting over 2 lakh individuals, addressing the three S's, namely, Skills, Scale and Speed.
E&ICT Academy
A joint initiative with the Ministry of Electronics & Information Technology, providing job-oriented industry-relevant courses to students and faculty.
eMasters Degree Program
This unique program offers immersive learning in cutting-edge domains such as Data Science, Cyber Security, Finance and more.
Interdisciplinary Education
Focus on Multi-disciplinary Research through setup of new departments
New Degree Programs in interdisciplinary domains
Upcoming Gangwal School of Medical Sciences & Technology
Other Initiatives
Shivani Centre for the Nurture and Re-integration of Hindi and Other Indian Languages
Student Entrepreneurship Policy - registering for 'Innovation and Entrepreneurship Credits'
Celebrating NEP2020
In a week-long celebration in the run up to the 3rd anniversary of NEP 2020, IIT Kanpur hosted a series of activities including a joint press conference, social media amplification posts, and quiz through Instagram Stories.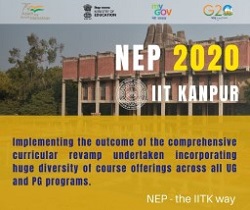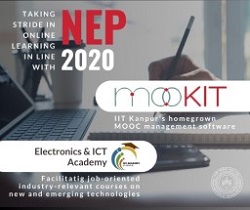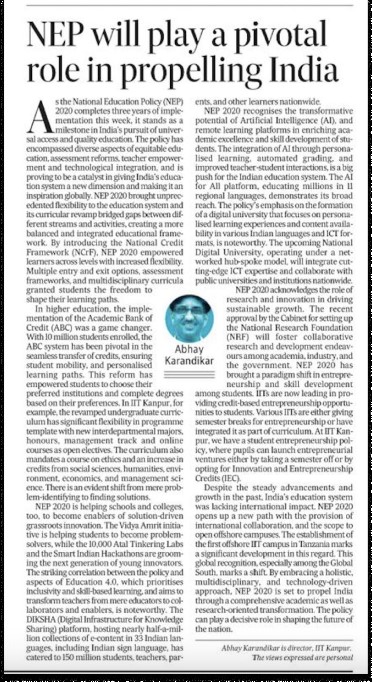 Hindustan Times
Instagram Stories