Institute Milestones

1

Alumni News

1

2

3

New Sponsorships

New Faculty Chairs

1

2

3

New Faculty Research Fellowships

1

New Scholarships

1

Student News

1

Distinguished Lecture Series

1
Institute Milestones
FM Station: IIT Kanpur added another feather in its cap on 26th March 2010 by launching its Community Radio. The entire launch ceremony was aired live, starting with a 10-minute documentary on community radio by Amit Tripathi, the RJ for the station, and was followed by the address of Prof. Sanjay G. Dhande. A few faculty members and students also spoke over the radio. To make this occasion more meaningful, a two-day workshop (26 - 27 March, 2010) was organized on Community Radio Awareness by the Commonwealth Educational Media Centre for Asia (CEMCA) in collaboration with the Ministry of Information and Broadcasting, Government of India. Dr. R. Sreedher, Director, CEMCA, was present on the occasion. Also present were representatives from various functional Community Radio stations in Uttar Pradesh. The workshop dealt with the various aspects of Community Radio like the purpose of CRs, licensing procedures, case studies based on the functional CRs in UP, the setting up of a CR station and available technology, etc. The IIT Kanpur Community radio will cater to the needs and interests of the community; a variety of programmes will be aired at 90.4MHz frequency ranging from education, agriculture, health, environment and social welfare to classical music.

Reunion of Class-of-85:

From 25th to 27th December 2009, the Class-of-85 celebrated its Silver Jubilee Reunion - back@iitk class-of-85. What distinguishes the batch of 1985 is the fact that this was the year in which a double batch graduated due to the change from 5 year BTech programme to 4 year BTech programme. More than 106 alumni participated in this reunion, most of them with their families. As the alumni caught up with old friends, the past 25 years seemed to vanish. The visiting alumni also interacted with the current students, providing information about career opportunities and sharing their own experiences.

The inauguration ceremony for the SJ Reunion was held at the Outreach Auditorium on 26 December 2009. The Deputy Director IIT Kanpur, Prof. R. K. Thareja, welcomed the Class-of-85 to the campus. On the 27th evening there was a gala musical night with Smt. Malini Awasthi (w/o Mr Avanish Awasthi, an almnus of '85) a popular and leading professional singer of Uttar Pradesh. There was also a Professional Music Nite by Shri Amit Kumar who sang old popular film songs and the alumni could not resist joining in the singing.
Reunion of Class-of-75:

After the success of the Silver Jubilee Reunion in 2000, there was a lot of excitement in the Class-of-75 to make the 35th Reunion a success also. About 50 alumni with their families arrived on the campus from 28th to 30th December 2009. During these three days they visited the hostels, went around the campus and got an idea of how large the campus had grown with new hostels, sports fields, activity centers and academic buildings. On 29th December 2009 there was a formal inauguration of the Alumni Meet at the Outreach auditorium where Dr. Sanjeev K. Aggarwal, Dean, Resource

planning and Generation addressed the alumni and conveyed the need for greater participation by them in the Institute affairs. The alumni also found time to remember their batch mates who are no more. Mrs. Sarita Bhargav, wife of Late Prof. Sanjeev Bhargav of Class-of-75, attended the reunion with her daughter Akankha. Dr. Thareja felicitated the Class-of-75 with mementos and a beautifully framed group photograph of the Class-of-75. The alumni returned home with lots of pleasant memories of yet another happy reunion, and the hope of coming back again perhaps for the Golden Jubilee, if not earlier.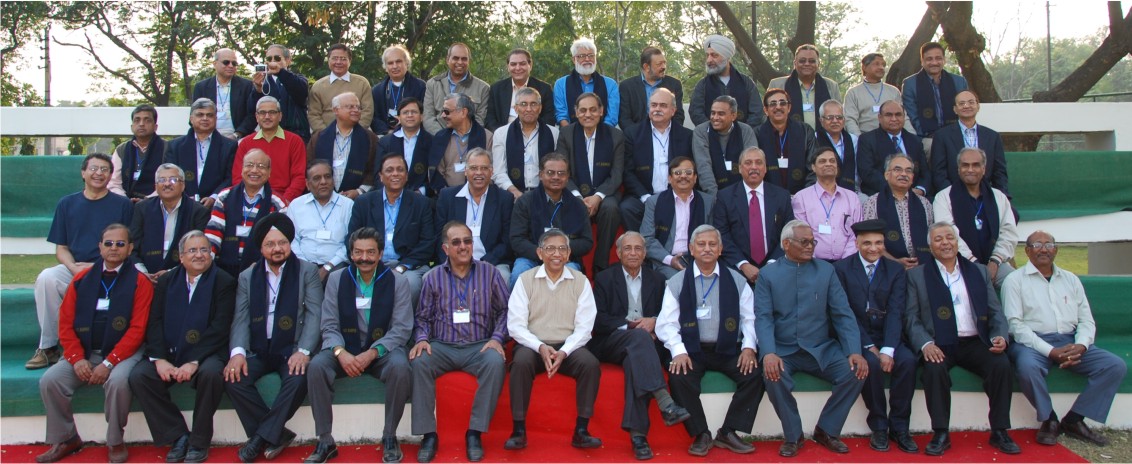 Pioneer Batch Reunion (Batch-of-1960)

was organized from 18th to 21st February 2010. A few faculty members who taught during 1960 -1965 also took part in this momentous event. The Pioneer Batch Reunion was formally inaugurated at the Outreach Auditorium by Prof. Muralidhar, Acting Director and Prof. Sanjeev K. Aggarwal, Dean, Resource Planning and Generation. Many activities were scheduled for the alumni and pioneering faculty, such as visits to various departments, a visit to the IITK Golden Jubilee exhibits centre, the screening of an IITK movie at the Outreach Auditorium, a visit to Campus Outreach Projects and an informal meeting with the Director, Prof. Sanjay G. Dhande.

Also, an Open Seminar was hosted by the Pioneer Batch at the Outreach Auditorium. The theme was "Our Roles and Responsibilities in the Broader Public Life." The idea was to bring about an awareness of the needs of those less fortunate than ourselves; it was also a call for action on what can and should be done for such weaker sections of our society. Some IITK faculty members also made research presentations, highlighting the research going on in the institute in their fields of expertise. IITK students organised a Dance Extravaganza, and there was a Talent show by the visiting alumni, which went on till late in the night and ended with the sharing of reminiscences with batch-mates and families.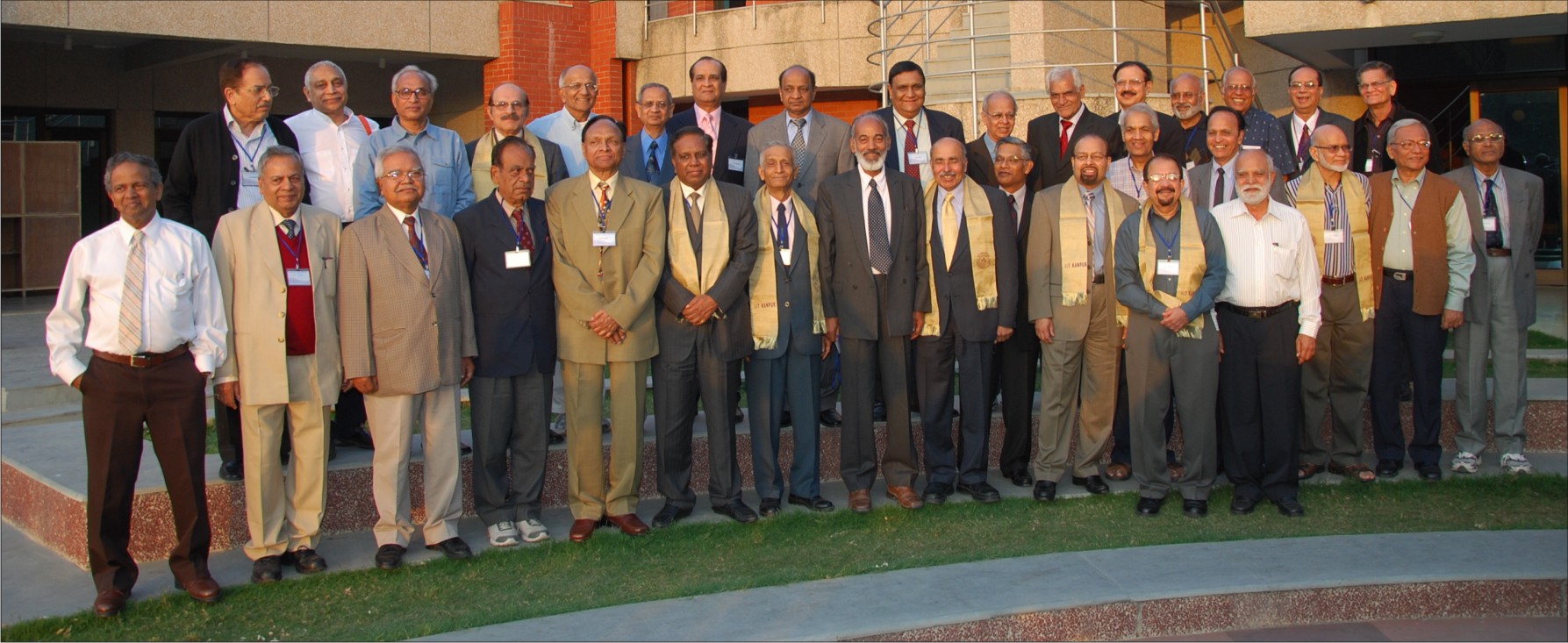 New Faculty Chairs
IOC Chair: The Indian Oil Corporation Ltd. (IOC) celebrated its Golden Jubilee in 2009. Established as an oil marketing entity on June 1959, the Indian Oil Company Ltd. was renamed Indian Oil Corporation Ltd. in September 1964 following the merger of Indian Refineries Ltd. with it. During its Golden Jubilee year the Indian Oil Corporation has established a 'Chair Professor of Petroleum Technology' at IIT Kanpur for a faculty member working in environment friendly technologies in the hydrocarbon sector.
SBI Chair: SBI has instituted a chair to be given to a faculty member working in the area of energy and environment with special emphasis on innovations in the field of solar energy. SBI is the largest state-owned banking and financial services company in the country with over 16,000 branches all over India
Dr. Jag Mohan Garg Chair:Mr. Sudhir M. Mittal (BT/CHE/70) has instituted a chair in memory of his mentor and cousin late Dr. Jag Mohan Garg. Dr. Garg did his Ph.D in Electrical Engineering from Brooklyn Polytechnic, USA. He was a distinguished teacher, engineer, industrialist, idealist, mentor, nationalist and philanthropist.
New Faculty Research Fellowships
J. S. Bindra Fellowships: Dr. D. S. Hur, Chairman and CEO of GS Caltex Corporation, Korea, has set up two Research Fellowships in honour of Mr. Jagjeet S. Bindra (BT/CHE/69). One fellowship is open for any faculty member from Chemical Engineering and the other for any faculty member from any Department. Mr. Bindra is a distinguished alumnus of IIT Kanpur and has been very supportive of the institute. He has recently assumed the responsibility of becoming the Chairman of the IIT Kanpur Foundation which helps and guides the institute on various issues.

New Scholarships
Balasubramanian and Visalakshi Scholarship: Mr. Ramakrishnan Balasubramanian (BT/ME/89) has instituted a scholarship in the name of Balasubramanian and Visalakshi Scholarship. The scholarship is to be awarded to a meritorius BTech student of Computer Science and Engineering Department.
Dr. Krishanu Biswas, Department of Materials and Metallurgical Engineering, has been chosen for the INSA Young Scientist Medal 2010.
Dr. Ashish Garg, Department of Materials and Metallurgical Engineering, has been awarded the Australia India Science and Technology Research Award (AISTRA).
Dr. Ashok K. Mittal, Department of Industrial and Management Engineering, has been honoured with the Life Time Achievement Award 2010 for his excellent contributions in the field of Management Education. The Award was given by the Dr. Virendra Swarup Institute of Computer Studies, Kanpur on the occasion of the passing out ceremony CONCOURSE-2010 for the PGDM programme held on May 30.
Techkriti was organized from 11th to 14th February 2010. It had competitions, talks, workshops, exhibitions and numerous fun events to enliven the atmosphere and make the festival a grand treat. A number of new initiatives in competitions were taken in Techkriti 2010 such as the India Innovators Challenge held in association with the National Innovation Foundation (NIF), a re-engineering competition based on grass-root technologies, and a Business Plan Competition - Ideas. Techkriti 2010 also saw great participation in IORC (Indian Open Rubik's Cube) with new national records being created. Talks in Techkriti 2010 were given by speakers ranging from Nobel laureates to business wizards who have literally accomplished Mission Impossible. Some of the eminent personalities who graced Techkriti 2010 with their presence were Prof. Douglas D. Osceroff, Nobel laureate, Physics, Prof. Rolf D. Heuer, Director General CERN, Prof. Oliver Smithies, Nobel laureate, Medicine, Dr. H. Paul Shuch, Executive Director, SETI League, Mr. Dilip Chhabria, Head of DC Designs Pvt. Ltd and Mr. Jaya Prakash Narayan, Former IAS, MLA and Social activist. Techkriti 2010 also witnessed some dazzling exhibitions such as Face Bots, Spherical Robots, Solar Car and Musical DNA. There were also performances by top professional shows such as The Laserman by Theo Dari from France, Feeding the Fish from UK, and Sand Animation by Joe Castillo from the US. Mega world and Casino were organized as a part of Techkriti for the very first time, in an attempt to couple the technical and entrepreneurial flavour with a fun element.

Prof. Gautam R. Desiraju of IISc Bangalore's Solid State and Structural Chemistry Unit gave a lecture titled "Chemistry - The Middle Kingdom", on 25th February, 2010. Prof. Desiraju's research interests are in the areas of crystal engineering, the structural aspects of the hydrogen bond and other intermolecular interactions. He is the recipient of the Alexander von Humboldt Forshungspreis Award, the TWAS award in Chemistry and is a fellow of all the Academies of Science in India. Prof. Desiraju in his lecture first outlined the position of chemistry and termed it as the "Middle Kingdom" or the "Central Science". In his view chemistry dealt with both qualitative and quantitative features of science which makes it an ideal bridge between diverse disciplines such as biology and physics. Prof. Desiraju also illustrated the power of chemical principles in the design of various organic solids.
Phone: + 91-512-259 7635/ 7542 Fax: +91-512- 259 0353 Email – drpg@iitk.ac.in, arrpg@iitk.ac.in
Published by: Office of the Dean, Resource Planning & Generation, Indian Institute of Technology Kanpur, Kanpur-208 016, India