The 35th Year Reunion of the Class-of-1976 was held from 12th to 14th March 2011. About 50 alumni, many with their families, participated in the reunion. On the 12th evening there was a get-together in the Outreach Building followed by a bulla session and dinner. The event was formally inaugurated by the Deputy Director Prof. R. K. Thareja on 13th March, 2011. Later there were open sessions with Prof. Manindra Agrawal, Dean, Resource Planning and Generation and other faculty members.

In the evening the alumni presented a cultural program with the help of students. There was a small kavi sammelan, old Bollywood songs were sung, there was music, drama and dances. Sadabahar by Mr. R. N. Pande was a great hit. This program was followed by the Grand Reunion Dinner.

The alumni visited their departments the next day and met faculty members, visited laboratories and classrooms where they had studied. To refresh memories of student days, lunch was arranged in Hall-1. The felicitation ceremony was also held in Hall-1 where Prof. Kripa Shanker and Prof. Manindra Agrawal, Dean of Resources Planning and Generation, presented the alumni with IITK souvenirs. A campus tour and glider joy rides were also arranged. It was hard to believe that they were returning after 35 years as they had vivid memories of their stay in the campus during their student days and still retained the same enthusiasm, youth and restlessness. The 35th Year Reunion ended amidst emotion, laughter, jubilation and nostalgia on Monday 14th March.



Techkriti 2011, the annual technology and entrepreneurship festival of IIT Kanpur, was held from 17th – 20th February, 2011. Techkriti provides a platform to students to showcase their talent and innovation in varied arenas and helps to encourage, promote and make the aspirants aware of the technical and entrepreneurial developments across the world. Techkriti 2011 was graced by many world renowned personalities including Nobel Laureates, CEOs of large MNCs, social entrepreneurs, politicians and young innovators. Nearly 1,500 students from various colleges across India participated in the festival. The workshops at Techkriti, which were conducted by professionals from industry, guests and faculty members of IIT-Kanpur, provided a platform for strong academia-industry interaction and helped students learn and appreciate the real fun in learning. There were also talks by eminent people like Prof. Vladimir Voevodsky, the Fields Medalist in 2002; Dr. Sidney Altman, Nobel Prize winner in Chemistry, 1989; Mr. Bruce E. Melnick, astronaut with NASA; Dr. Michel Virlogeux, a structural engineer; Mr. David Bismar, the developer of e-voting machines; Mr. Ashish Gupta, Managing Director, Helion Ventures Pvt. Ltd, and Mr. Chander Baljee, founder, Royal Orchid Hotels. These eminent personalities also interacted with IIT-K students during the chat shows. Other events like kite flying and adventure sports were also organized for the participants.
Various interesting competitions were held which included Junkyard Wars - design a vehicle with some firing mechanism to maximize the number of targets hit; Cruise Control – radio controlled plane flying competition; Wild Soccer - a battle between wild robots on a soccer field; Gearloose - design a vehicle that will travel down an incline, launch itself clear over a wall, and land the furthest from the wall without going out of the sandbox; Eagle - design and fabricate a practical model related to the field of aeromodelling; FIFA-2050 - design and build an autonomous robot that can pick up a ball and pass various types of difficulties using an overhead camera and also score a goal!; and BackFire: Boomerang Making Competition - design and fabricate a boomerang and launch it in a manner such that it covers a maximum possible distance and comes back to a point as close as possible to the launch point.

Techkriti'11 ended with a magic show by Mr. Nigel Mead, a world renowned British magician, who rocked the stage with his brain magic and legendary illusions.

Support from Alumni & Friends

1972 Batch Yoga and Aerobics Hall: The yoga and aerobics hall in the new students' sports complex has been renamed as the 1972 Batch Yoga and Aerobics Hall, with the donation from the 1972 batch.

Vimal Madan Memorial Scholarship: Ms. Suarhaa Monica Banerjee instituted this scholarship to pay homage to her maternal grandmother who was a college professor, an active social worker and a philanthropist. Ms. Monica Banerjee, a class XI student, is the daughter of Major Dr. (Mrs.) Aarti Madan Banerjee and Capt. Salil Kumar Banerjee (Indian Navy). The scholarship is for a physically handicapped student in the CSE Department, but if there is no such student then it is for the most needy girl student in the CSE Department.

Dr. M. Ramamoorty Distinguished Lecture Series in Electrical Engineering: Dr. Shashi M. Kuppa (BT/CE/1985) has instituted a Distinguished Lecture Series in Electrical Engineering in the name of his father Prof. M. Ramamoorty, a former faculty member in the department of Electrical Engineering at IIT Kanpur (1967 - 1977).
Distinguished Lecture series

C. V. Seshadri Lecture: Dr. Ashish Lele, Polymer Science and Engineering Division, National Chemical Laboratory, Pune delivered the Professor C. V. Seshadri Lecture on 27th January, 2011. He was hosted by the department of Chemical Engineering. In his talk titled Molecular Structure to Polymer Processing: Bridging Length and Time Scales he emphasized the need for using a combination of research tools to probe the structure and properties of polymers of varying length scales. He also emphasized the need for using theoretical methods for arriving at an understanding of the time scales of polymer dynamics. He also gave a second lecture entitled Science and technology challenges for India: Opportunities for chemical engineering graduates. Dr. Lele obtained his PhD from the University of Delaware in 1993. He has won many awards and honors including the Shanti Swarup Bhatnagar Prize and Fellowships of the Indian National Academy of Engineering and the Indian Academy of Sciences. His research interests are in Rheology, Polymer Engineering and Hydrogels.
Petro Tel Distinguished Lecture series in Chemical Engineering: Dr. B. D. Kulkarni, National Chemical Laboratory (NCL), Pune gave a lecture titled Geometry of Nature on 10th February, 2011. In his lecture he addressed the study of geometric formats as n-space geometries in an attempt to understand, in generic terms, the meaning of domains, boundaries, dimensions and origins. The notions of manifestation layer, presence of synthetic joints, dormant or otherwise, and transformation from one space to another provide a glimpse of nature's way of organization. A few real-world problems such as the organization and filling-up of electrons in atoms or the parallelism between the artifices of natural numbers and the corresponding dimensional spaces were pointed out. Dr. B. D. Kulkarni obtained his PhD from the National Chemical Laboratory, Pune. He is presently a Distinguished Scientist and the Head of the Chemical Engineering Division at NCL, Pune. Dr. Kulkarni has won numerous awards and honors including the Shanti Swarup Bhatnagar Prize and the J. C. Bose Fellowship. He is a fellow of all the three science academies of the country and a fellow of the Third World Academy of Sciences.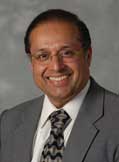 Dr. Ajeet Rohatgi, Regents' Professor and a Georgia Power Distinguished Professor in the School of Electrical Engineering, Georgia Institute of Technology, Atlanta, USA gave a talk entitled Road to grid parity with silicon PV on 27th December, 2010. Dr. Rohatgi is the founding director of the University Center of Excellence for Photovoltaic Research and Education at Georgia Tech and is the founder and CTO of Suniva Inc. He obtained his BTech in Electrical Engineering from IIT Kanpur in 1971 and his PhD in Metallurgy and Material Science from Lehigh University, Bethlehem, USA, in 1977. In his talk he said that Si PV is facing stiff competition from other materials, especially thin films, because of its higher manufacturing cost and explained how Si PV is responding to this challenge by reinventing itself to become more cost effective in order to reach grid parity. In his talk he also reviewed the promising technologies and trends in Si PV that can lead to further cost reduction and efficiency enhancement.
Prof. Brian Bloch, a specialist from USA on settling conflict resolution gave a lecture titled Dealing with Conflicts on 8th February, 2010. In his lecture he talked about the concept and process of conflicts: how and why they escalate and get solved, how to best deal with conflicts at both individual and organizational levels, learning valuable communication skills for use in conflict situations and everyday life and finally, how to establish systems to deal with conflict situations in organization. Mr. Bloch is an Adjunct Professor of Conflict Management at the University of Wales. He is a consultant for the Supreme Court of India and is the co-director and founder of a conflict management system operating in 103 countries.
Prof. Sanjay Behari, Additional Professor and Unit Head, Department of Neurosurgery, Sanjay Gandhi Postgraduate Institute of Medical Sciences (SGPGI), Lucknow, gave a lecture titled Neurosurgery: An inspiring arena for engineering innovation on 23rd February, 2011. In his lecture Dr. Behari emphasized the importance of cooperation between medicine and engineering towards achieving a common goal - providing state-of-the-art indigenously developed medical care at affordable costs that is readily available to every citizen of the country. Through a series of videos and photographic presentations of brain and spine surgery conducted at SGPGI and a literature review of scientific advancements, he tried to provide an insight into the needs of the neurosurgeons of India. Through an interactive session an attempt was made to churn up ideas for engineering research and development in the field of medicine in general and neurosurgery in particular. Prof. Behari did his MBBS from SMS Medical College, Jaipur; MS (General Surgery), MCH and DNB Neurosurgery from SGPGI, Lucknow. Prof. Behari is a recipient of various national and international awards and has served on the editorial boards of various national and international journals.
Aerospace Engineering
Homepage: http://home.iitk.ac.in/~abhish/

Shakti Singh Gupta

Mechanical Enginering

Homepage: http://home.iitk.ac.in/~ssgupta/




Shobit Omar

Material Science and Engineering
Homepage: http://home.iitk.ac.in/~somar

Rekha Santhanam

Mathematics and Statistics

Homepage: http://www.iitk.ac.in/math/faculty/reksan/

Nachiketa Tiwari

Mechanical Engineering

Homepage: http://www.iitk.ac.in/me/faculty/nachiketa.html
Professor B. D. Gupta passed away on 31st March, 2011 due to a massive heart attack. Prof. Gupta was born in Bathinda on 20th January, 1949. He obtained his PhD in 1975 from Flinders University, Australia. Prof. Gupta recently co-authored a book 'Basic Organometallic Chemistry: Concepts, Syntheses, and Applications of Transition Metals' with Prof. A. J. Elias of IIT Delhi. He was on leave from IIT Kanpur and served as the Chair (Chemistry department) and Dean at IIT Ropar for a year. He was at present the Vice Chancellor of Bahra University at Waknaghat, Solan in Himachal Pradesh. He is survived by his wife and three children.

The Institute expresses its deepest condolences to the bereaved family of Prof. Gupta and prays for the peace of the departed souls.
Published by: Office of the Dean, Resource Planning & Generation, Indian Institute of Technology Kanpur, Kanpur-208 016, India
Phone: + 91-512-259 7635/ 7542 Fax: +91-512- 259 0353 Email – drpg@iitk.ac.in, arrpg@iitk.ac.in