Convocation 2011
The 43rd convocation of IIT Kanpur was held on 28th May 2011 at the Institute's auditorium. Prof. P. Balaram, Director, IISc Bangalore graced the occasion as the chief guest. Prof. M. Anandakrishnan, Chairman, Board of Governors presided over the proceedings of the convocation. Students received their degrees from Prof. M. Anandakrishnan and Prof. Sanjay G. Dhande. Degrees were awarded to 1,038 students in this year's Convocation. The Doctor of Philosophy was awarded to 103 scholars. Many students were also awarded various medals and prizes for their meritorious performances. This year the President's Gold Medal was awarded to Mohit Mittal (CHE); the Director's Gold Medal was awarded to Pulkit Agarwal (EE); the Ratan Swarup Memorial Prize was given to Ashish Agrawal (CSE) and the Dr. Shanker Dayal Sharma Medal was given to Sivaranjani Popli (EE). The Gopal Das Bhandari Memorial Distinguished Teachers Award was awarded to Dr. Suchitra Mathur, Department of Humanities and Social Sciences, for her excellent and innovative teaching methodologies. Prof. Mathur obtained her PhD from Wayne State University, Detroit, USA. Her areas of research interest are feminist theories and literatures, postcolonial theories and literatures, Indian writing in English (especially the Indian-English novel) and popular culture studies (especially science fiction, detective fiction, and film studies). For details on all the awards and prizes please visit: http://www.iitk.ac.in/doaa/convocation2011/
Support from Alumni and Friends
Dr. R. K. Singhal Memorial Scholarship: Prof. Sanjay Mittal (BT/AE/1988), Department of Aerospace Engineering, IIT Kanpur, has instituted a merit cum means scholarship in memory of his father-in-law Dr. R. K. Singhal. This scholarship is for a third year student of BTech/BTech-MTech (Dual Degree) in the Department of BSBE.
IITK London Chapter Scholarship: Mr. Shyamal Desai, Chairman IIT London Chapter has instituted a merit cum means scholarship for a second year undergraduate student of any department.

Smt. Saraswati Singh Scholarship: Mr. Manoj K. Singh (BT/ME/1984) has instituted a merit cum means scholarship in the name of his mother Smt. Saraswati Singh. This scholarship is for a final year BTech student in the Department of Electrical Engineering. Mr. Singh is currently working with the Collingwood Group (a financial services advisory firm), Washington DC, as a consultant.


Sri Babu Ram Jain Memorial Scholarship: Dr. Ashok Jain (MTech/CE/1971, PhD/CE/1978 and a visiting faculty at IITK during December 2010 – May 2011) has instituted a scholarship in memory of his father Sri Babu Ram Jain. This scholarship is on behalf of all the family members of Shri Babu Ram Jain and is for a first year student of any engineering department, who is the poorest among all the admitted students and is not eligible for any other scholarship.

World Quant Foundation Scholarship: The World Quant Foundation, USA has instituted two merit scholarships for students in (3rd and 4th year UG and 3rd, 4th and 5th year MSc Integrated) Computer Science and Engineering, Electrical Engineering or Mathematics and Statistics for Quantitative Studies.
Faculty Honours and Awards
Dr. J. K. Bera, Department of Chemistry, has been chosen for the Chemical Research Society of India (CRSI) Bronz Medal. Homepage: http://home.iitk.ac.in/~jbera/
Prof. Kalyanmoy Deb, Department of Mechanical Engineering, has been selected for the Distinguished Alumnus Award 2011 by IIT Kharagpur. Homepage: http://www.iitk.ac.in/kangal/deb.shtml
Dr. Tarun Gupta, Department of Civil Engineering, has been awarded the prestigious Indian National Science Academy (INSA) young scientist medal. Homepage: http://home.iitk.ac.in/~tarun/
Dr. Shalabh, Department of Mathematics and Statistics, has been selected for the Prof. C. R. Rao National Award for Young Statisticians. This award is given by the Ministry of Statistics and Programme Implementation, Government of India, for significant work in the field of statistics. Homepage: http://home.iitk.ac.in/~shalab/
Prof. Ashutosh Sharma, Department of Chemical Engineering, has been awarded "The Syed Husain Zaheer Medal" of the Indian National Science Academy (INSA). Homepage: http://www.iitk.ac.in/che/as.htm
Dr. Binod Sreenivasan, Department of Mechanical Engineering, has co-authored a paper entitled "Melting of the Earth's Inner Core" which was published in the prestigious journal "Nature". Homepage: http://home.iitk.ac.in/~bsreeni/
New Dean of Student Affairs
Prof. A. K. Ghosh, Department of Aerospace Engineering, is the new Dean of Students' Affairs. His research interests are in the areas of Flight Mechanics, Parameter Estimation from flight data, Neural modeling, Design of Air Borne stores: Aircraft Bombs, Artillery shells and Rockets and Design of Control law of guided missiles. For more details about Prof. Ghosh visit: http://www.iitk.ac.in/aero/akg
Distinguished Lecture Series
Professor C. N. R. Rao Lecture: Prof. Amalendu Chandra, Department of Chemistry, gave a lecture titled Molecular simulations of liquids and interfaces: An HPC activity on 28th February, 2011. The lecture dealt with his group's recent studies of the chemical dynamics in molecular liquids and interfaces by using a combination of theoretical and computational methods involving first principles simulations, time series analysis, time correlation functions and phenomenological kinetic rate theories. Their primary focus was on the dynamics of vibrational spectral diffusion in hydrogen bonded systems. The correlations of spectral diffusion with simple chemical reactions such as proton transfer processes in aqueous systems were also discussed. Prof. Amalendu Chandra received his PhD from IISc Bangalore in 1991. He received many awards and honours including the Shanti Swarup Bhatnagar Prize in 2007. The Professor C. N. R. Rao Lecture Series in Chemistry has been made possible by an endowment from Prof. C. N. R. Rao (former faculty member).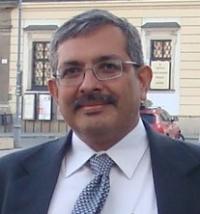 Dr. R. S. Pandey Lecture: Prof. Devang Khakhar, Director and Professor, Department of Chemical Engineering, IIT Bombay gave a lecture titled Granular flow and mixing on 28th February, 2011. In his lecture Prof. Khakhar explained that granular materials exhibit solid-like, liquid-like or gas-like behavior depending on the processing conditions, and this analogy has been used for the development of theories for granular mechanics. He said that granular materials exhibit phenomena which are very different compared to molecular materials. The major focus of the lecture was on the analysis of two prototype systems: heap flow and rotating cylinder flow. The flows have application in heap storage, blast furnace feeding, rotary kilns, ball mills and drum mixers, among others. In both systems the flow comprises a thin surface layer of flowing particles on a fixed bed of the same particles. The typical characteristics of the flow were discussed based on particle level and macroscopic measurements for model particulates as well as particle level numerical simulations. Mixing and segregation in these systems were discussed. Prof. Devang Khakhar did his B.Tech. in Chemical Engineering from I.I.T. Delhi in 1981 and obtained his Ph.D. from the University of Massachusetts, Amherst in 1986. He joined the Department of Chemical Engineering at IIT Bombay in January 1987, and has been with the institute since then. Prof. Khakhar has received several prestigious awards, which include the Bhatnagar Prize in 1997 and he is a Fellow of all the three academies. The Dr. R. S. Pandey Distinguished Lecture Series in Mechanical Engineering is supported by Dr. Rakesh Pandey (BT/ME/1978).

Professor Jagadishwar Mahanty Lecture: Prof. Sandip P. Trivedi, Tata Institute of Fundamental Research (TIFR), Mumbai gave a lecture titled Whispers from the Big Bang and the emerging landscape in String Theory on 10th March, 2011. In his lecture he reviewed how the recent progress in observational cosmology has shown that the universe is accelerating. A small and positive cosmological constant provides the leading theoretical explanation for this phenomenon. We now understand that such a cosmological constant can arise in string theory. The picture which emerges is that of a complicated landscape with many, many vacua that have widely varying values for the cosmological constant and the other constants of nature. In his lecture he appraised these developments and ended by asking what they might mean for the future of string theory and for our quest for the fundamental laws of nature. Prof. Trivedi obtained his MSc (5yrs) degree from IIT Kanpur in 1985 and PhD from the California Institute of Technology in 1990. In recognition of his immense contributions, he has been honoured by many awards such as the Infosys award and the Bhatnagar Prize. He is also a recipient of the IIT Kanpur Distinguished Alumnus award 2011. The Prof. Jagadishwar Mahanty Lecture Series in Physics has been instituted by Dr. Siddharth Mahanty in memory of his father, Prof. Jagdishwar Mahanty, who was a faculty member in the Physics Department at IIT Kanpur from 1961-1972.

Professor E. C. Subbarao Lecture: Mr. Jayant Y. Choudhary, the Chief Executive Officer (CEO) of Bharat Electronics Limited (BEL) Optronic Devices Limited, Pune, gave a lecture titled "Image Intensifier Tubes for Night Vision" on 26th March, 2011. In his talk Mr. Choudhary described the technology and manufacturing of image intensifier tubes used for night vision applications. He also described the evolution of various generations of image intensifier tubes, their principle of operation, the components, materials and processes employed for their manufacture along with the features of the special purpose manufacturing and test equipment used. Mr. Choudhary then discussed the development of higher specification image intensifier tubes in BEL Optronic Devices Limited (BELOP). He ended his talk by updating the audience about the recent advances in the technology and the contemporary technologies used worldwide. Mr. Jayant Y. Choudhary obtained his BTech degree in Metallurgy from the College of Engineering, Pune and obtained his MTech degree in Materials and Metallurgical Engineering from IIT Kanpur in 1978. The Professor E. C. Subbarao Lecture Series has been made possible by the donations made by Mr. R. Ram Kumar (BT/MME/72).
Institute Lectures
Prof. Richard J. Saykally, Department of Chemistry, University of California, Berkeley gave a lecture titled Water Music: The Latest Word on the Most Important Substance in the Universe on 18th April, 2011. He has received numerous awards and accolades for advanced research on the molecular characteristics of water.In his talk Prof. Saykally talked about the third most abundant molecule in the universe, the "universal solvent" in chemistry, and the basis of all life as we know it, viz., water, as a uniquely important substance. Yet our understanding of its fundamental nature remains incomplete. In his lecture he reviewed the recent advances in the understanding of water facilitated by the new developments in both experiment and theory. These include laser spectroscopy of water clusters, Xray and Raman spectroscopy of liquid microjets, and nonlinear laser spectroscopy of aqueous electrolyte surfaces. Currently debated subjects include the role of water clusters in the atmosphere, the mechanism of aqueous evaporation, the nature of hydrogen bonding and structure in liquid water, the effects of salts on this hydrogen bond structure ("Hofmeister effects"), the hydration structures of fundamental ions, the surface behavior of aqueous ions, and the pH of the liquid water surface. Prof. Saykally is a world leader in laser spectroscopy of liquids, surfaces, and clusters. He and his group have pioneered many important advances in spectroscopy, including velocity modulation spectroscopy of ions, terahertz laser vibration-rotation-tunneling spectroscopy of clusters, infrared photon counting spectroscopy, and cavity ringdown spectroscopy.
Workshops and Conferences
TEDx IITKanpur: SIDBI Innovation and Incubation Centre (SIIC) and E-Cell, IIT Kanpur, organized the first ever TEDx in campus on 12th March, 2011. The theme of the Conference was: "Power Of Innovation". This conference had four sessions with talks on Innovation in Technology and Science, Innovation in Art and Design, Innovation through Revolution and Entrepreneurship and Innovation through Pen, Courage and Philanthropy. The conference also had an open discussion session, where speakers directly interacted with innovators, academicians and local leaders to spark discussions on "Ideas worth Spreading" The conference was able to attract speakers from many walks of life including thinkers and doers who inspired the audience by their talks and their narrations of anecdotes from their lives. Attendees participated enthusiastically in various discussions with the speakers.
New Buildings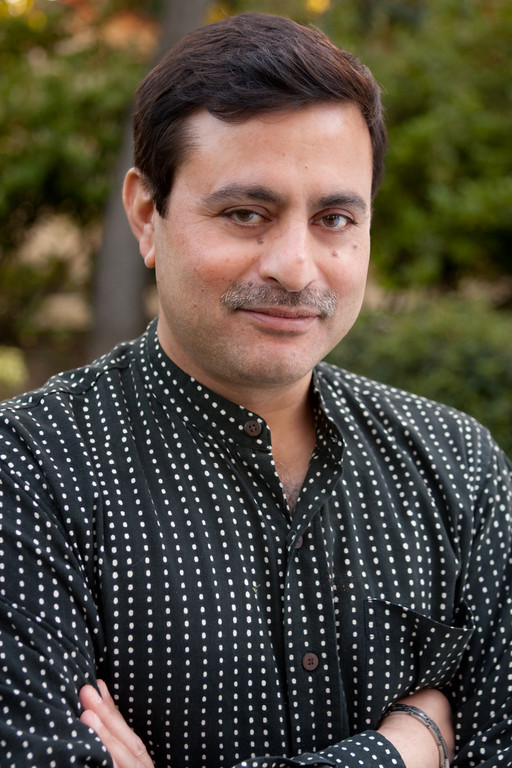 Prof. Rajeev Motwani Building: Mrs Asha Jadeja Motwani, wife of Late Prof. Rajeev Motwani, and their daughters have, on the occasion of the 49th birth anniversary of Prof. Motwani on 24th March, 2011, made a donation for the Rajeev Motwani building for the Department of Computer Science and Engineering. The foundation stone laying ceremony was held on 28th May, 2011. The Building will house the Department of Computer Science and Engineering, and will also house activities for nurturing entrepreneurship and innovation in the areas influenced by Prof. Rajeev's work. The donation also marks the start of a collaboration between the Rajeev Motwani Foundation and IIT Kanpur to help student and faculty entrepreneurs in their efforts to transform innovative ideas and technologies into successful enterprises. Prof. Rajeev Motwani did his BTech in Computer Science and Engineering in 1983 from IIT Kanpur, after which he went to the University of California, Berkeley for his PhD which he completed in 1988 under the supervision of Professor Richard Karp. Prof. Motwani then joined the faculty of the Department of Computer Science at Stanford University. He passed away on 5th June, 2009 at the age of 47.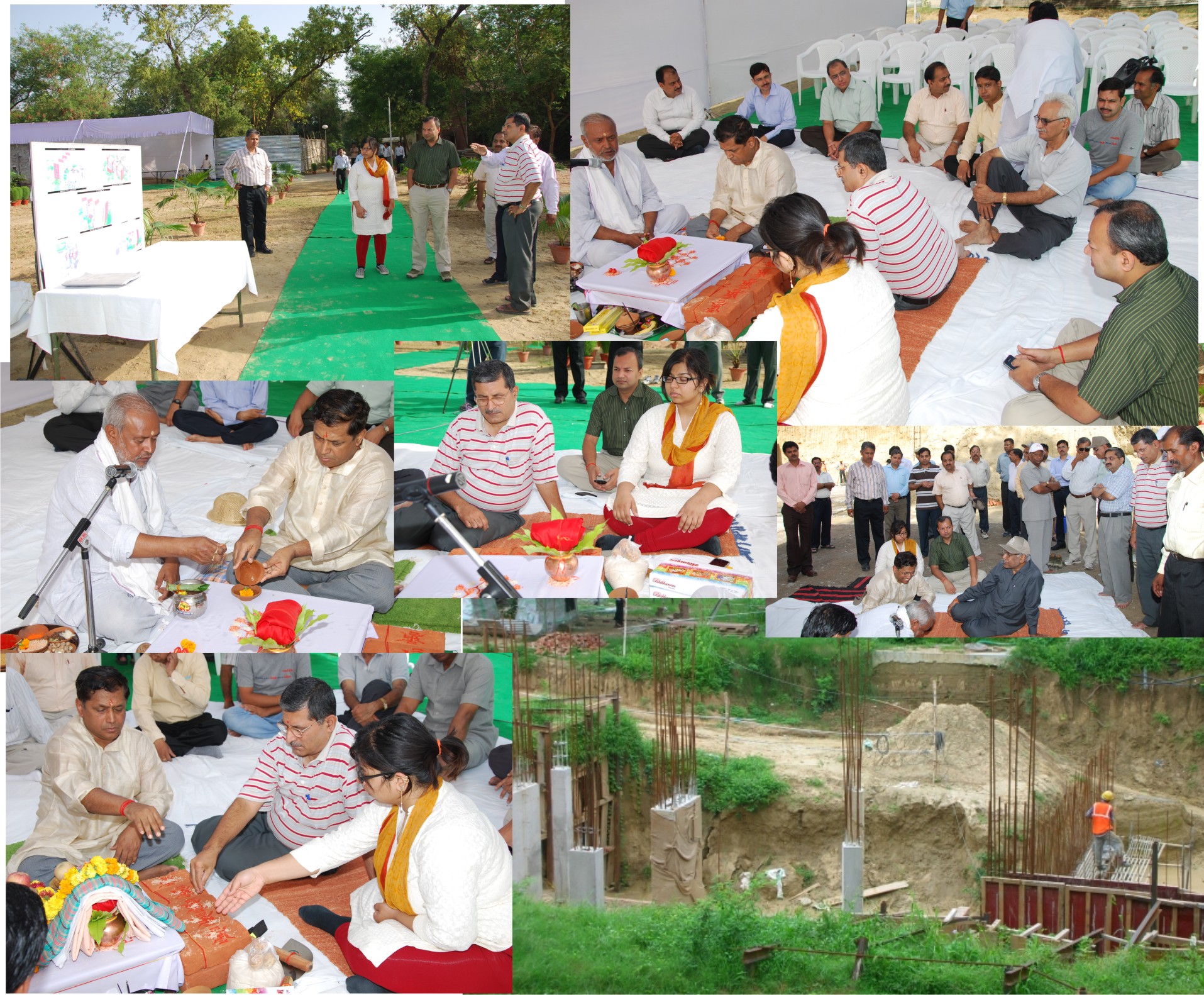 Obituary
Prof. M. P. Kapoor, Department of Civil Engineering, passed away on 23rd June, 2011. Prof. Kapoor was born on 9th August, 1934 in Kanpur. He obtained his PhD in Engineering Mechanics from Case Institute of Technology, Cleveland, Ohio. He joined IIT, Kanpur as a Lecturer in 1961 as a founder member of the Civil Engineering Department. He was appointed as DOFA in December 1976 and became Deputy Director in December 1988. He was also the Officiating Director of the Institute from July 1991 for about a year. His areas of specialization included Structural Dynamics, Structural Optimization, Earthquake Engineering and Computer-aided design. Prof. Kapoor is survived by his wife, Mrs. Shakuntala Kapoor, a daughter and a son .
Prof. G. C. Ray, Department Electrical Engineering, passed away on 5th July, 2011. Prof. Ray was a long time diabetic patient and died of related complications. Prof. Ray was born in West Bengal on 10th July, 1943. He obtained his PhD from Punjab University in 1982. He joined the Institute in 1985. Prior to joining IIT Kanpur, Dr. Ray served in Punjab Engineering College, Chandigarh. He retired from IIT Kanpur in 2005 and was re-employed for a year and there after he was Emeritus Fellow till 2007. Dr. Ray worked in the area of Bio-medical instrumentation and signal processing and got wide recognition for the design and development of the Myoelectric Artificial Hand for Below-Elbow Applications and the Speech Synthesiser for Vocally Handicapped and Spastic Children. He is survived by his wife Mrs. Rama Ray, a daughter and a son .

The Institute expresses its deepest condolences to the bereaved families of Prof. Kapoor and Prof. Ray and prays for the peace of the departed souls.
ublished by: Office of the Dean, Resource Planning & Generation, Indian Institute of Technology Kanpur, Kanpur-208 016, India
Phone: + 91-512-259 7635/ 7542 Fax: +91-512- 259 0353 Email – drpg@iitk.ac.in, arrpg@iitk.ac.in