The Spark
April 2023
| Contents | Page |
| --- | --- |
| Editorial | |
| Your Letters, Campus Reunions | |
| Tributes: Professors Gio Wiederhold, Narsingh Deo, Yeshwant Waghmare | |
| Remembering those who had helped establish the Institute | |
| A Conversation with Professor Sanjeev Arora | |
| A leading Theoretical Computer Scientist discusses his IITK days and current research interests | |
| Advances in Theoretical Computer Science | |
| Indian/Indian American winners of the Gödel,Fulkerson, and other major prizes | |
| A History of the IITK Computer Centre | |
| From the IBM-1620 in 1963 to the Param Sanganak today | |
| Our Bits of That IITK | |
| Stories and pictures shared by students and alumni | |
| Antaragni '22 | |
| Images and highlights from the recent Festival | |
* Pages 1-188 refer to the Spark Diaries #1 -5, available at https://iitk.ac.in/dora/spark/
Editors: Anuradha Jagannathan, Aseem Shukla, Chilukuri K. Mohan, Shirish Joshi
Members/Contributors: Afraz Khan, Alpna Singh, Aman Kumar Singh, Amar Gupta, Amrita Tripathi Sheikh,Anurag Dikshit, Archit Gupta, Devendra Babbar, Gauri Sharma, Girish Pant,Gurpur Prabhu, Gyan Mehta, Harshit Kant, Ishan Singh, Jiya Yadav, Kajoli Banerjee Krishnan, Lokesh Bharati, Mukkai Krishnamoorthy, Navpreet Singh,Nirmal Roberts, Nivedita Dutta-Haran, Piyush K. Singh, Raman Bhatia, Roli Garg Wendorf, Samir Palnitkar, Sanjeev Arora, Shakti Chaturvedi, Shivanand Kanavi,Shreyash Nallawar, Shruti Agarwal Raina, Srinivas Budaraju, Sudarshan Lakvalli,Tarun Agarwal
Special Thanks to Professors V. Rajaraman and H. V. Sahasrabuddhe, DORA Kantesh Balani, and the Wiederhold family for their help with this issue.
Views and opinions expressed in The Spark are those of the Editors and Contributors and not those of the Indian Institute of Technology Kanpur, unless specified otherwise.
190
---
Editorial
Reunion season at IITK was a marathon celebration from November through February this year, as alumni returned to the campus in large numbers following the two-year COVID hiatus. Bringing the alumni, students, and the campus communities closer remains a prime objective of the Spark and we hope we can encourage you to return with similar tempo in the coming years.
This issue pays tribute to three professors – Gio Wiederhold, Narsingh Deo and Yeshwant Waghmare, who helped establish the campus in the early days.Their impact can be seen on the IITK of today, on the curriculum IITK offers, on the successes of generations of alumni, and on the institute's stature in the global community.In all respects, IITK can stand tall.
The IITK Cultural Festival remains the oldest and longest continuously running inter-collegiate celebration in the country. It survived COVID as an online-only event in 2020, with subsequent Festivals shifted into the second semester of the academic year.Antaragni '22 (as the Festival is now known) was celebrated in March 2023, and in this issue, we bring you images from this colourful show.
Six issues and eighteen months after starting out on our first theme-based issue we conclude the CSE story with a celebration of international recognition of IITK's contributions. We recognize Professor Sanjeev Arora, who has received multiple global honours on this list, discuss his years on the campus, and his current research efforts.
We are fully aware that our CSE stories are not at all inclusive, and there are distinguished alumni, from IITK to MIT to Berkeley, in areas other than Theoretical Computer Science, whose stories we have not yet told. With your help, we hope we can return to the CSE theme after a few issues and pick up these threads.
Moving on, we are ready for our next set of theme-based issues, as many residents from that Hall across the campus are well aware. We welcome Anuradha Jagannathan (MSc, Physics, 1980) as the newest member of our editorial team. She has brought many new ideas to the Spark and is helping put these issues together.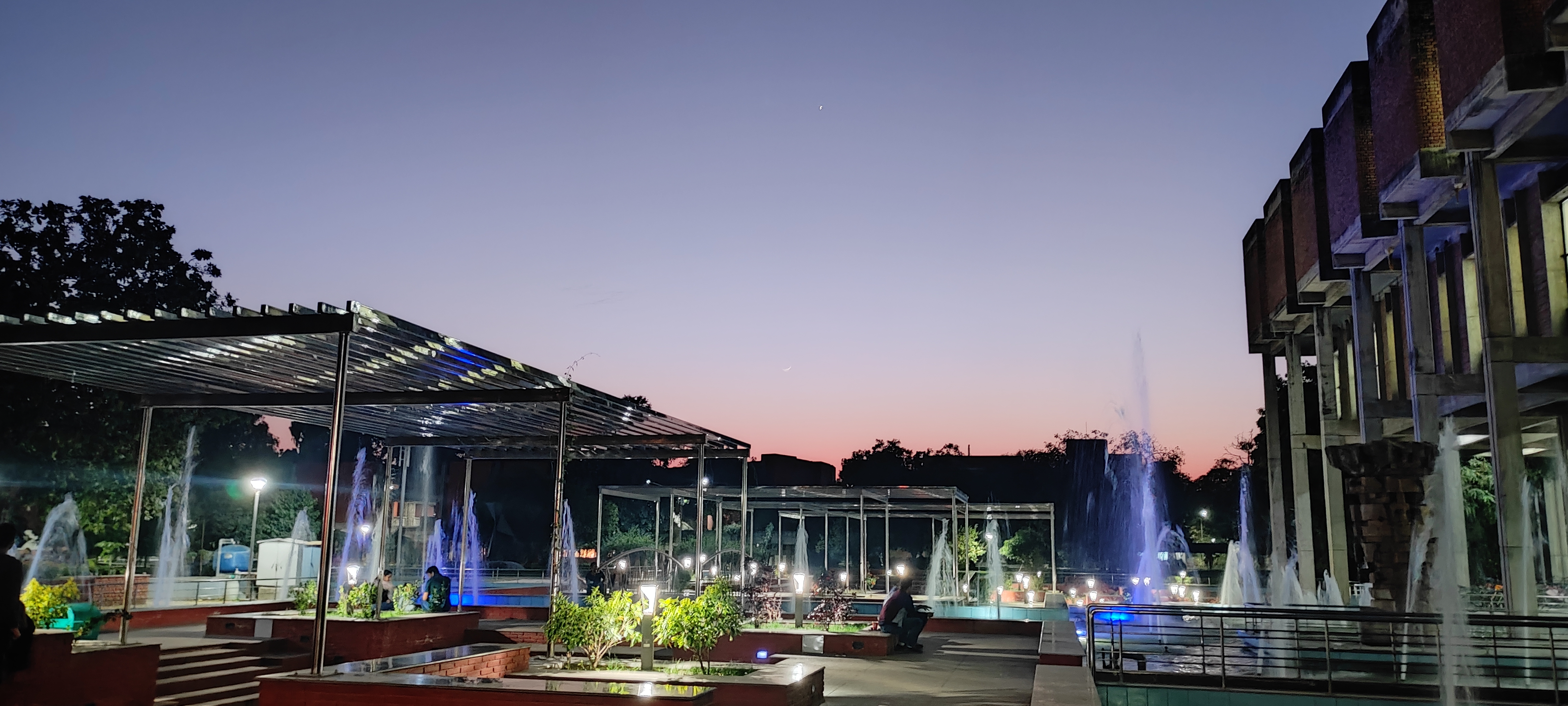 The sun sets over Western Labs on a quiet evening while students take a break from mid-sem preparations at the Library Picture Credit: Aman Kumar Singh (BT, CE, 2020-24)
191
---
Letters to the Editors
Please write to us directly at spark@iitk.ac.in. We love to hear back from you and will try to publish as many letters as possible.
IITK Song
I received an email from the DORA office with the latest SPARK. Once again, a beautiful issue with colourful photographs. I do not know when I will be able to visit IIT Kanpur, but these photographs and stories definitely fill the void.
It would be nice for the readers of the Spark to come up with an IITK song (English, Hindi or regional language or a mixture) and tune to music.College songs are popular in many universities here, check out the MIT songs on Google for examples.
I wrote a song (with help from family members) for my undergraduate college - for our 50th reunion - a mixture of English and Tamil and my wife sang it at the celebrations.
Mukkai Krishnamoorthy
MT/PhD, EE, 1969-76
Faculty, EE/CSE, 1976-79
Thank you Moorthy! Glad you are enjoying the Spark, and thanks for all your support in making it happen. Check out the video for DINBHAR KAAM NAHI ARAAM, available on YouTube, and easily accessed by searching for 'IITK Song'. Meanwhile we will reach out to the Music Club for some new compositions.
Thank You!
Heartiest Congratulations and many many thanks for your excellent initiative of Spark Magazine which has rekindled the student spirit of all alumni. We were fortunate to have lectures from the then GODS of computers. IITK was the only IIT to have IBM computers with every student feeling exclusive with a stack of punched cards while learning programming. Truly, Dr. Rajaraman and Dr. Mahabala were the only expert authors of books on Fortran IV Computer Programming. By publishing this article on Dr. Mahabala, you have given us a chance to express our gratitude to these deities of our life.
Dilip Dalal
BT, ME, 1968-73
Thank you Dilip, for expressing your gratitude to Professors Rajaraman and Mahabala (who represent all of those instructors and tutors whose classes you attended). Our teachers put their hearts and souls into teaching, and it is gratifying for them to hear that their efforts are acknowledged.
192
---
Reunion
The IITK reunion is almost here
Where memories are made that we will hold so dear
We'll gather once again, with old friends we'll meet
And share stories of our lives complete

We'll laugh and we'll chat as we relive the past
And recall the times that forever will last
We'll walk the halls where memories come alive
And we'll reminisce of the days we'd spent inside

The bond we share is strong and true
And the memories we make will always stay with you
So, here's to our batch, IITK '83
And the reunion we have, so rich and so free

May this 40th reunion be just the start
Of many more to come that will warm our hearts!
For the bond we share will never die
And the memories we make will forever fly!

Piyush K. Singh (BT, EE, 1978-83)
The class of 1978-83 at their 40th reunion, Feb 2023, with PK Singh visible in the centre of the seated row, (fifth from right).In front of the pack is the inimitable Ranjan Chopra.Picture Credit: DORA Office, IITK
193
---
Reunion Season at IITK was a busy affair this year. As the campus reopened after the COVID break, alumni returned in large numbers to relive memories and catch up on the missing years. There were seventeen reunions over the four-month period; as the weekends filled up, some events were scheduled as mid-week affairs providing a continuous celebration from one gathering to another. Reunions ranged from the class of 2010 returning for a 10-year celebration to the Frontier Batch of 1963-68 coming back for their 55th. Missed the 30-year celebration due to COVID? No problem… The class of 1989 were back for the 33rd instead. We share a few pictures from these gatherings, and a lot more can be accessed at https://www.iitk.ac.in/dora/reunion
The class of 2010 were the most recent graduates to return to campus.
And the Frontier Batch of 1963-68 were back for the 55th.
194
---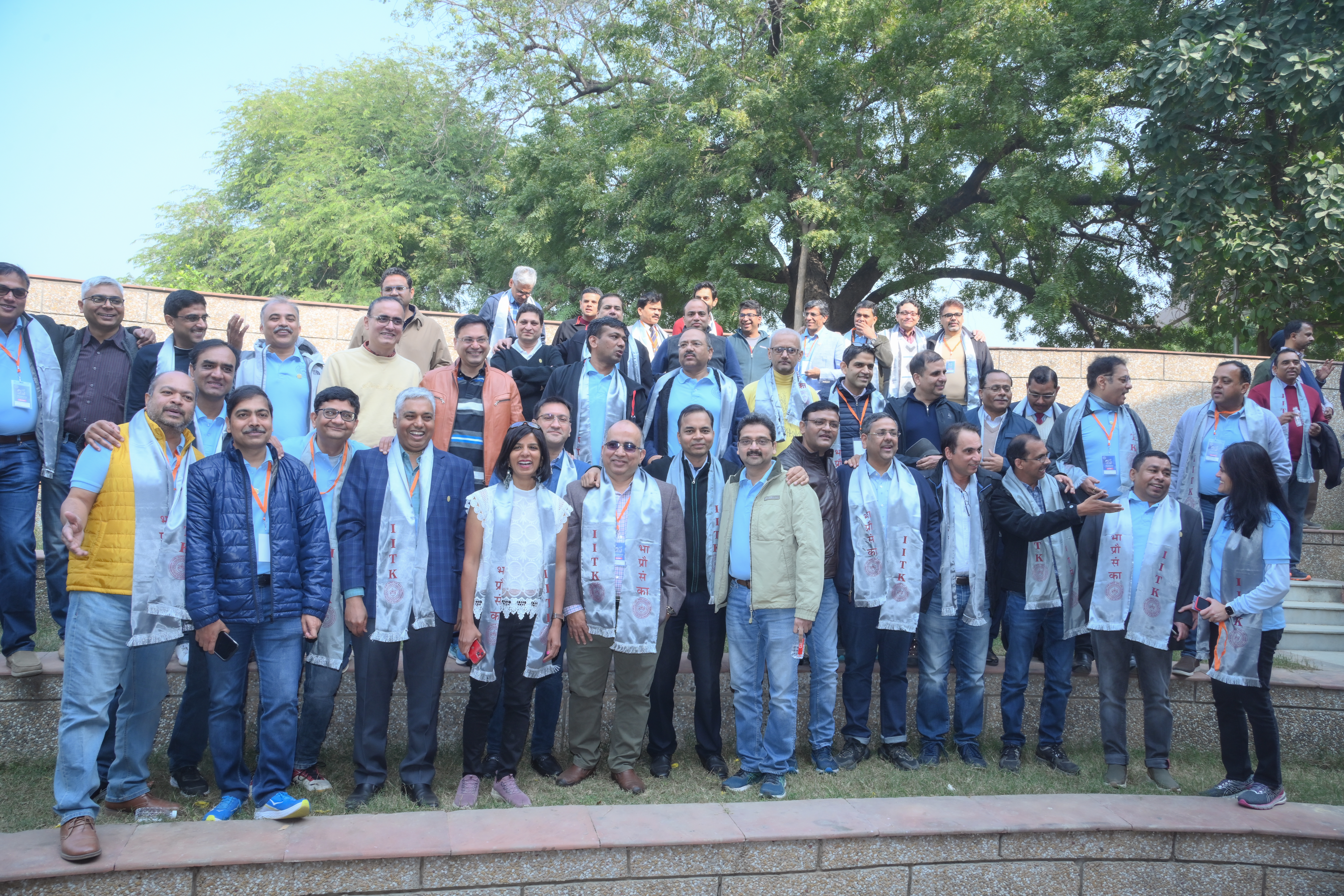 The class of 1996, returning for their 25th reunion, took the prize with 196 attendees!
And our thanks to the DORA team for the perfectly managed shows, leaving behind only fond memories of our visits…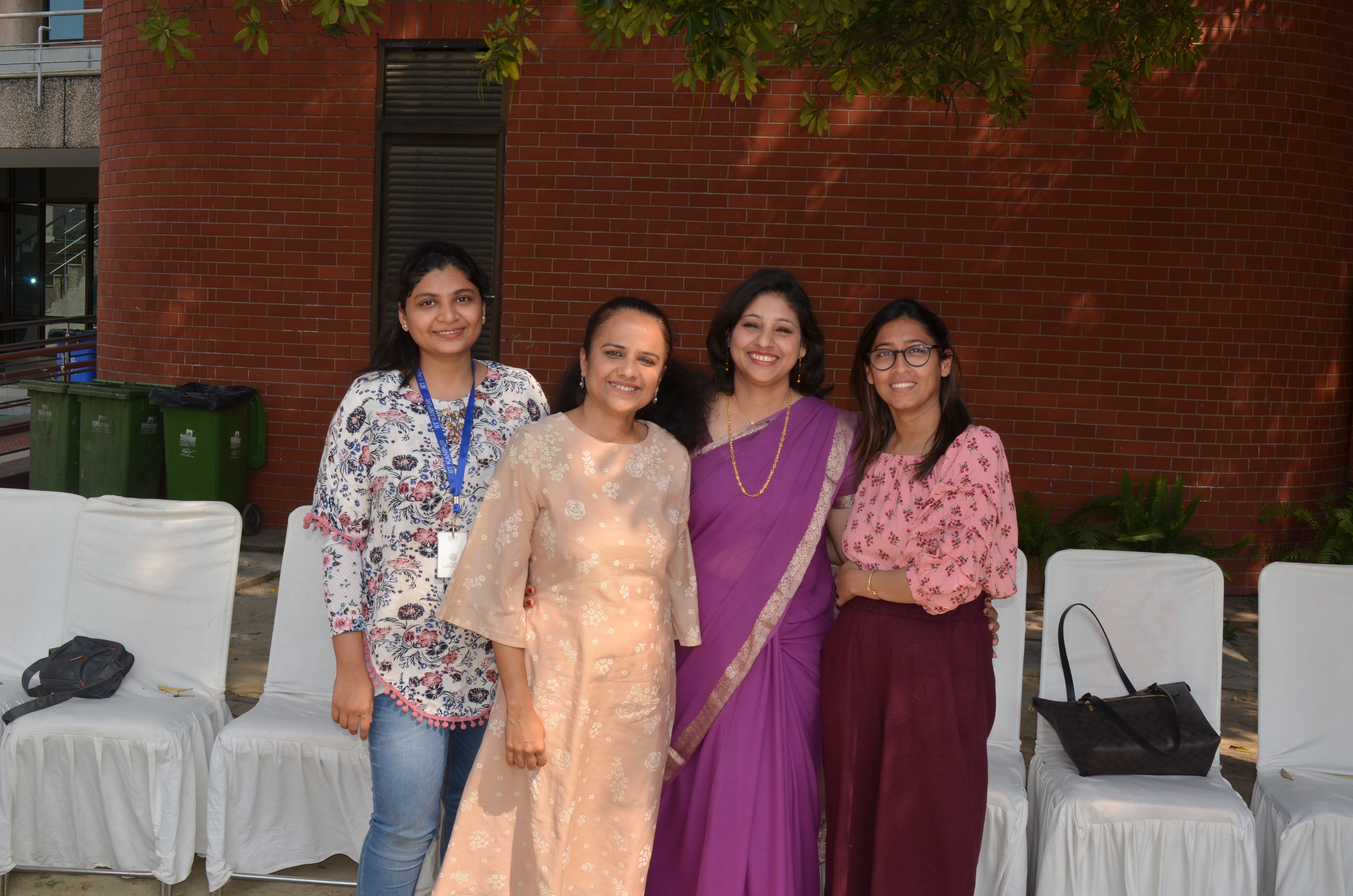 The ladies who made it all happen… Fizzah Zulfikar, Gauri Sharma, Sweta Kumar and Sakshi Gulati. Missing in the photo is Ankita Dwivedi. Also, a word of thanks to Alpna Singh who coordinates all the background IT support… the emails, meetings and web pages, as well as the publication and distribution of the Spark.Picture Credit: Aseem Shukla (BT, ChE,1978-83)
Credits: The pictures have been shared by the DORA Office, IITK, unless indicated otherwise.
195
---
Tributes
Professor Gio Wiederhold

Gio Wiederhold, KIAP professor at IIT Kanpur 1964-1965, passed away peacefully in his home in San Francisco on December 26, 2022. He was 86.
His achievements made an exceptional impact on the computing world, continued by the achievements of those whom he taught and mentored. His significance to IITK is because of his pioneering efforts in the development of computer education in India, where Dr. Wiederhold, along with a team of other IITK educators, procured computers, then developed and delivered CS and programming courseware that was taught to successive generations of teachers, computer scientists and engineers, so much so that much of India's IT generation today can trace their technology heritage back to the tree that Gio helped to plant.
Gio spent a year at IITK, and, some years later, he served as a consultant to the United Nations Development Program in India, where the Indian Government approached him for his recommendations for setting up the National Informatics Center. His efforts greatly contributed to India becoming a leader in the global IT industry and to Indian technology professionals being engaged in IT efforts in countries around the world.
196
---

Gio was passionate about the pursuit and sharing of knowledge. As an early pioneer in the fields of database and knowledge base management systems, Gio's first textbook, Database Design KBMS he integrated knowledge-based technology with artificial intelligence concepts to provide intelligent and efficient access to databases.

He authored and co-authored more than 400 published papers and reports on computing and medicine. He was the primary advisor to 36 PhD students and assisted with more than 50 other PhD theses. His first PhD student, the late Dr. Hector Garcia-Molina, led the growing database group at Stanford University where he was chair of the Computer Science Department from 2001-2004.

While kings may be judged by the geographic areas of their kingdoms, we applaud Gio for his professional work in large scale computing, and its broad impact and applicability: he played a pivotal role in the rapid growth and broad adoption of computer science in India and globally, over several decades. While he has left us, he and his work will be remembered and appreciated for ages to come.
Complete details of Dr. Wiederhold's life and career can be found in Wikipedia at:
https://en.wikipedia.org/wiki/Gio_Wiederhold
The obituary is here: https://www.forevermissed.com/giowiederhold/about
A list of his citations: https://scholar.google.com/citations?user=fJiGhkoAAAAJ&hl=en
Stories of Gio's adventures in India can be read at: https://iitk.ac.in/dora/spark/issue-2/#Wiederhold
Among some of his more interesting citations, the Oxford English Dictionary credits Professor Gio Wiederhold with one of the earliest uses of the term 'Computer Crash'.
Contributed by Amar Gupta (BT, EE, 1969-74) and Shirish Joshi (BT, ChE, 1973-78)
197
---
Professor Narsingh Deo

Professor Narsingh Deo, a former faculty member at IITK who had made invaluable contributions to computational graph theory and computer science education, passed away on January 13, 2023, in Winter Park, Florida after a brief illness.
Prof. Deo was born in Raniganj (Bihar) in 1936. He earned a B.Sc (Physics) from Patna University, followed by a Diploma from IISc, M.S. from CalTech, and Ph.D. from Northwestern University.After several years of working in industry (at the Burroughs Corporation, JPL, and Britt Electronics Corp.), he started teaching at IIT Kanpur in 1971, and served as the Head of the Computer Center for two years. He also co-organized a well-attended workshop on Computer Science Education in 1973, which provided templates of several courses, and resulted in the creation of an extensive bibliography.
After seven years at IIT Kanpur, he moved to Washington State University (Pullman) where he chaired the CS Department, moving later to the University of Central Florida in (1986), where he served as Millican Chair Professor and the Director of the Center for Parallel Computation, until his retirement in 2017.  He returned to spend several sabbatical years at IITs during this period.
Prof. Deo had taught rigorous courses on Computational Graph Theory and Computer Simulation, which attracted students from multiple disciplines.These courses led to two widely acclaimed textbooks he authored, titled Graph Theory with Application to Engineering and Computer Science, and System Simulation with Digital Computers.He also co-authored Combinatorial Algorithms: Theory and Practice (with E.M. Reingold and J. Nievergelt), a treasure trove of the state of algorithms for enumeration problems, computational problems in Graph Theory and backtracking algorithms; this book is a graduate-level textbook, still used today. He was also particular about implementation aspects of graph algorithms, and co-authored Discrete Optimization Algorithms: With Pascal Programs (with M.M. Syslo and J. S. Kowalik). His excellent expository writing style was treasured and emulated by his students.
Prof. Deo had received many accolades over the past six decades. He was a Fellow of both ACM and IEEE and served as the President of the Forum for Interdisciplinary Mathematics.He continued to be active in research, and recently published an article in the Journal of Computer Society of India. He had advised over 20 Doctoral students and many Master's students. He set an example to his students with his dedication to teaching, hard work, meticulous attention to detail, and exemplary standards for research. He had exacting standards and pushed his students to excel. He imparted his extensive knowledge to students, and mentored them late in their careers, generously supporting them with his time and wisdom.
198
---
Prof. Deo had a wide circle of friends. He was quick-witted and was well-known for his humorous quips in conversations. He often used his good sense of humor to smoothen awkward situations. Whenever he gathered with friends, he regaled them with many anecdotes. A few years ago, when others were bemoaning a friend's death, he quoted Yudhishtira's response to Yaksha's question in Mahabharata: "What is surprising? Death is certain, and yet every minute we act as if we will live forever."
Prof. Deo will be missed by his students and his many colleagues.
Professor Deo being honoured by the India Centre at the University of Central Florida
Contributed by Mukkai Krishnamoorthy (MT/PhD, EE, 1969-76, Faculty, EE/CSE, 1976-79) and Chilukuri K. Mohan (BT, CSE, 1978-83)
199
---
Professor Yeshwant Waghmare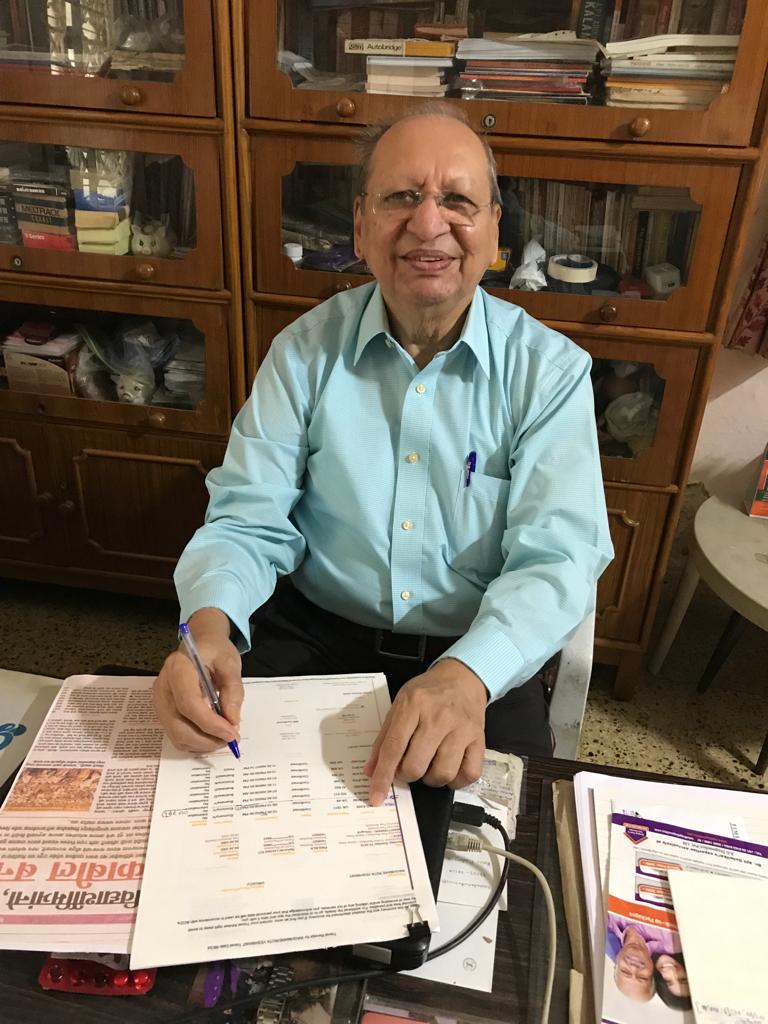 Professor Yeshwant R. Waghmare, a much-loved former faculty member of IITK's Physics Department passed away on January 27, 2023. A nuclear physicist respected in the scientific community for his academic accomplishments, he was also a well-loved teacher, and a mentor for generations of students who appreciated his approachable and communicative personality. During his career at IITK, he served as Head of Department of Physics, as Dean of Student Affairs, and as acting Director. Among other responsibilities, he was President of the prestigious Indian Association of Physics Teachers (IAPT) since 1999. This organisation, along with Homi Bhabha Centre for Science Education, Mumbai, selects the Indian students' teams for the International Olympiad in Physics, Chemistry and Biology. He is survived by his wife Mrs. Anjali Waghmare and daughter, Dr. Ruta Waghmare.
Prof. Waghmare received his M.Sc. from Bombay University in 1958, and Ph.D. in 1962 from Physical Research Laboratory, Ahmedabad, both in the area of Nuclear Physics. He worked as assistant research scientist with Nobel Laureate Mrs. Maria Mayer at the University of California. He then was a Research associate at M.I.T., before joining IIT Kanpur in 1966, where he served as a member of the Physics Department faculty until his retirement in 1997. He was subsequently a Visiting Professor in IUCAA, Pune and was Emeritus Scientist in Physics Dept., University of Pune, during 1998-2002.
He has written over 80 papers and directed 13 Ph.D. theses. He has also written 18 books on Nuclear Physics, Reactor Engineering, Classical Mechanics, Quantum Mechanics, and Theory of Relativity, to name a few. He was a Senior Associate of the International Centre for Theoretical Physics (Trieste, Italy), and Visiting Professor in universities worldwide, including the USA, Britain, France, Germany, Israel, Australia and Switzerland. He was actively involved in promoting scientific education at all levels, through his books and his interactions with students.
200
---
His ties with Maharashtra have been long-standing. He was a Fellow of Maharashtra Academy of Sciences and National Academy of Sciences. He was Vice- Chairman of Maharashtra Education Society, Pune. Among other positions, he was a member of the Board of Trustees of the Indian Institute of Education (IIE), Pune, which is committed to taking science and technology to rural areas, and welfare of rural women.
Professor Waghmare shared his passion for physics, history, and philosophy, in writings for the lay public, where he would enliven his text with historical anecdotes. Courteous and gentlemanly, he was a lover of music, and a keen sportsman. An excellent cricketer, he frequently opened the batting for the Faculty teams, and could strike boundaries at will. On the personal front, he extended his warm hospitality to many of us IITK students over the years. His office was always open, his smile always welcoming. He will be greatly missed. Our thoughts and condolences go to his family.
Professor Waghmare visiting the 14 Trees Foundation near Pune in 2022. 14 Trees is a charitable organisation, started by IITK Alumni, dedicated to building sustainable, carbon-footprint-neutral eco-systems through reforestation
Contributed by Samir Palnitkar (BT, EE, 1986-90) and Anuradha Jagannathan (MSc, Physics, 1975-80)
201
---
A Conversation with Prof. Sanjeev Arora
Sanjeev Arora joined the IITK CSE Program as the JEE #1 in 1986. After two years in Hall II, he transferred to MIT where he graduated with SB in Math with Computer Science in 1990. Sanjeev went on to get his PhD in Computer Science from UC Berkeley in 1994, on the hardness of approximation problems, under the guidance of Umesh Varizani. While at Berkeley, he also interacted with Madhu Sudan (IITD) and Rajeev Motwani (IITK), with whom (and others) he shared the 2001 Gödel Prize for work on the PCP theorem and its applications to hardness of approximation.
After Berkeley, Sanjeev joined the faculty of Princeton University in 1994. In 2010 he was awarded a second Gödel Prize, this time for the discovery of a polynomial-time approximation scheme for the Euclidean Travelling Salesman Problem. In 2012 he received the Fulkerson Prize for another significant work: Improving the approximation ratio for graph separators and related problems.
Sanjeev was awarded the ACM Infosys Foundation Award, given to mid-career researchers in Computer Science in 2011, and he was elected to the National Academy of Sciences on May 2, 2018.
Although he did not graduate from IITK, Sanjeev remained in touch with the campus and has fond memories of his years there. He was actively involved with the Cultural Council and played a key role in reviving the Spark in 1987. He revisited the campus in January 1990 to spend time with friends before the parting of ways at graduation. In December 2014 he returned to the campus for his batch's Silver Jubilee reunion.
Picture:Mathematisches Forschungsinstitut, Oberwolfach, Germany
The Spark team reached out to Sanjeev to discuss his IITK days and his subsequent experiences.The transcript of the conversation follows.
Spark: You grew up in Jodhpur and did your schooling there.Tell us a bit about your childhood interests and activities. What pointed you towards IIT?Why IITK? Why CS?
SA: I was born in Jodhpur and lived there till age 16 except for a 3-year period. I was a good student and read voraciously. I liked photography (darkroom work B+W), visual arts, playing cricket, biking all over town (including on the hottest days).
I knew about IITs from an early age because we actually lived on the IIT Delhi Campus in 1974-77 while my father was getting a PhD in Civil Engg. The campus felt amazing to me, an unbelievably advanced world compared to sleepy Jodhpur. The Computer Center (fully air conditioned; imagine that!), the 9-floor high main building (tallest building in all of Delhi – and anybody, including an 8-year-old, was free to ride the elevator to the top at any time to check out the amazing view!) And did I mention the open-air cinema (free movies!), badminton courts, swimming pool etc. etc.?
202
---
After we moved back to Jodhpur, I remember an excited friend telling me around 1981 (so I must have been 13) that a local kid (I can't recall the name) had been ranked in the top 30 in India in the IIT exam and was going to study "Computer Science" at IITK. I believe this was the first time I heard the term Computer Science. It felt oxymoronic and hilarious, because my general impression was that a computer (which I had never seen) was just a big and fast calculator.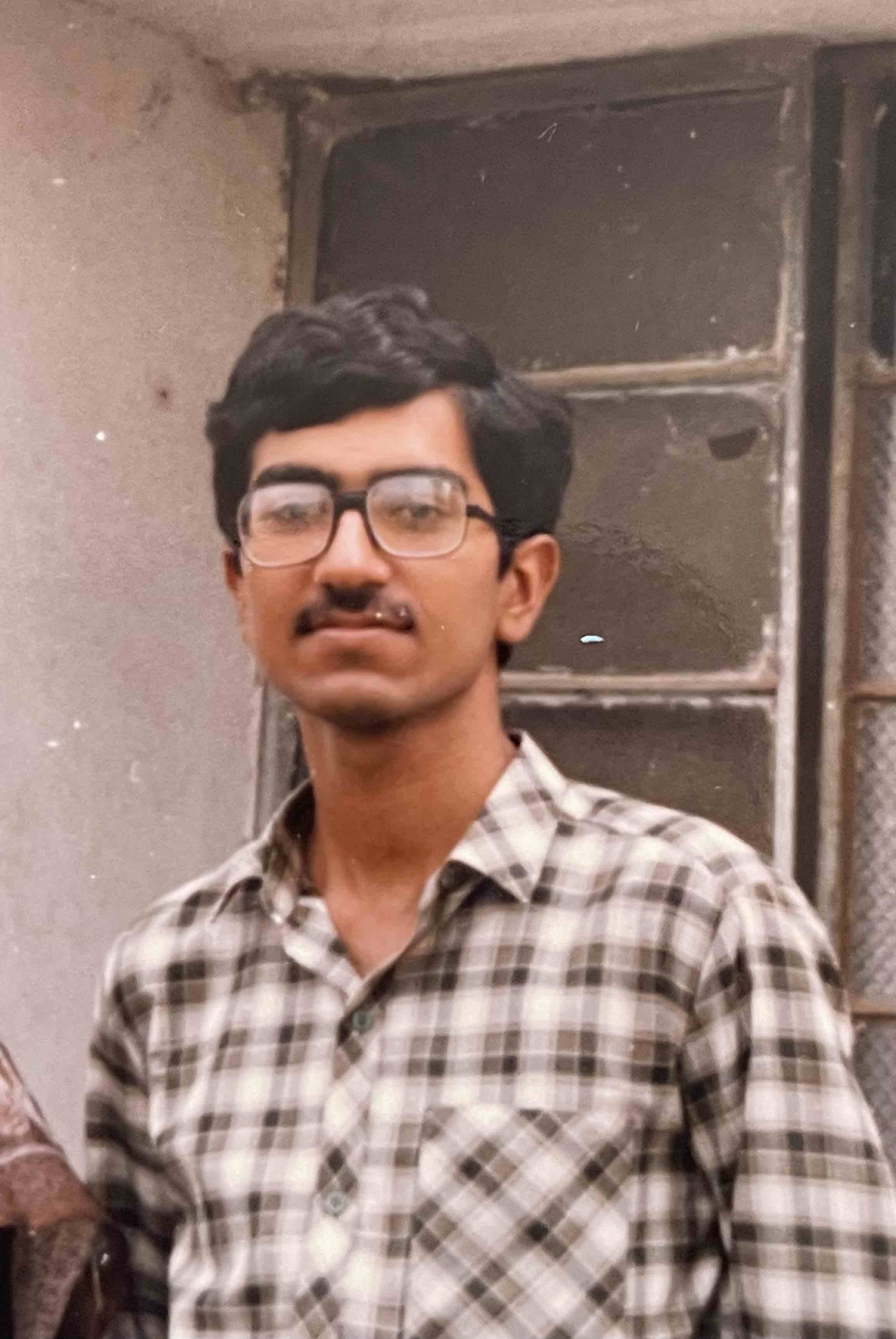 By 1986 though, I knew many IIT-ians. My older brother went to IIT Delhi in 1985 to study EE, as did some other boys we knew. By then the general agreement was that the top students study CS and that IITK was the best place to study it. (Maybe I had also heard that IITK is the "American IIT" but I am not sure.)  So, there was a significant expectation from friends and family for me to also go to an IIT and thence to a dream job.
However, some of my life choices and ideals were shaped by my interactions in my high school with the Principal, Father Clarence Dias (I had many good conversations with him about all kinds of things) and he was quite insistent I should do something "different" from the usual kids, maybe research. So, despite all the hype about CS, I wasn't sure if it was the right thing to do. After all, scientific greats do Physics or Math, right? Anyway, after I did well in the entrance exam, I decided I would enroll in CS at Kanpur and take a year to figure things out. I figured it would be trivial to switch "down" from CS into other majors after year 1 if I wanted to.

Spark: What was IITK like? Memories from your two years there? Ragging stories? Cultural Festivals or other activities? How did you get involved in the Spark?
SA: Ragging was terrible, and I got singled out for bad treatment. Some of the most awful weeks of my life. But after those few weeks were over, it was fun to hang out with my "band of brothers" in my wing. From the start, I got seriously involved in festivals and other cultural activities on campus.
We started a little rag magazine in Hall Two, possibly in first year itself. I don't recall what we called it, but it was a few pages of cyclostyled material. The team initially consisted of Suman Palit and Me (Espee and Essay), with some help from friends. At some point LV Sudarshan (Elvis) joined our efforts. I recall showing the rag mag to a few faculty members and some of them (e.g., MM Oberoi) mentioned that it reminded them of the Spark. That's when I dug up an old issue of Spark; I don't recall where I got it. We decided to revive Spark. The IITK Cul Secy was enthusiastic and provided financial support.
203
---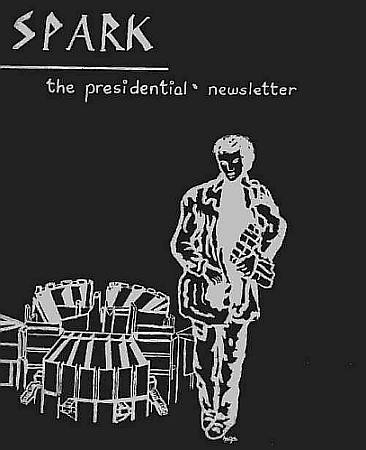 All editions of our version of the Spark were produced using the cyclostyling machine in SAC (Students' Activities Center, the hub of the Students' Gymkhana).We got a large number of covers (probably 2 to 3 thousand) printed at one go in the IITK printing press (Graphic Arts Section, below the Library) before we started, and we used the same cover for all the editions. The contents page with dates (month) and edition info, credits, and table of contents with page numbers etc. was on one of the pages inside. About 6 or 8 issues were published over the next two years, though I of course left IIT after one or two issues. I believe Elvis created bound sets of those issues and left copies in the SAC and Main Libraries. Maybe the IITK library still has copies.
Spark: How about academics? First two years were the core curriculum. Did you take any CSE Dept classes? Any Professors who left a lasting impression?
SA: I liked the core curriculum, and in hindsight I love it even more. We moved through a lot of material in those two years but a lot of it has stuck around in my mind and sometimes made more sense years later. It makes me a more complete scientist today.
I took two CS courses in year 2 (Intro to Programming, and Data Structures), which were OK but not great. At that time the CS dept was struggling due to the departure of most of its eminent founding professors.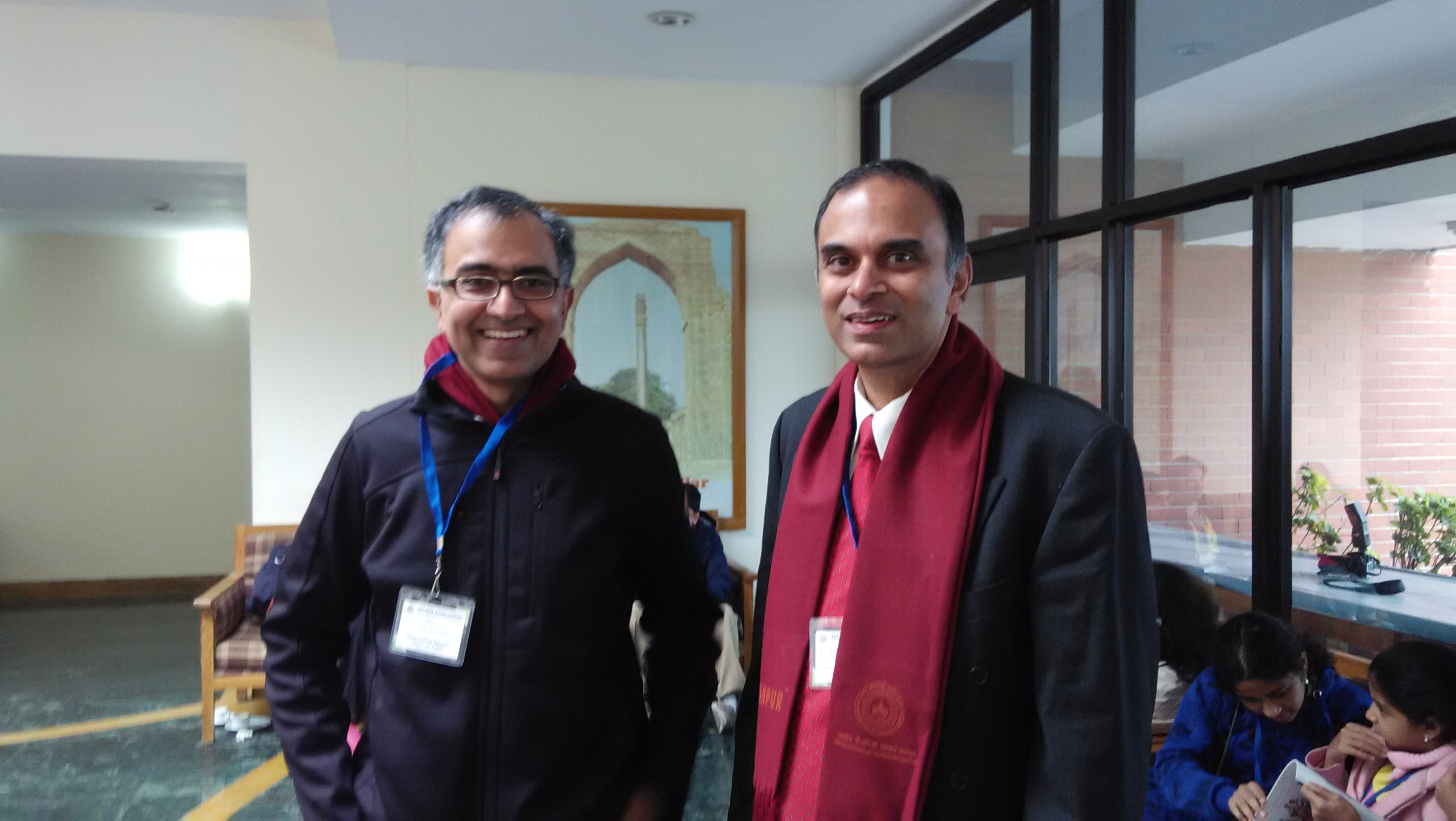 Spark team members Sanjeev Arora (Essay) and Sudarshan Lakvalli (Elvis) at the Silver Jubilee Reunion at IITK, Dec 2014.Picture Credit: Sudarshan Lakvalli
204
---
The department consisted of half a dozen Asst Profs. I was not very attracted to CS at IITK. I had nice interactions with quite a few non-CS faculty (eminent chemist MV George was one of them). I read Gödel Escher Bach, a fashionable book on campus that was considered profound. (Though in hindsight -- having worked in both theory of computing and AI! -- I find it overwrought and verbose.)
January 1990 on a return visit to IITK, to catch up with friends. Moustache was let go at MIT.
Spark: Tell us about the transfer to MIT. How did you apply? Was it on a scholarship? Did IITK Profs help you? You got all the credits transferred… presumably that was not an issue since they had set up the curriculum and were familiar with it
SA: A cousin of mine (four years older than me) had attended MIT as an undergrad. I learnt about the application process (SAT, AP etc.) from him, and also learnt that MIT gives need-based scholarships to everybody who's admitted. I was attracted to the idea of going to the US and trying to do research (in what exactly, I didn't know --- Physics seemed coolest at the time).
Also, thanks to my IIT-JEE performance I had 1 lakh rupees in award money, which in those days was worth over USD $10K. This seemed like enough of a nest egg to let me go to the US without imposing a financial burden on my parents. (Aside: later when leaving for the US I discovered that foreign exchange controls allowed me to take at most $750 dollars out of India! But it turned out all fine; I didn't need much money due to the full scholarship package.)
I applied for a transfer to MIT in my freshman year. The application process was not hard -- I went to Delhi for a weekend to write SAT etc., and IIT profs were kind enough to write recommendation letters. I got in at the end of my freshman year, but there was some issue with the financial aid application (it got lost in the mail!). MIT was kind enough to delay my admission by a year. So, I arrived at MIT after finishing 2 years at IITK. I took along documentation about my coursework (syllabus, text etc.)
205
---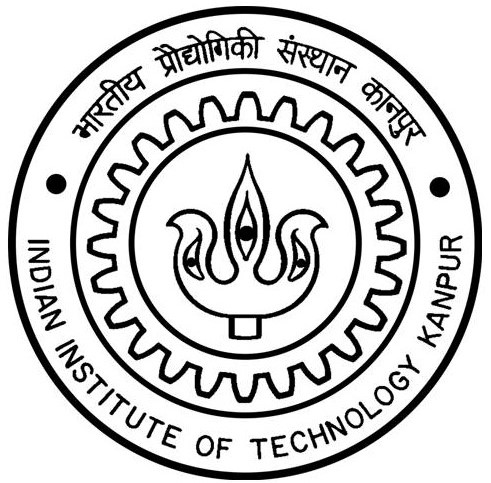 and during my first week at MIT I went around to profs who gave me equivalent MIT credit. A couple of weeks after arrival I found a job assisting a research project. Everything worked out smoothly.

Spark: You are probably the only person who has had first-hand experience of both IITK and MIT UG classes. Which one was harder and had more intense competition? We believe MIT had stopped assigning letter grades for first year classes in a bid to curb competition and suicides…

SA: A difficult question. At MIT the average undergrad took 4 courses/term whereas at IITK the requirement was more like 6/term. MIT courses went deeper into the material and had more interesting problem sets and labs. The TAs at MIT were excellent, and the Profs were generally superb –though I felt the IITK Profs had been quite good too.

I'd say the top 10% of MIT students were better in many ways than their IITK counterparts. I attribute this not to any inherent difference in ability but to the fact that IITK's culture looked down upon "Maggus". At IITK you had to play a cool "Bakait" who is cruising through classes without sweating. At MIT there was no shame in being passionate about topics and being deeply excited by your coursework.

But the median MIT student was weaker than their IIT counterpart. This is to be expected based upon numbers: MIT is one of 5-8 top US universities and back then admitted 1000 freshers each year, whereas all IITs put together admitted 1500 from a country of one billion.

Many MIT undergrads were stressed in their lives and overworked, but this had also been true at IITK.

Spark: Was the nature of the educational experience different, e.g., relative emphasis on theory, math, programming, course projects, term papers, exam structure, industry interactions?

SA: The biggest difference was that at MIT you were free to figure out your own education plan (including what field to major in). At IITK, you of course had essentially no flexibility. I recall holding the MIT coursebook in hand when I arrived and feeling "I am free to take any course in this book, and also attend lectures in any of them, whether or not I am enrolled in the class." Most MIT students were studying things that interested them. They would shop around for the best classes and professors in the first couple weeks of the term, which of course had not been possible at IITK. This freedom (and many other freedoms in your personal life) was a learning experience in itself. By the way, most top universities in the US offer similar flexibility. (At Princeton you only declare your major after 2 years in most cases, and after 1 year in Engineering.)
 At MIT I also greatly enjoyed some interesting coursework on literature, music, creative writing etc. and loved the discussion-based learning used in those classes. They left a big impression on me, and I stayed in touch with some of those professors for many decades.
At MIT, homework/labs determined a significant fraction of the grade and received a lot more care and attention from both students and faculty. (Again, this was possible only because of the vast pool of well-qualified graduate TAs.)
At least a third of my fellow MIT undergrads were doing some form of independent work/research outside of coursework. Most got an hourly stipend for it (either from a professor's grant or from MIT's UROP fund). Of course, it was a treat to hang out with a research group of grads and postdocs; they treated me well, and I played softball with them (which requires a skill set not too different from cricket).
206
---
Spark: Did you feel well-prepared for the MIT courses, due to the preparation provided by IITK courses?  Was there an undergrad project/thesis?
SA: Yes, IITK had definitely prepared me well for handling the MIT curriculum.  The MIT courses were also very well-taught.   My area of specialization was Mathematics with Computer Science.
A thesis was not required for my major and I did not write one. But I did research with one or more professors for my entire time at MIT, and also wrote a paper for a top venue to which I contributed significantly. (This paper probably helped me get into all the top grad schools after I graduated.)  I also took a few advanced grad courses in my senior year from world experts, and these courses were a blast. In my senior year I got a research grant to do some independent research (related to P vs NP) and found some great advisors who were very generous with their time and attention. My two years at MIT were a great time intellectually (both in and outside class).  They helped build up my skills and confidence, which let me hit the ground running (academically and socially) in Berkeley later.
Spark: Tell us about Grad studies.  You joined Berkeley.   What area, who was your advisor?  Thesis topic?

SA: In my first year I was primarily having a good time and exploring research ideas.  I took a few courses (including courses outside CS such as creative writing) and made good friends. I met my future wife, who was a grad student from Germany in another department. It was an intoxicating time.
My research area was theoretical CS and my advisor was Umesh Vazirani. He had a hands-off approach but was available whenever I needed him. He told me I was free to find my own research problems. I learnt a lot from him over the four years. Some of the other professors, especially Richard Karp, were also very generous with their time and attention.
Spark: How did this lead to the Gödel Prize?  Tell us about your interactions with Madhu Sudan and Rajeev Motwani.
SA: When I was in my first year of the PhD, a couple of papers appeared which in hindsight were a clear precursor to what was to become the PCP Theorem. Several professors (including my advisor Umesh) found them very interesting but at the same time quite mysterious. At least one of the papers was written very sloppily.  I spent some months thinking about this pair of papers and became a local expert on that topic. Several senior grads would talk to me to understand what was going on in those papers.
At the start of the 2nd year, I met Muli Safra, a coauthor of one of the two interesting papers (I had known him a bit at MIT where he had been a postdoc) and he and I immediately started an interesting discussion. He was a postdoc at IBM Research, about 1.5 hours away, but he would regularly come up to Berkeley and we would work out new ideas. Things progressed rapidly and within a few months we had a significant new advance which we wrote up.
207
---
A few months passed,  and my office-mate Madhu Sudan (we shared an office because we were both students of Umesh Vazirani) had an interesting idea, namely that if my work with Muli could be extended in a certain way, this could lead to an inapproximability result for the NP-hard problem 3SAT. Madhu had been discussing this with Rajeev, who had been a grad student at Berkeley some years earlier, and was by then an Assistant Professor at Stanford. We met a few times to work out more ideas, and pretty soon had made more progress. We had a manuscript and word got out informally, and Lund and Szegedy of Bell Labs (who had been working on similar things and had independently discovered some of the same results but were stuck) called us to contribute a significant new idea. We and they realized that putting everything together gave what is called the PCP Theorem; and this was my second paper of that year. Those 6-7 months were an amazing time of my life.
So, the collaboration with Rajeev happened because he was friends with my fellow graduate student (and collaborator) Madhu Sudan. Later I got to know Rajeev better and had some other interesting research discussions with him.
Spark: Tell us about the move to Princeton…  The second Gödel and the Euclidean Travelling Salesman Problem.  And the Fulkerson prize…   about the approximation ratio for graph separators, the results obtained and why they are relevant
SA: The PCP Theorem showed that computing approximate solutions to many NP-hard problems is itself NP-hard. But it didn't apply to all NP-hard problems. I became increasingly interested in actually trying to compute approximate solutions to classic problems like Traveling Salesman. By this point I was an Assistant Professor at Princeton and had lots of free time for research. At some point I began to suspect that the Euclidean traveling salesman problem may be very easy. This hunch was the motivation to think in a very different way, quickly discovering a very simple approximation algorithm that got a (1+epsilon) approximation. Somehow people missed it all this time (problems like Traveling Salesman and Steiner tree had been studied since the 19th century).  It was a lucky break, especially since the following year I managed to improve my algorithm to run in near-linear time.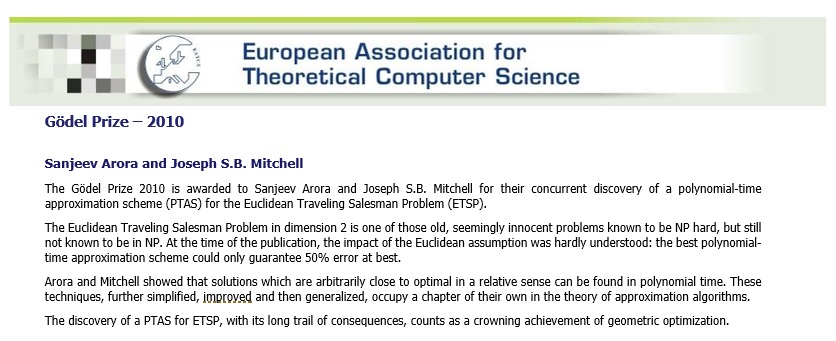 208
---

The work on graph separators started during a sabbatical at Berkeley in 2002. Umesh Vazirani and Satish Rao told me about an interesting idea for this classic problem. Their idea seemed deceptively easy at first but turned out to be quite hard to make precise. I devoted the following year and a half mulling over it. Satish Rao came over to Princeton for the summer the following year, and we made some progress, and we also met up again with Umesh to work some more. Finally, by late 2003 we had our breakthrough algorithm. Over subsequent years it ended up motivating various new research directions in geometric embeddings, approximate flow algorithms, cut problems etc. That led to the Fulkerson Prize in 2012.
Spark: Wow! Congratulations! That is quite a remarkable set of accomplishments, and we look forward to reading more about your future research. Do you visit India? Have you returned to IIT Kanpur? Given any seminars there? Would you like to return as a visiting faculty?
SA: I visited the campus in January 1990 to catch up with friends before we all graduated in May. After that I have only visited IITK once, in 2014 for the Silver Jubilee reunion of my batch. (IITK does not have any record of me -- they don't maintain records on people who drop out of the program). My batchmates included me in the reunion. It was nice to be back for a couple days; would love to go back again.
Spark: Your advice for IITK students?
SA: Do not hesitate to be idealistic and aim big. You are among the smartest people of your generation. There is a lot more to life than the 1 crore job that your parents and friends consider the epitome of a successful life.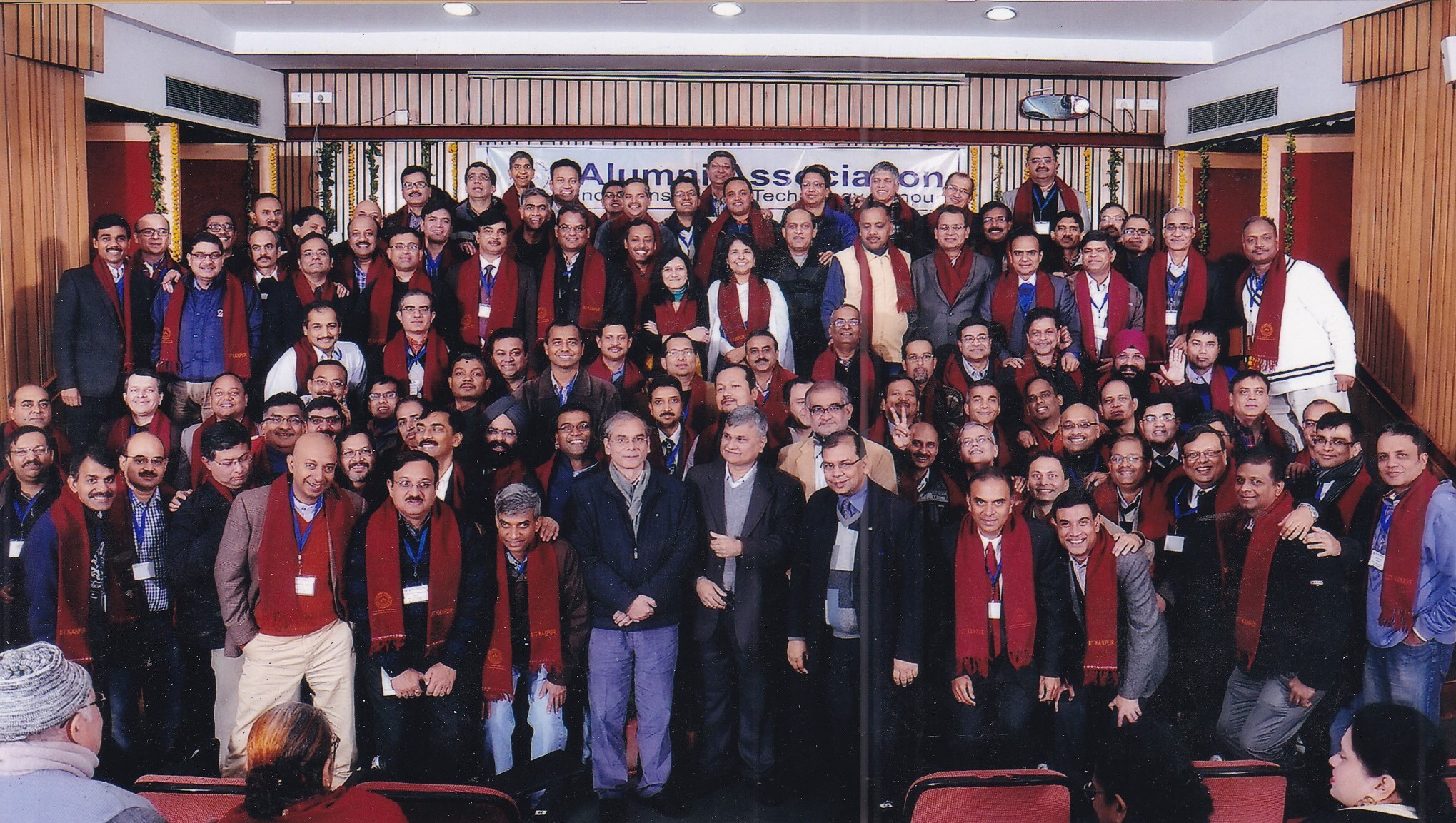 A picture of the 25th Reunion of the Class of 1990 at IITK, Dec 26-28, 2014, with Sanjeev visible in the top right corner. Picture Credit: DORA Archives
209
---
Advances in Theoretical Computer Science
Over several decades, IIT Kanpur's CSE Department faculty and students have developed a strong reputation for their fundamental contributions to Theoretical Computer Science. They follow in the tradition of mathematicians who don't need expensive equipment or well-funded laboratories to come up with brilliant ideas. Substantial progress instead requires sustained and well-focused research on a clearly defined problem, withstanding the diversions of everyday personal and professional life.  The long tradition at IITK of encouraging such research by young faculty and students has borne many fruits, in the form of international recognition. 
We have compiled lists of known Indian / Indian American awardees of the best-known awards in Theoretical Computer Science; IITK has clearly been the most successful Indian academic institution in this regard. Of course, IITK faculty and students have also won many awards in other areas of Computer Science and Engineering, not listed here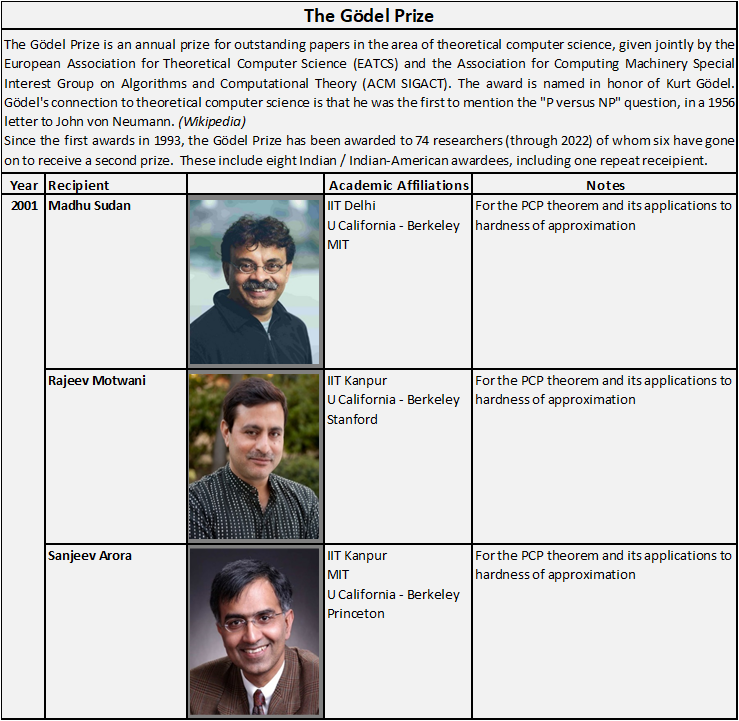 210
---
211
---
212
---
213
---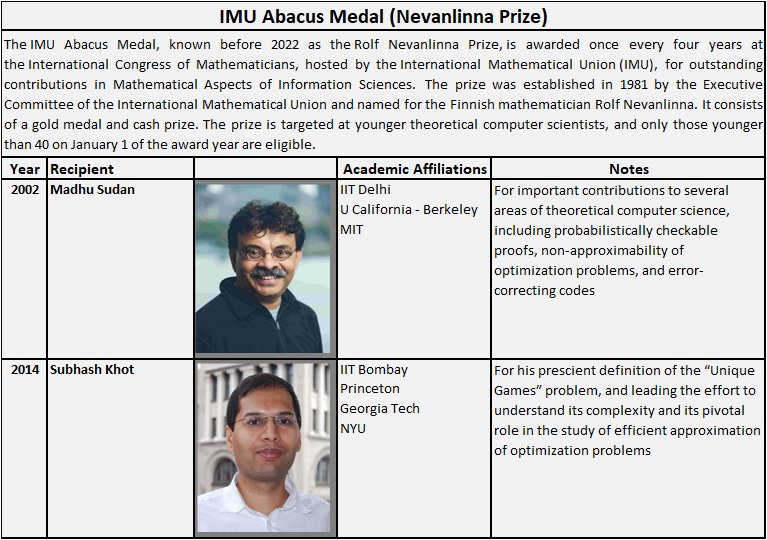 214
---

A History of the IITK Computer Centre
The IITK Computer Centre (CC) was established in 1963 in Western Labs as a part of the Department of Electrical Engineering. It moved to its present building in 1968 after the arrival of the IBM-7044. Computer Science was recognized as an independent department of the institute in 1983.

The IITK Computer Centre, 1976.  Picture Credit: Shirish Joshi (BT, ChE, 1973-78)
The IBM-1620, IITK's first Computer, was acquired in 1963.  It was used mainly for teaching the TA 306 (First course on Programming), EE 560 (Analog and Digital Computers), and EE 611 (Software Engineering) classes.  An IBM 407 accounting machine, with a card reader and printer supported the 1620.
By 1965 the IBM-1620 was operating at full capacity with long lead times to get results, and it became necessary to upgrade the machine.  After much deliberation an IBM-7044 was selected.  However, the new system with its drives required a considerable amount of space which was not available in WL and the CC building became a necessity.
215
---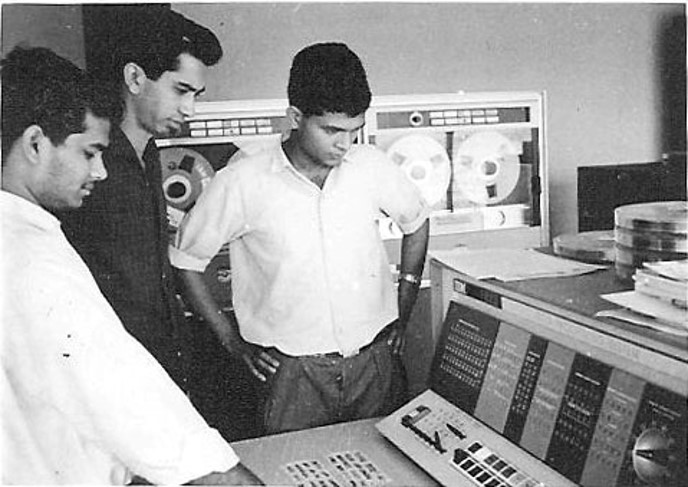 1964: Three members of the Pioneer Batch (1960-65) -- RC Jain, VS Narang and Aditya Jain working on the 1620 in WL. Picture Credit: Pioneer Batch Golden Jubilee Collection
Professor V. Rajaraman, who helped establish the CSE Programmes at IITK recalls:
The CC building had been planned in the master plan of IIT/K along with the library. A KIAP adviser worked with architects Kanvinde and Rai in planning it with a basement for air conditioning compressors, motor generators, and a telephone exchange. However, this building had a lower priority and was not ready for the 1620 when it arrived in 1963. The purchase of the 7044 was delayed till July 1966 so that this building could now be completed, and its construction was expedited.
In July 1966, the CC building had been completed, but its air conditioning system was not functional, and placing the 7044 there could have damaged the machine.  We were able to squeeze the 7044 along with the 1620 into Western Labs. In early 1968, we placed the 1401 in the new building in one of the corner rooms with local air conditioners as a temporary solution. For a few months input was fed to the 1401 which created files on the tape. The tape was then transported physically to Western Labs and fed to the 7044. The results tape was taken back to 1401 and printed there!
Eventually, the air conditioning system became available, and we moved the 7044 and 1401 into the big hall and the 1620 into the small hall. The institute had three functioning computers at this time, including the 1620, which was subsequently sold to SAIL.
The system was configured as a 1401 I/O computer plus a 7044 number cruncher with a 20 MB RAMAC disk (the largest in the world in 1968!) that was to be shared between the two computers.  Due to OS issues between the 7044 and 1401, the RAMAC disk was eventually replaced with tapes for transferring data between the systems.  The 1401 would read cards and then input the files on the tape, and 7044 would take them, compile and compute and put output files on the tape which would then be printed by the printer attached to the 1401.  Students used to submit the punched card input in the morning and typically get the output the next day. Much greater care had to be taken to avoid syntax and logical mistakes before submitting the program.
Unit Record Equipment machines were used to mechanically process the Hollerith punch cards.The cards provided the programming inputs to the computer before terminals became available in 1980. The 1401 was configured with 5 disks of 2MB each, 6 tape drives (shared with 7044), printer, card readers/punch and the RAMAC disk on 7044.
216
---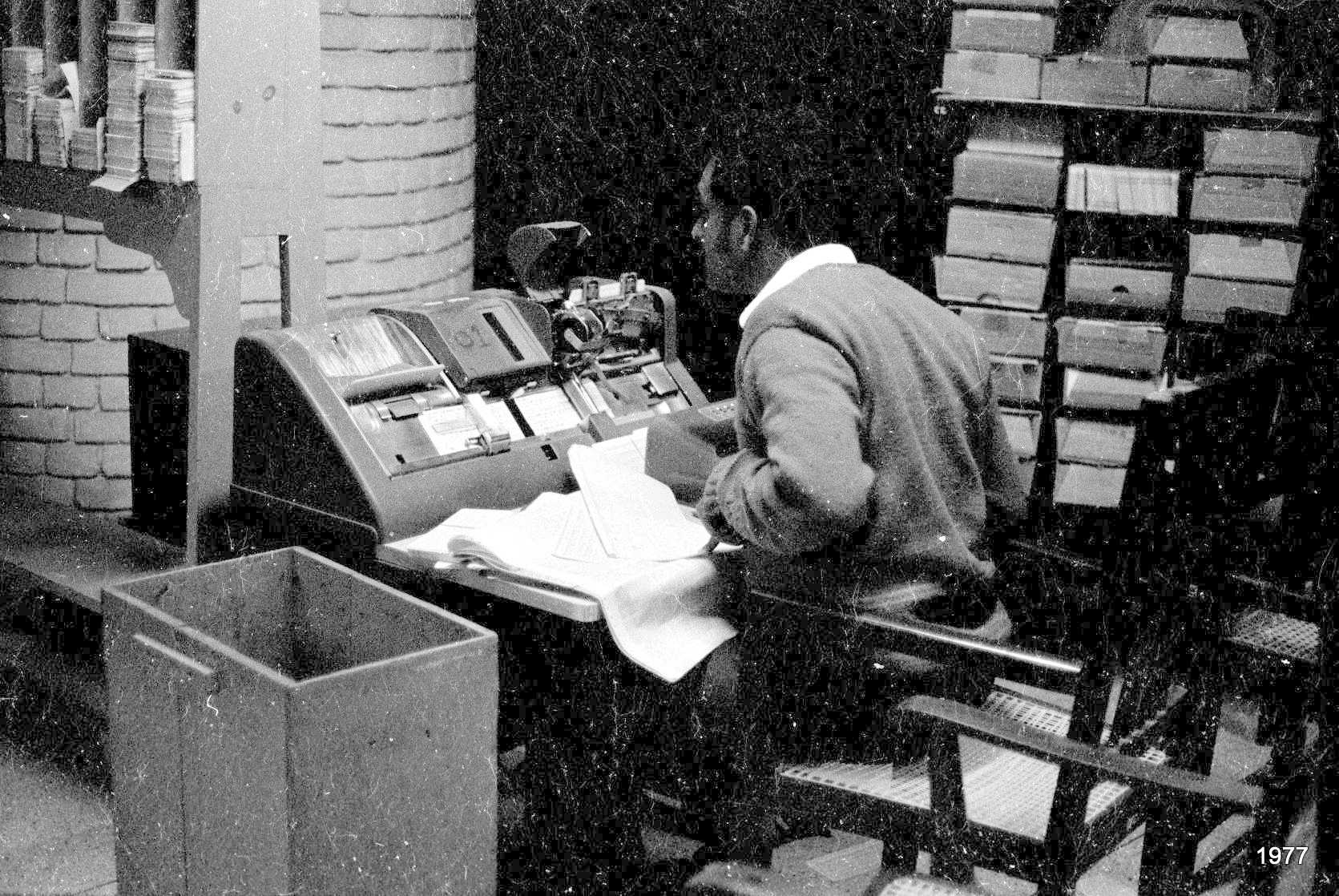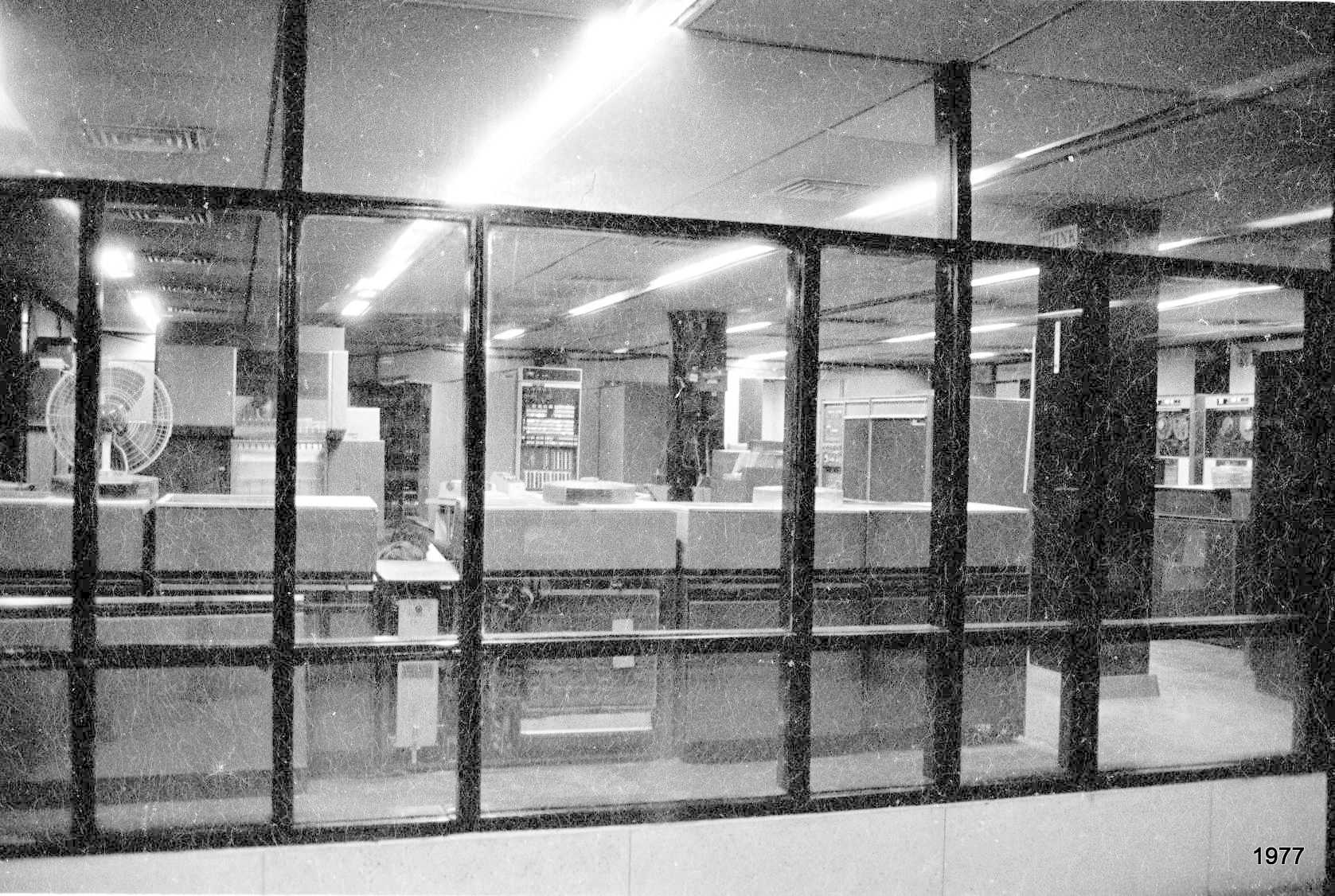 1977: Some views of the Computer Centre as it looked in the 1970s with the card punch machine, the IBM 1311 drives (used to transfer data between the IBM-1401 to the IBM-7044), and an overview of the facilities. Below: The Computer Room, circa 1977. The IBM-7044 is visible on the left, and the 1401 on the right. The student in the picture is Prasanna Mulgaonkar (1974-79). (Pictures: Shirish Joshi)
217
---

Several specialised Computers such as the IBM-1800, PDP-1 and TDC-316 were added in the early 1970s.  The IBM 1800 computer was used mainly for process control and was not for general use. It was used by select departments (EE, ME, and ChE) for their process computing and control theory needs.
The PDP-1 computer was donated to IIT Kanpur by Stanford University. It had limited time-sharing capabilities and was mainly used for academic purposes, and hardware and software development projects done by UG and PG students. It offered a Space War video game and a song playback and was a major attraction for people (whether faculty, students, or visitors to IITK) visiting the Computer Centre during those days.
The TDC was a minicomputer from ECIL that we got in 1978. It was a 12-bit single address machine. Fortran and Assembler languages were available for users. It was mainly used for UG and PG projects as well as for assignments in some of the CS courses (OS, Compiler etc.).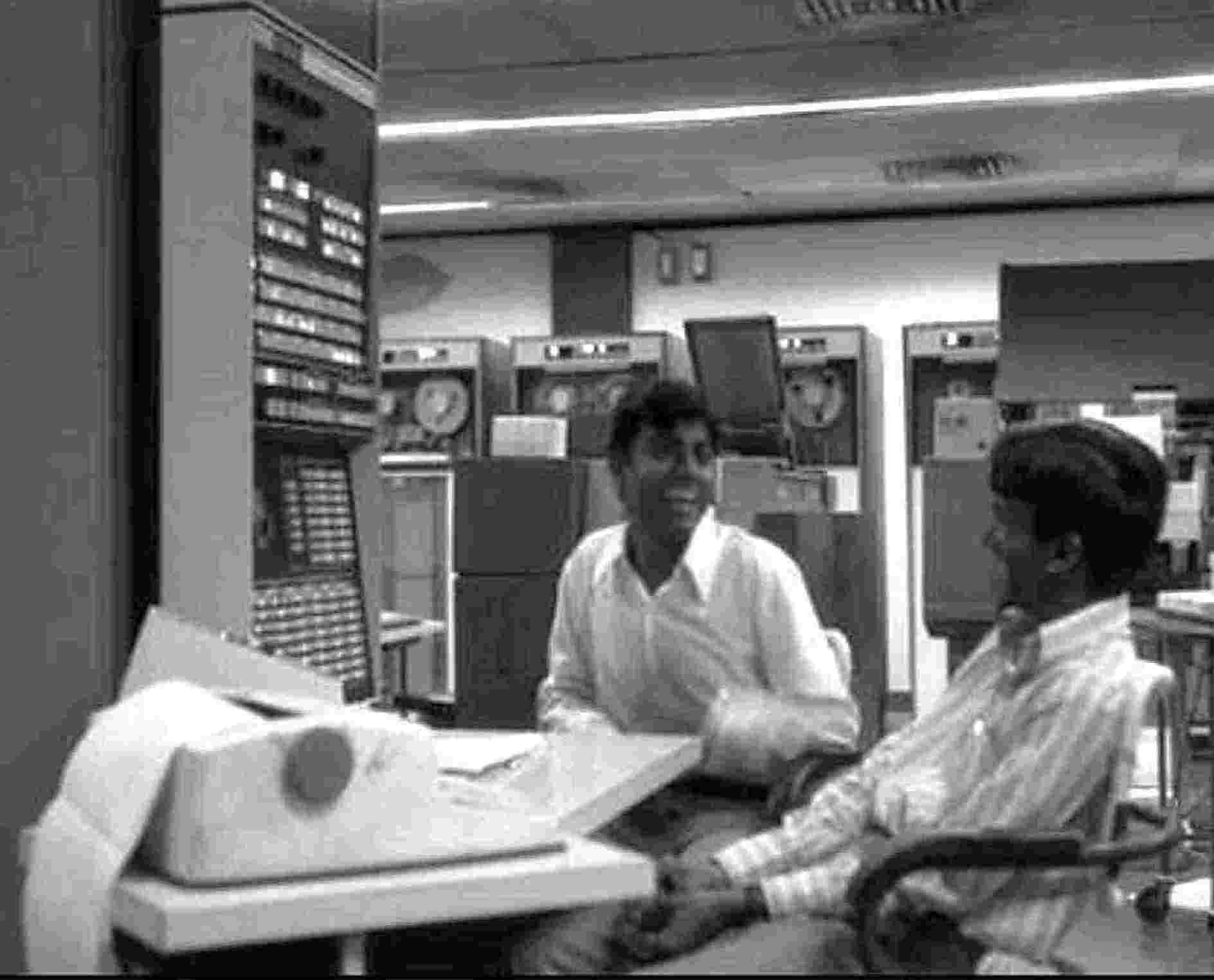 The IBM-7044 on the left and PDP-1 on the right
In the IBM 7044 console area, on the left is Nirmal Roberts, Principal Engineer, CC, along with a student, Narendra Kale, MT 1976.  Operating the PDP-1 is another MT student, MV Rao. Picture Credits: Nirmal Roberts
The next major upgrade was the addition of the DEC-1090 mainframe computer in 1979, which was IITK's first time sharing computer. This computer had interactive terminals and punched cards were finally phased out at this stage.
The DEC-1090 replaced the IBM 7044/1401 Batch Processing System. Compared to the mainframe, it occupied only a small amount of space in the computer room and there were a lot of empty spaces as the magnetic tape units were now gone. The room had just the computer, the console, and the printer. All the Card punching machines were replaced by interactive terminals.
218
---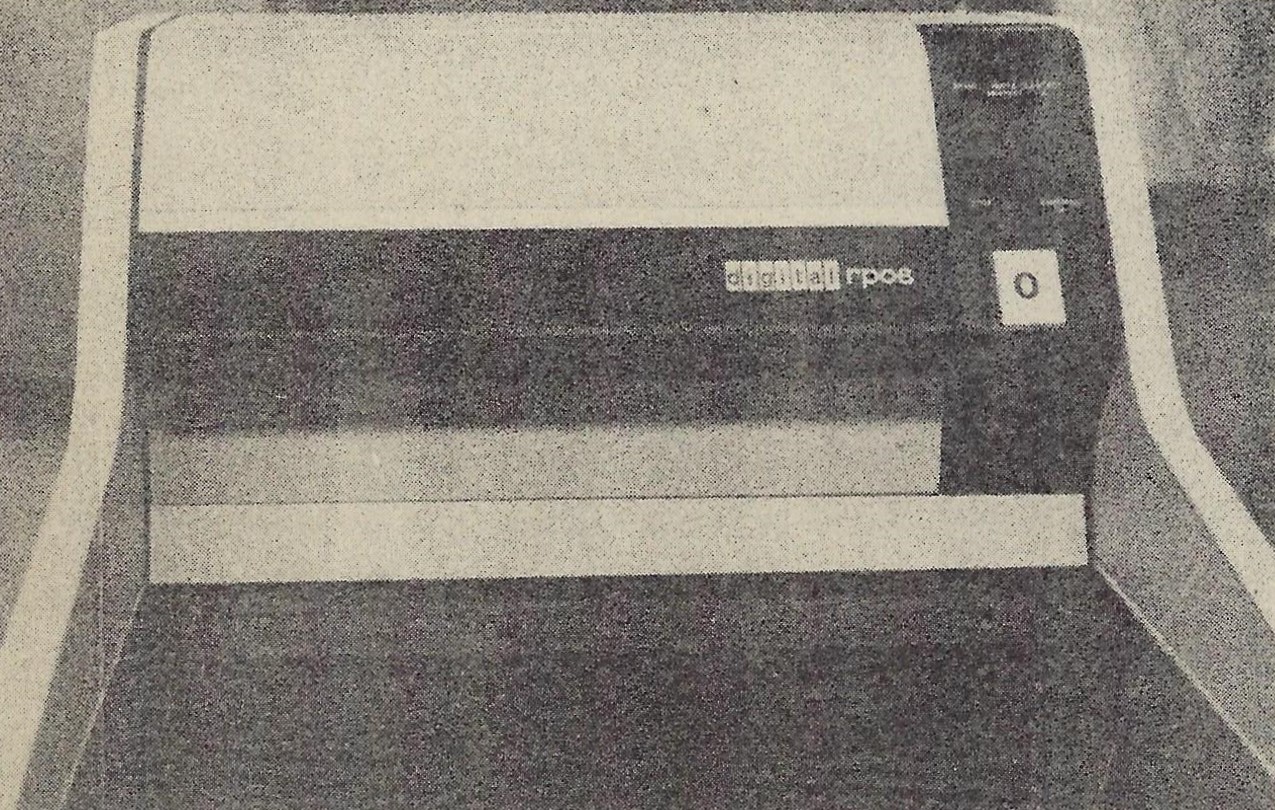 The DEC-1090 at IITK with its 178MB RP06 Disk Drive on the right.
The rightmost rack of the DEC-1090 is the PDP11.The DEC10 instruction set was implemented via microcode, and it was the 11's job to load the microcode into designated memory. (The PDP11 came as a part of the System 10). Photo Credits: Echoes in Memory, photo yearbook, 1982.
In 1987 the first PC lab was set up providing a DOS environment. These labs have been growing over the years and today we have both Linux and Windows labs. Unix servers soon became the platform of choice and in 1989, the CC purchased networked computers of the HP 9000 series which included four servers, four high end workstations, and twelve normal workstations. To provide access to this computing environment, the first campus network was laid out, connecting the computer centre to terminals installed in various locations in the academic area. This was a 10 Mbps coaxial cable-based LAN.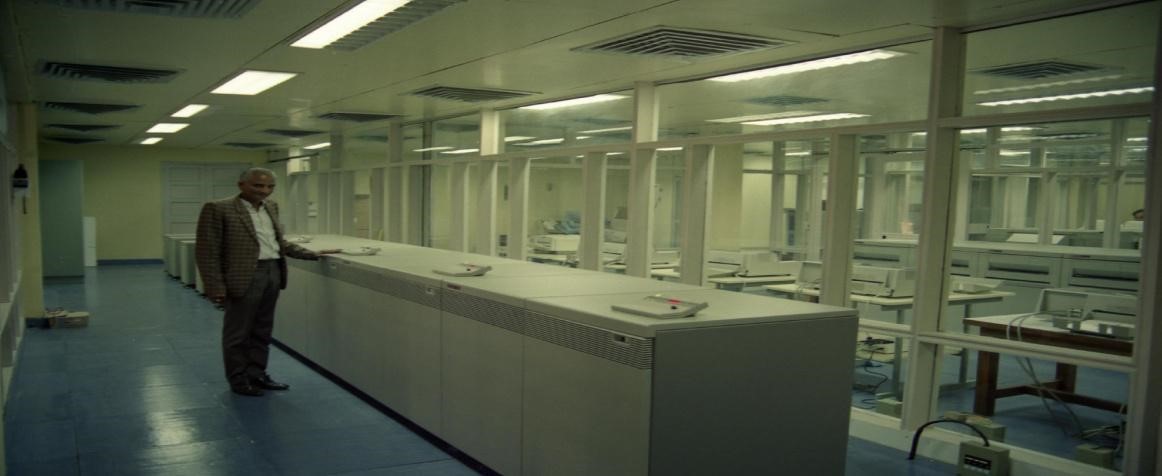 The HP Servers at IITK, 1990s. Visible in the picture is the Late Mr. R S Mishra, who was a computer operator in the CC.
During the same period the Convex C-220, a Vector Computing server for high end numeric computing was installed. It was the mini-supercomputer of its time with advanced automatic vectorizing compilers.
219
---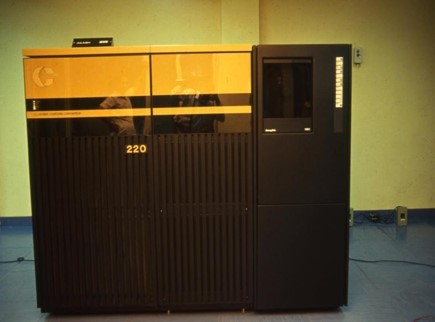 The Convex C-220
In 1995 the campus network was upgraded to a 100 Mbps Fibre Backbone and a 10 Mbps UTP Access Network, providing connectivity to all the departments, faculty and staff offices, and labs. In 2000 this network was also extended to the student hostels. In 2005 the network was again upgraded to Gigabit network. Currently the Computer Centre supports a campus network with more than 25000 nodes. 
The first 64 Kbps Internet link was set up in 1998 and by 2016, the bandwidth had been increased to 10 Gbps through NKN (National Knowledge Network). There is an additional backup link of 2 Gbps from a private service provider.
In 1999 the first 16 node Beowulf cluster was installed. Between 2000 and 2002, the CDAC PARAM-10000, a 16 node IBM SP, a 15 CPU SUN E10K SMP server and a 16 CPU SGI Origin 3400 SMP server were purchased. In 2004 a 96 Node (Dual Processor) SUN cluster was purchased and in 2006 a 48 node (Dual Processor) HP cluster was added. Several quad processor SMP servers and a HP 16 processor Itanium (Dual Core) SMP server were also acquired by the CC.
220
---

In 2002, IIT Kanpur implemented its first Wireless Network. Over 300 Access Points were installed to cover the academic area and Visitors' Hostel. The wireless network was augmented over the years to cover the student hostels and provide single sign-on Wi-Fi roaming across the campus. Today, there are more than 2,500 Access Points installed in the campus for providing Wi-Fi services.
HPC systems at the IITK CC have greatly facilitated high-end computational research in the country covering many areas of science and engineering. Two HPC clusters, known as HPC 2010 and HPC 2013, were established in 2010 and 2013 respectively.
HPC 2010 was funded by the Department of Science and Technology (DST), Govt. of India. The Top500 project (www.top500.org) has been ranking global supercomputers since 1993, publishing an updated list every six months.  At the time of its installation, the HPC 2010 had a rank of 369 in the top 500 list published in June 2010.
The main HPC2010 system was a Linux cluster with a master node, 3 management nodes and 256 compute nodes, 40 Gbps QDR InfiniBand interconnect and 100TB usable storage. Each node had dual Nehalem quad core processors. Besides this main system, the Centre acquired smaller clusters and servers for developing and testing parallel codes. These systems were also available for applications not amenable to parallelism and which required serial computing. The smaller systems were integrated with the main HPC facility for optimising it, including its storage and high-speed network. This integrated facility consisting of 372 nodes and a projected delivered performance of about 30 TF and became the best HPC facility among all academic institutions in the country. 
The HPC facility provided a major boost to our research in computational science and engineering. Some applications included computational fluid dynamics, environmental modelling, molecular modelling of chemical processes, and biomechanics.
The HPC-2010 at the IITK Computer Centre.  Picture Credit: Girish Pant (Information Cell, IITK)
221
---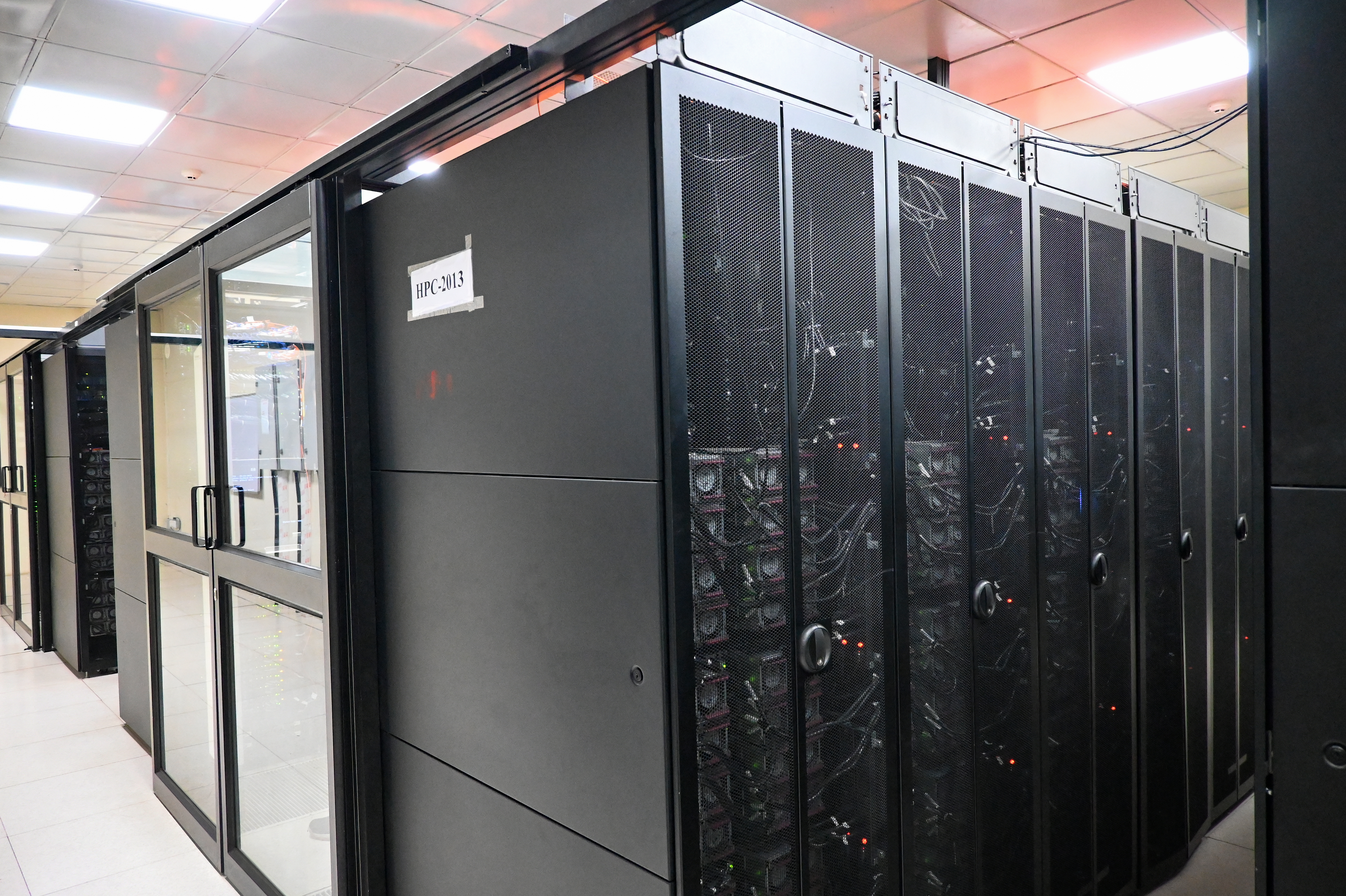 The HPC-2013 at the IITK Computer Centre. Picture Credit: Girish Pant (Information Cell, IITK)
HPC 2013 was also funded by the DST. Initially, the machine had 781 nodes. Another 120 nodes were added to it in 2013-2014. The cluster was based on Intel Xeon E5-2670V processors and had 17,980 cores, and a peak performance of 360 Teraflops. This machine had a rank of 119 in the top 500 list published in June 2014.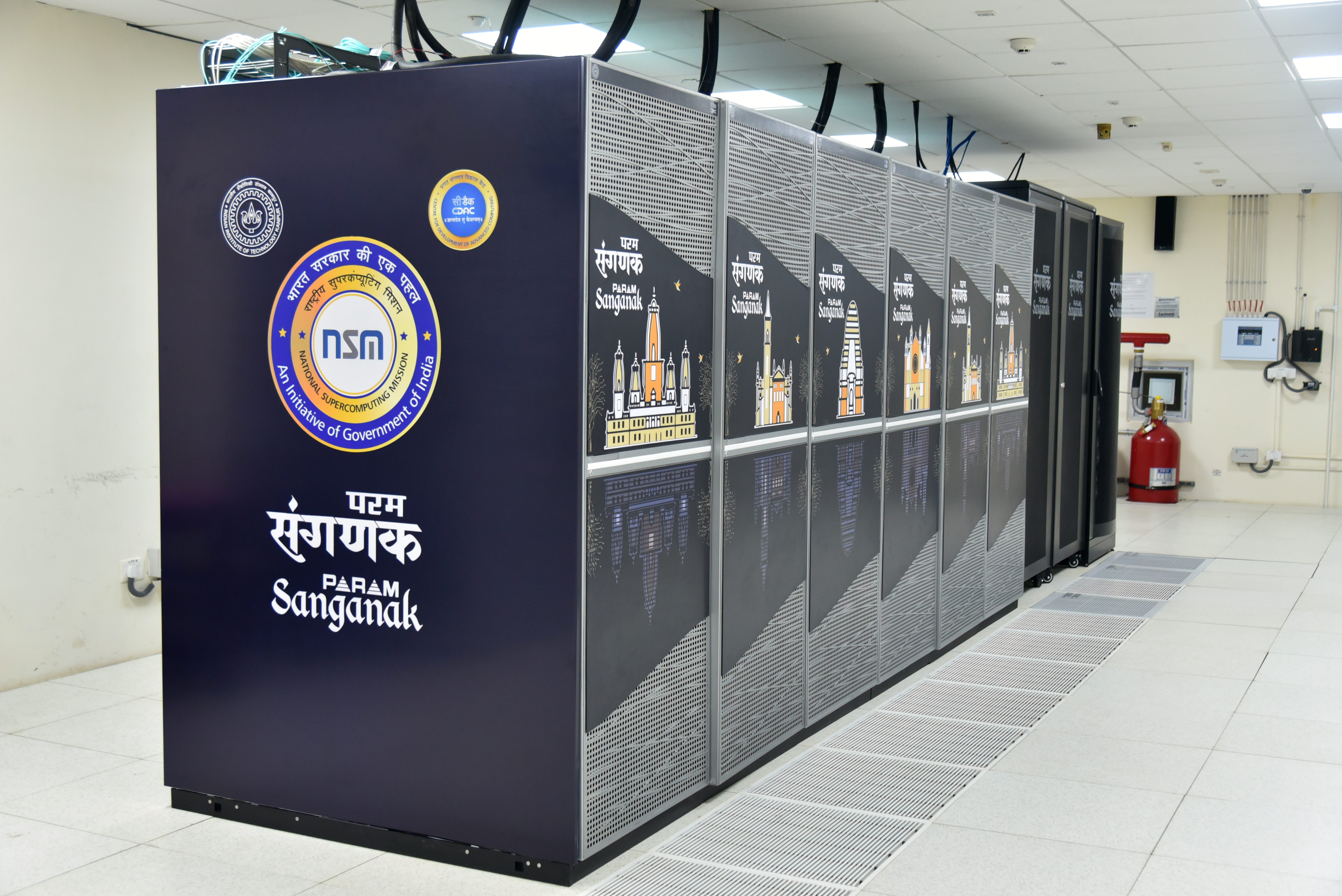 The Param Sanganak at IITK, 2020. Picture Credit: Girish Pant (Information Cell, IITK)
222
---

In 2020, a new HPC cluster, Param Sanganak, sponsored by NSM (National Supercomputing Mission) was added. Param Sanganak systems are based on Intel Xeon Platinum 8268, NVIDIA Tesla V100 with total peak performance of 1.6 Petaflops. The cluster consists of computer nodes connected with the Mellanox (HDR) InfiniBand interconnect network. The system uses the Lustre parallel file system. The total number of nodes is 332, of which 150 are CPU only nodes, 64 are GPU ready nodes, 20 are GPU nodes and 78 are High Memory nodes.
This facility was established at IITK with the goals of attaining self-reliance in supercomputing and problem-solving. The system is useful for the research needs of varied scientific domains including Weather & Climate, Oil & Gas, Seismic Studies, Life Sciences, and Material Sciences. The Param series of supercomputers represent the most powerful computers in India.
Today, a modern data centre with state-of-the-art precision air conditioning and fire safety features is part of the Computer Centre. The CC has always maintained state of the art computing infrastructure for its users and will continue to do so.
Credits: Text contributed by Navpreet Singh, Gurpur Prabhu, Nirmal Roberts, and the Spark editorial team, with thanks to Professors V. Rajaraman and H.V. Sahasrabuddhe for their inputs.  Pictures are from the IITK CC Archives, unless indicated otherwise.
---
Last Words:
And while we always pay our tributes to the best and brightest of our lot, elsewhere, on other less well-lit parts of that bell curve, lies the Average Joe IITK CSE grad. We dedicate this space to this less celebrated noble soul…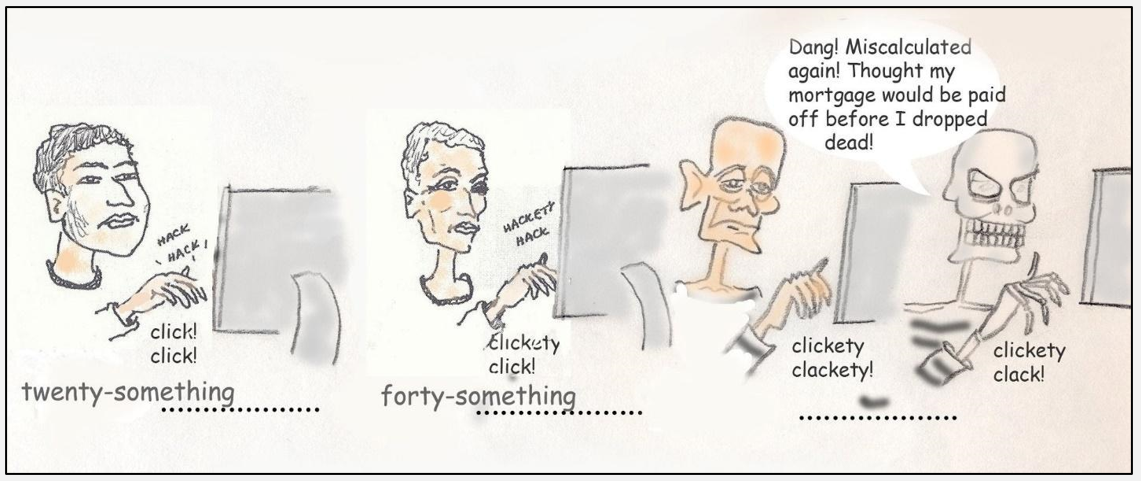 Shared by Raman Bhatia (BT, ME, 1977-82)
223
---
Our Bits of That IITK
Four years ago, a few alumni created the Facebook group "This Bit of That IITK" with the intent of preserving IITK memorabilia, while reliving the cherished memories of our formative years. Today, this community has grown to be over 5,000 strong, with the largest collection of current and historical IITK pictures, memorabilia, and anecdotes available anywhere.  We welcome new members to this group: students, alumni, faculty, and staff, and all others with valid IITK connections, and we do ask that you respond to the three screening questions so that we can validate your membership.
Here are some bits of IITK that we'd love to share…
Some Familiar Destinations…
(L): The corridor from Western Labs towards the Library, (R): The walkway through Southern Lab. Pictures: Afraz Khan (MT, AE 2015-17)
…and Some New Perspectives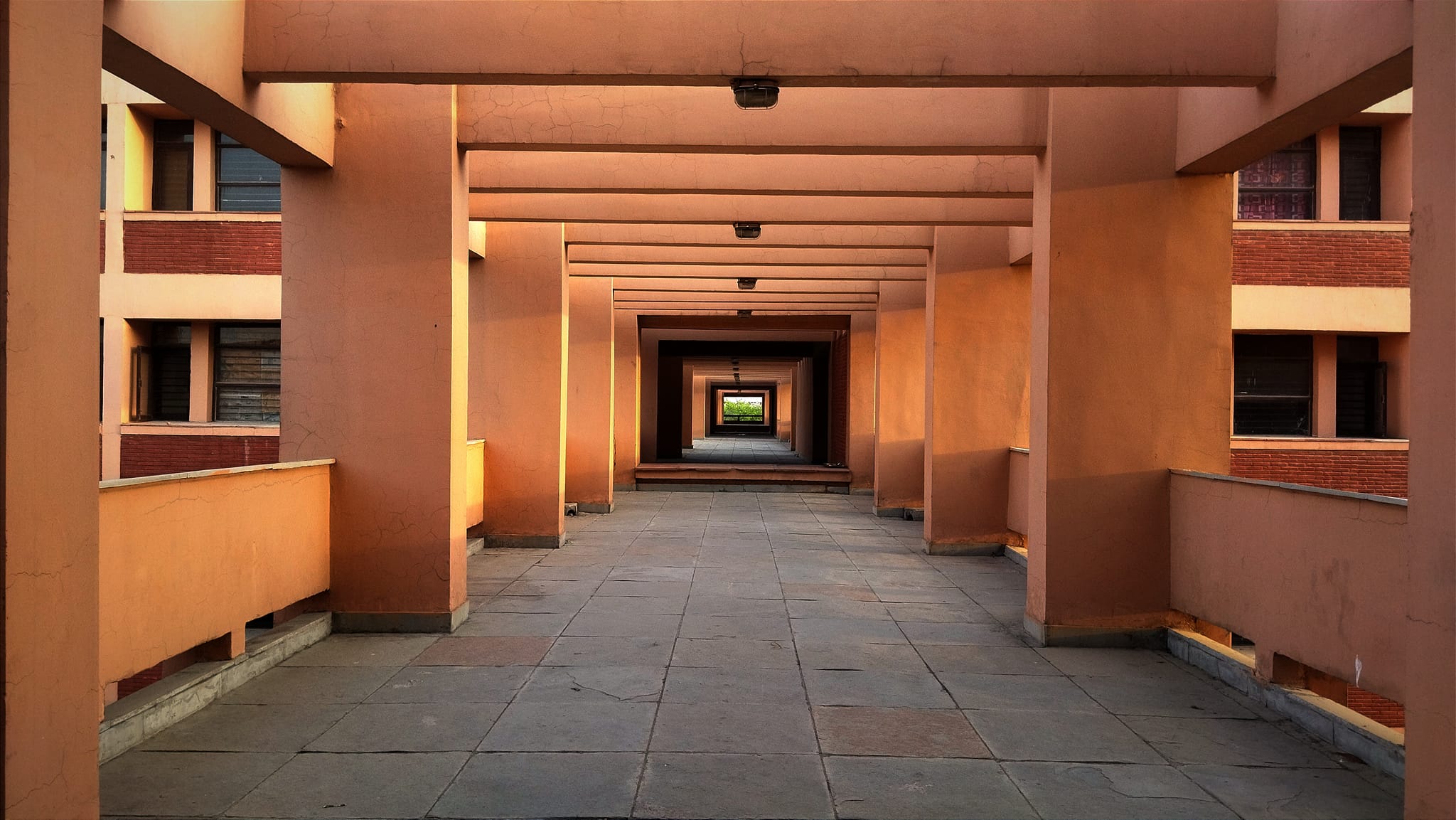 Looking through Hall -13. Clicked by Shreyash Nallawar (BT, ME, 2021-25)
224
---

The Eagle Has Landed
This model of the 1969 lunar lander dates back to the 1970 convocation. It was brought to the campus by US Ambassador Kenneth Keating, who was the chief guest for the event.  It has been restored and returned to its original location on the second-floor landing of the library staircase.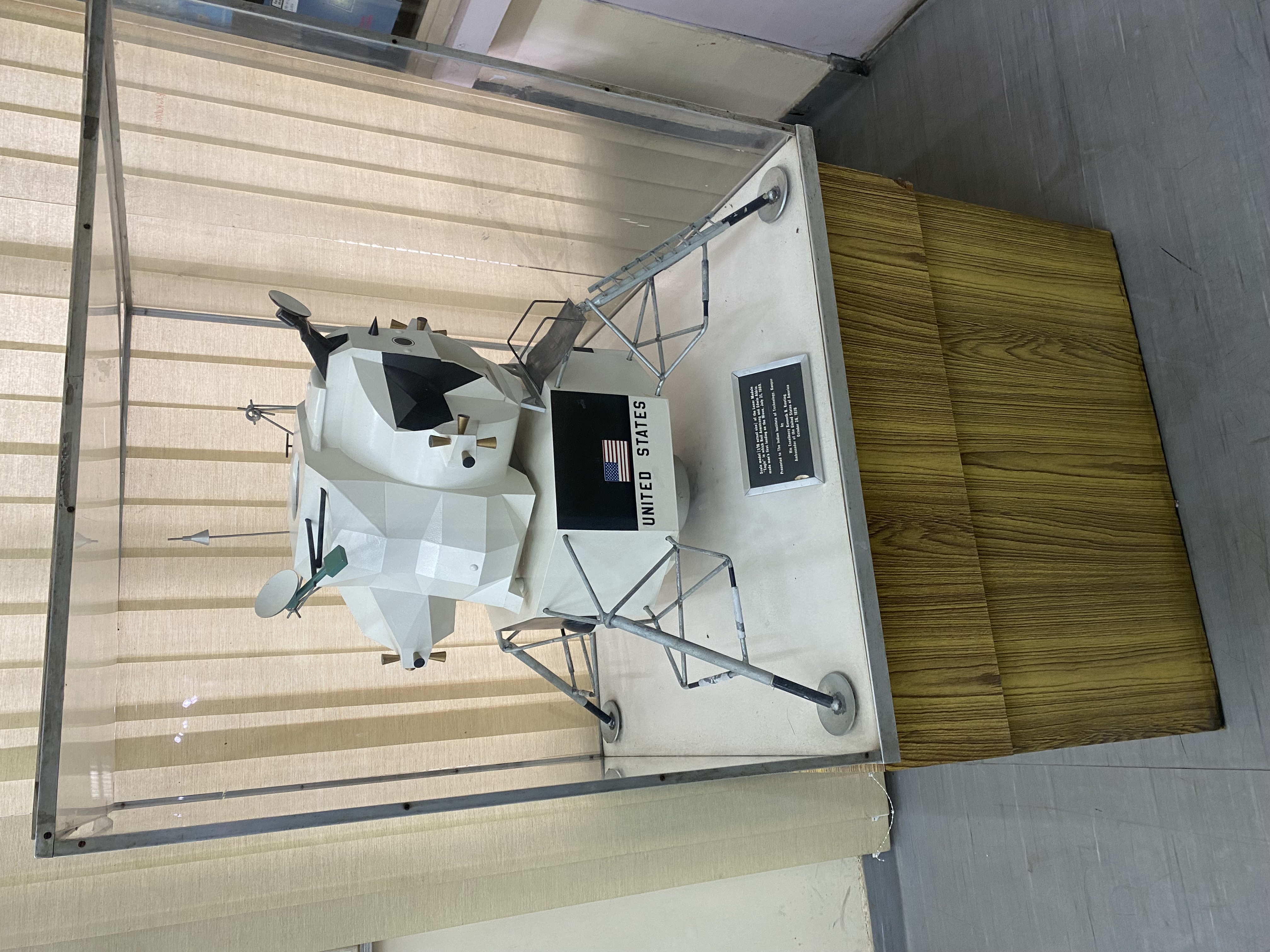 A black piece of an actual moon rock encased in a nitrogen-sealed glass container was also on display at the library entrance for some time during the 1969-70 period.  This rock, brought back to Earth by the Apollo astronauts, was exhibited at select locations across India, before making its way to the ISRO museum.
Ambassador Keating's visit, however, did not go quite as smoothly.  At the low point of Indo-US relations during the Nixon-Kissinger era, the US was openly supporting Pakistan in the war in Bangladesh.  The students attempted, unsuccessfully, to block Mr. Keating's car from entering the campus, and then they walked out during his speech.  Mr. Keating was known, though, to have regretted the White House policy and to have urged a more positive approach towards India.  (The New York Times, Oct 27, 1970; May 6, 1975)
- Aseem Shukla (BT, ChE, 1978-83)
The Coolest Place on Campus
In the 1970s and 80s, the library was known to be the coolest place on campus. Given its air-conditioned comforts, people would try to sneak in for overnight slumber parties, especially during the Summer semesters. Over the years, some habits don't die. They just take a long nap.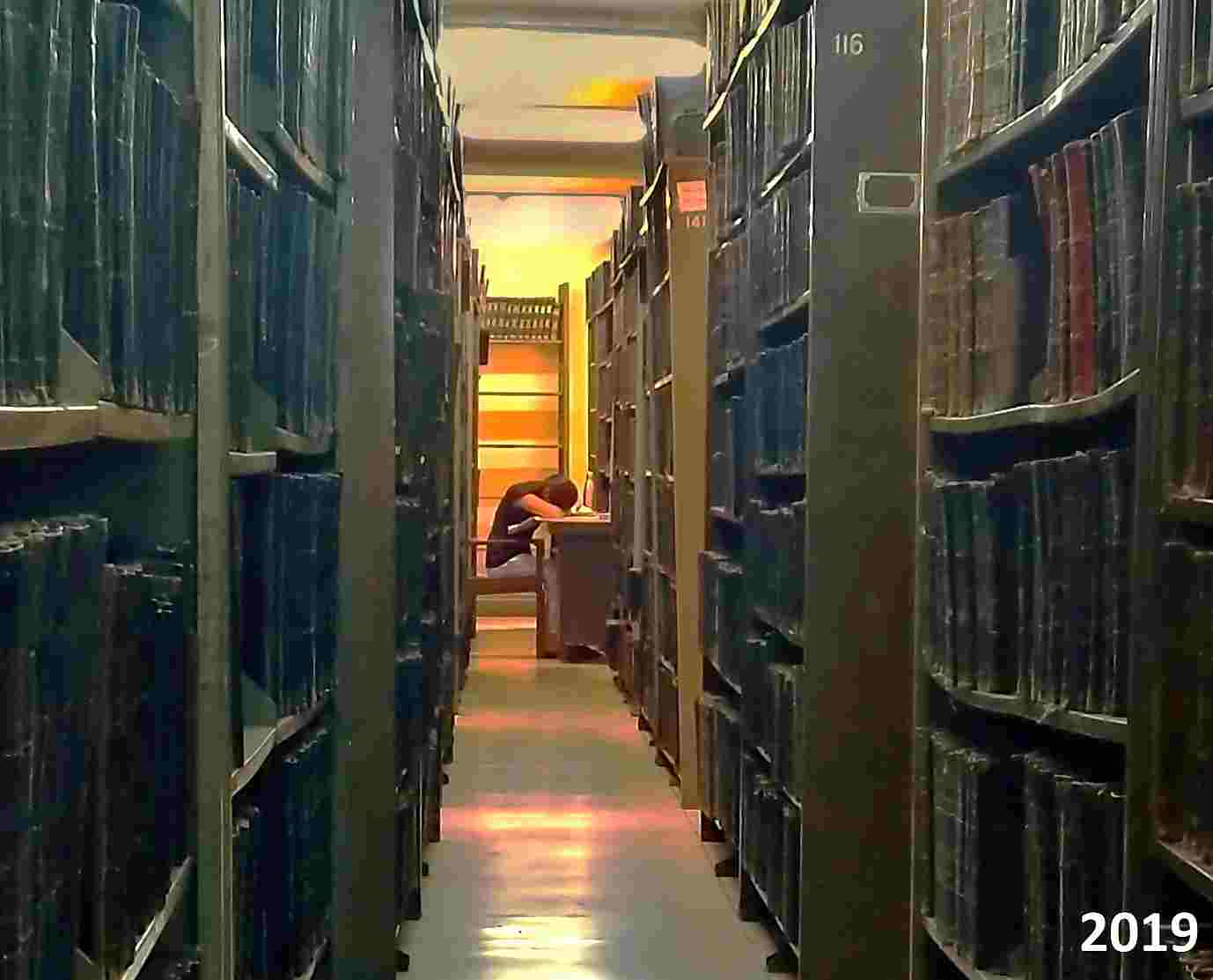 Two pictures clicked independently, from remarkably similar locations, 42 years apart, say it all!
Credits: 1977 – Shirish Joshi (BT, ChE, 1973-78), 2019 – Jiya Yadav (BT, EE, 2019-23).
225
---
Antaragni '22: Houdini's Paradise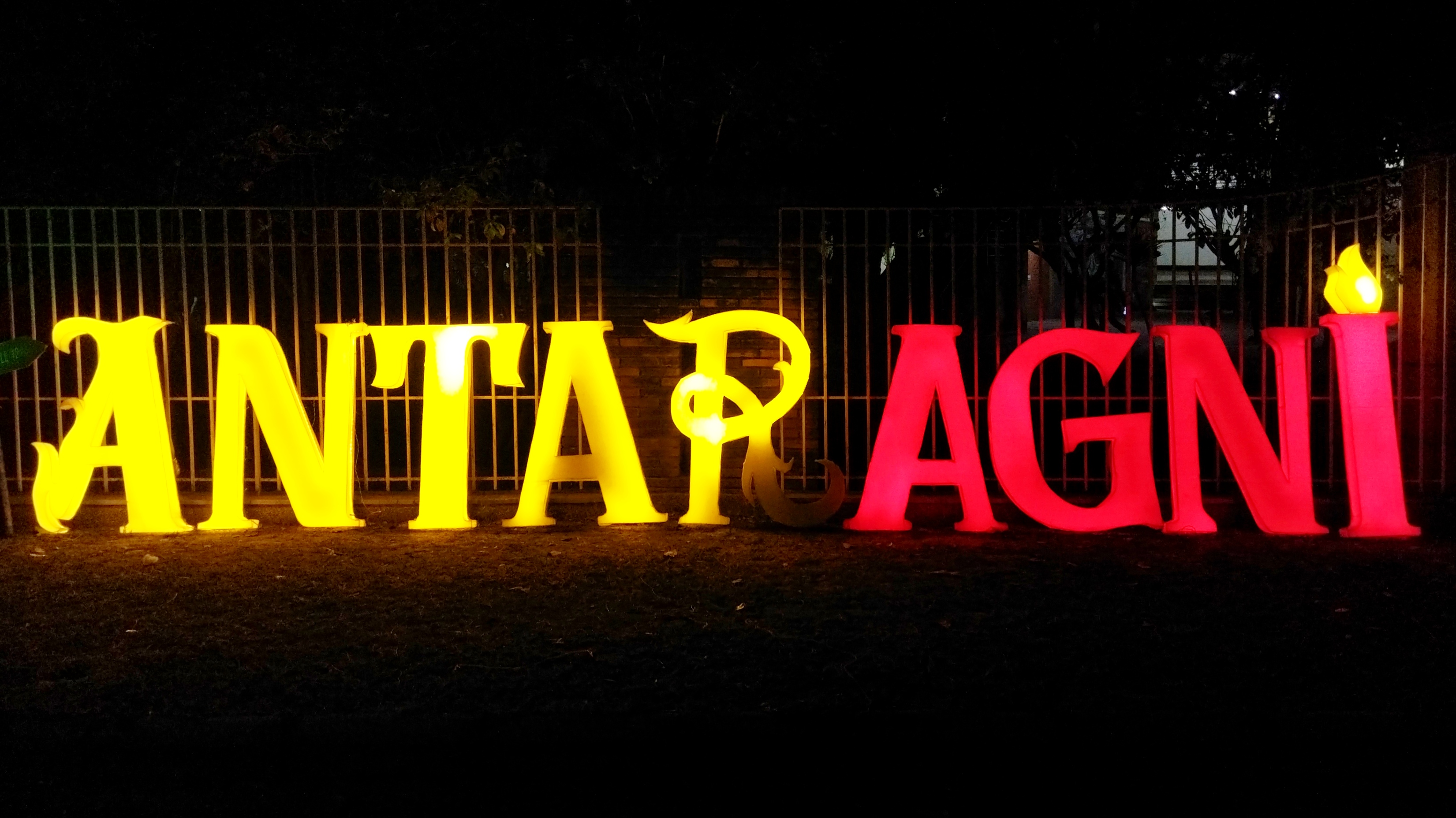 Picture: Shreyash Nallawar (BT, ME, 2021-25)
Antaragni '22, the annual cultural festival of IIT Kanpur was held on the campus from 16 - 19 March, 2023. This was the 57th Edition of Antaragni which had started as the 'Festival' or the 'Culfest' in September 1967.  Antaragni is the oldest cultural festival in India, and has been held continuously, without breaks, all these years.
The four-day extravaganza brought together students, artists, and performers from across India and the World. This year's festival featured music concerts, dance performances, theatre plays and art exhibitions showing our rich culture. Antaragni '22 also offered a platform for a range of literary events, including debates, quizzes, and guest lectures by renowned scholars and experts in their fields.
The professional nites showcased performances by national and international artists like comedian Rajat Chauhan, magician Nikhil Raj, Black Rhythm, 39 Kingdom, singer Mohammed Irfan and Bollywood giants Salim - Sulaiman.
Antaragni decorations along the road near the New SAC
226
---
Day 1: Classical Dance Performance of Ganesh Vandana at the Opening Ceremony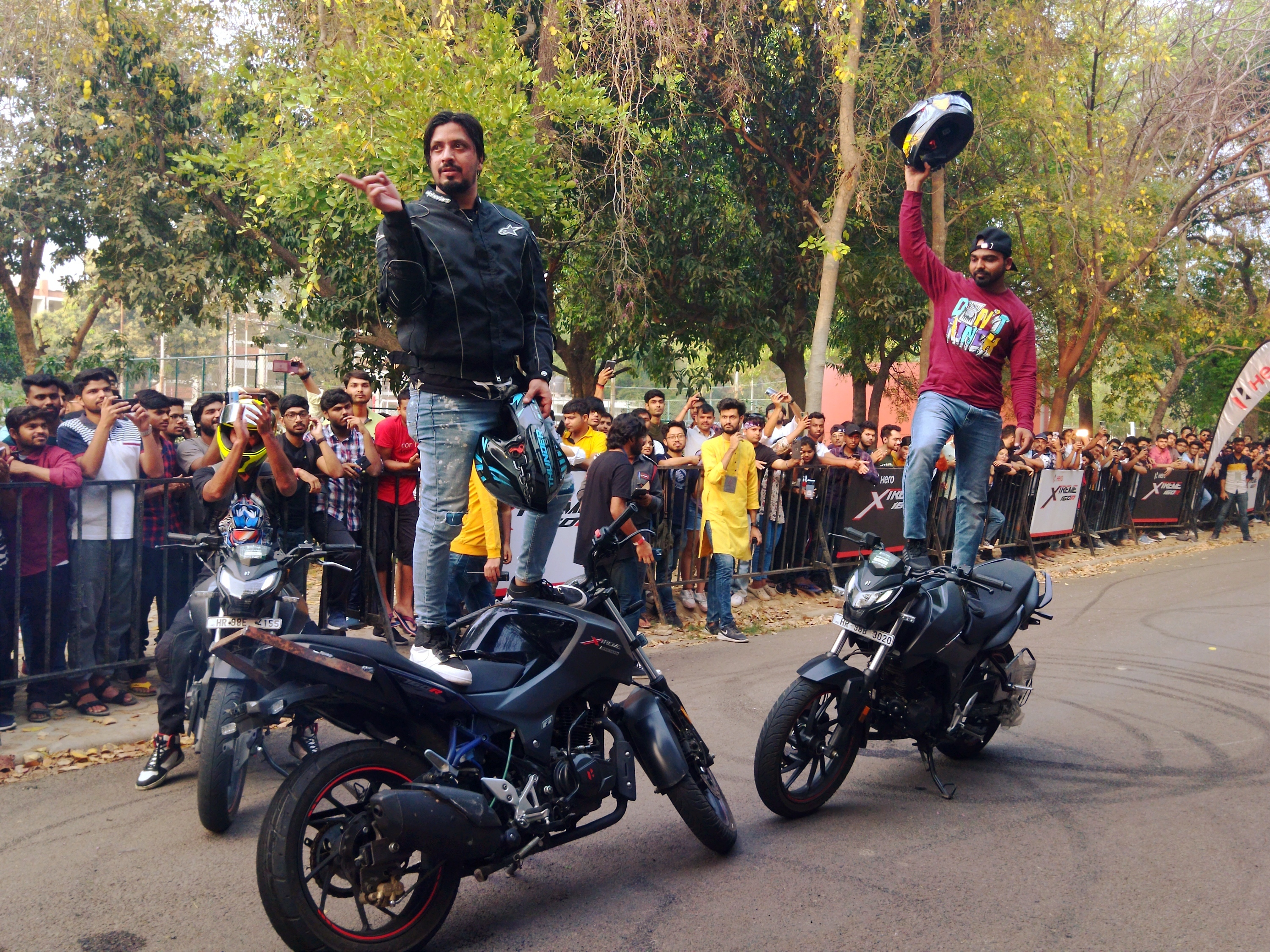 Day 2: The Hero XDrag Stunt Show, front of the Old SAC.
227
---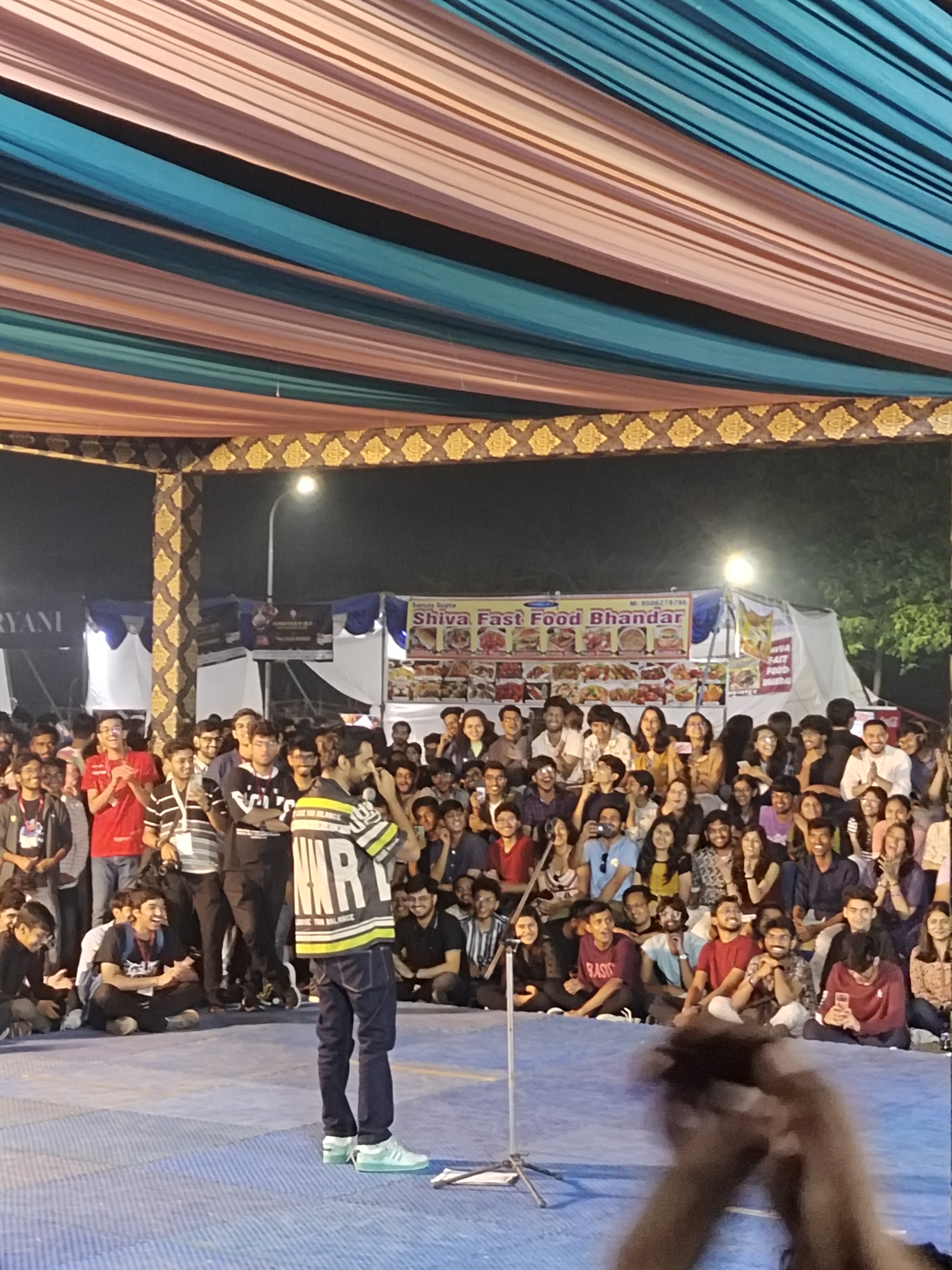 The Comic Kaun Finale in the events ground.Picture: Harshit Kant (BT, ME, 2021-25)
The EDM night Electronic Dance Music (EDM) is popular in clubs and fests. Here the artist plays or remixes the music with large bass and the audience dances to the tunes. This pro nite was lit with music by the famous artist 39 Kingdom.
228
---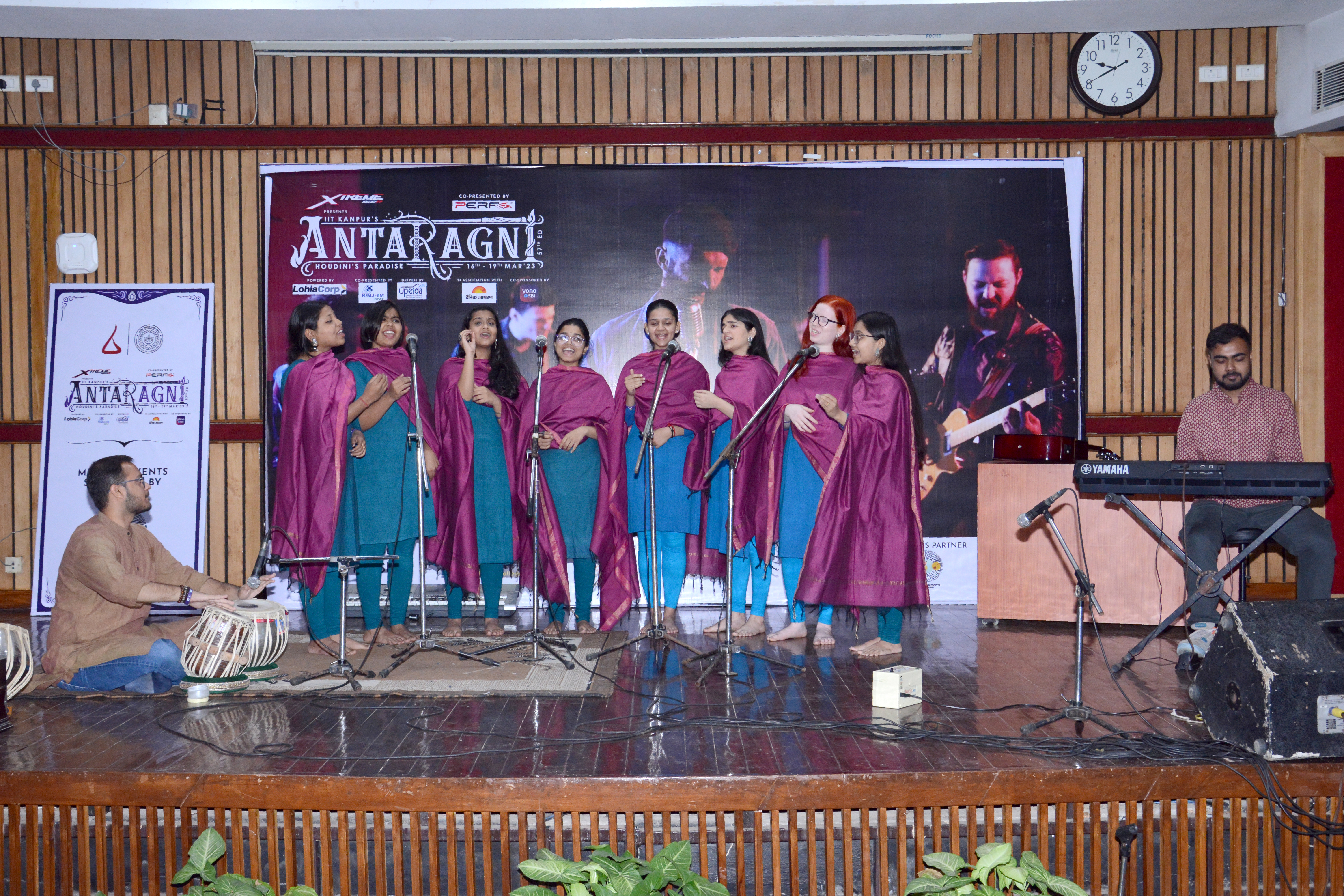 Day 3: Sangam Finale at the Outreach Auditorium
A play in progress at the L-7 stage
229
---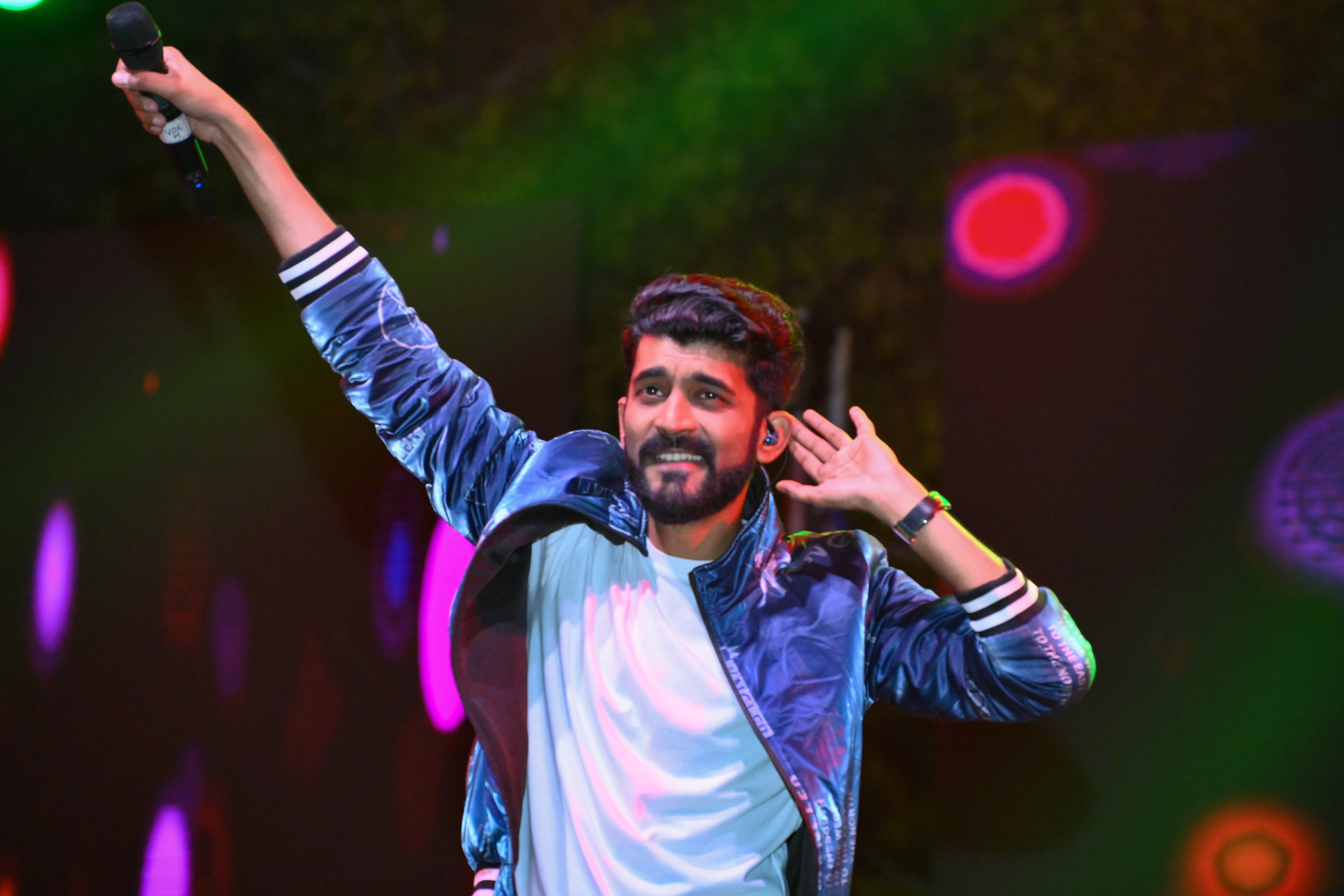 The Day 3 Pro Nite (Fusion Nite) was graced by the presence of singer Mohammed Irfan
Crowds at the Pro Nite ground enjoying the Mohammad Irfan concert
230
---
Day 4: Bhangra performance at the India Haat Event, OAT (Open Air Theatre, SAC)
The Day 4 Pro Nite witnessed the presence of singers Salim Sulaiman

Credits: Text contributed by Harshit Kant (BT, ME, 2021-25) and Shreyash Nallawar (BT, ME, 2021-25). The pictures have been shared by Girish Pant (Information Cell, IITK), unless indicated otherwise.
Cover Pictures: Front Top – The CC in Western Labs, Sept 1967, by Gyan Mehta (MSc, Physics, 1968); Bottom – The IITK Computer Centre today, from the CC Archives.Back: 'The Crow' on the eve of 63rd Foundation Day, Nov 2, 2022, by Archit Gupta (MT, CSE, 2021-23).
Cover Design by Outreach Cell, IITK
231
---