To celebrate a day for the planet we really care about, the Department of Sustainable Energy Engineering in collaboration with SIIC, CESE, Chandrakanta Kesavan Center and the Office of R&D is organizing the program on 5th June 2023 i.e. World Environment Day.
Let us make it a memorable World Environment Day for our planet by coming together to make our planet a cleaner and greener home for everyone.
You are cordially invited to a program organized for World Environment Day! at L-13, Lecture Hall Complex, IIT Kanpur.
---
India-UK Symposium on "Sustainability: Addressing Water-Energy-Food nexus [Sustain-WEF]" on 17-19 April 2023, Outreach, IIT Kanpur.
Workshop Poster | Website Link | Event Pictures
---
One-day symposium on "Demystifying UNFCCC Conference of Parties (CoP) - International Negotiations vs Local Climate Action" on 02 March 2023 at L-13, Lecture Hall Complex, IIT Kanpur.
Workshop Poster | Website Link | Event Picture Link | Presentation Link
---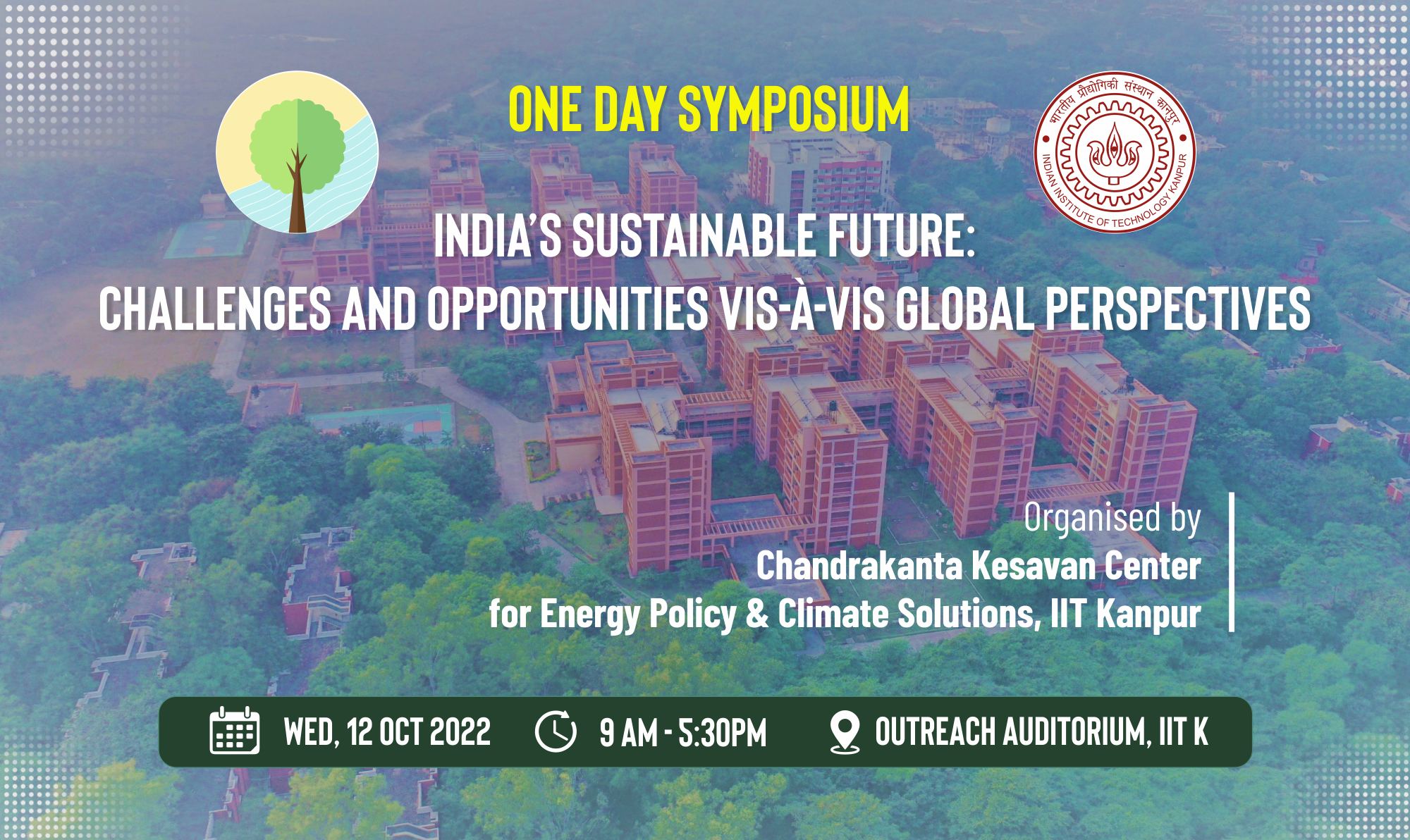 One-day symposium on "India's Sustainable Future: Challenges and Opportunities vis-à-vis Global Perspectives" on 12 October 2022 at Outreach Auditorium IIT Kanpur.
Workshop Poster | Website Link
---
One-day workshop on "Developing an actionable approach to Carbon Neutrality " on 11 October 2022 at IME Seminar room, IIT Kanpur.
Workshop Poster | Website Link | Event Picture Link
---
Exploratory workshop on "Balancing the Carbon Neutrality and Sustainability" on 11 March 2022 at Gokhale Institute of Politics and Economics, Pune, India.
Workshop Poster | Website Link | Event Pictures
---
Dr. Anubha Goel and others organized a full day workshop on IAQ and Sustainability Challenges on 24 Feb 2022 under the banner of ISHARE Delhi Chapter.
Workshop Poster | Registration Form
---
Department of Sustainable Energy Engineering and Chandrakanta Kesavan Center for Energy Policy and Climate Solutions are co-organizing the UK-India SUNRISE symposium on "Transition to NetZero" on 10-11 February 2022, to be held on virtual platform.
Symposium Poster | Weblink
---