Distinguished Alumni Interview Series: Amitabh Srivastava, President, ASD, EMC.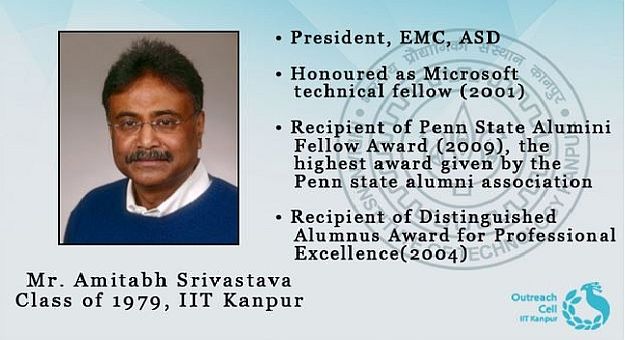 Outreach Cell, IIT Kanpur brings you the next edition of the Distinguished Alumni Interview Series. We interview people who have contributed exceptionally to the society after graduating from IIT Kanpur and bring their inspiring life stories to you.This edition brings you the story of Mr. Amitabh Srivastava, who received the Distinguished AlumnusAward for Professional Excellence in 2004.
Mr. Amitabh SrivastavaElectrical Engineering from IIT Kanpur in 1979 and went on to complete his Masters in Computer Science from Penn State University, Pennsylvania in 1984.
Here are some excerpts from our conversation with Amitabh Sir-
Q1. We usually hear many exciting stories of how the campus used to be in its early days. Can you share some of your memorable experiences IITK?
I joined IIT Kanpur in 1974, almost 46 years ago. I'm pretty sure that IIT Kanpur is quite different now. Food was always important and I still remember there was only one restaurant on campus and the hostel food was like 'hostel food'. There were few options as Kanpur city was a bit far away. I fondly remember the late night Aloo parathas at the hostel canteen and occasional walks over to the Dhabas on the grand trunk road. We weren't sure what we were actually eating but it was delicious.

We stayed in Hall 2 and then in Hall 1. A large majority of our group stayed together for all the five years. At that time, B.Tech was a 5-year course. Unlike many of my friends, I used to get up very early in the morning while the majority of my friends stayed up late at night. Every morning I used to have a lot of cards slipped under my door to wake people up at different times of the day. I sort of acted as the alarm clock for our wing. Those were the good days.
Q2. Are you still in contact with your friends from your wings or from your hall?
Yes, some friends organized a video chat a few weeks back. It was good to touch base with everyone.
Q3. How does your life at IITK shape your interest and help you in deciding your career path?
IIT Kanpur gave me a sound and rigorous engineering education. In addition, IIT Kanpur opened my mind, broadened my perspective, and taught me to explore new possibilities. It prepared me to take on new challenges as they presented themselves throughout my career. My years at IIT Kanpur were the formative years of my life.
Q4. After doing B.Tech from IIT Kanpur you went to Pennsylvania State University to pursue a Masters in computer science. How was your experience at Pennsylvania and how their studies are different from IIT Kanpur and all academics?
Actually, I went to Penn State to do my Ph.D. I enrolled into a Ph.D program, passed my Ph.D qualifiers, did all my courses and research work. I was very close to finishing my PhD when an exciting opportunity came up. Texas Instruments was starting an Artificial Intelligence Research Lab in Dallas, Texas where they were going to build the Explorer Lisp machines. I had the opportunity to join the Lab and work on building the Lisp machines. It was very exciting, but it also meant I would have to leave my PhD unfinished.

I took the offer and decided to pursue this opportunity. It was a fantastic learning experience for me. Having the ability to work at the ground floor of an exciting new technology early in my career was amazing. Even though TI gave me the option to go back and finish my PhD at any time, I never went back to finish it. I was always deeply involved in something exciting, it just never made any sense to go back. Everyone already treated me as if I had one. Officially I have a Masters from Penn State.
(Mr. Amitabh Srivastava giving the commencement address at Penn State College of Engineering Graduation Ceremonies titled 'Fourth and Goal')
Q5. As you are associated with Microsoft Research Center for around 14 years, so how was your experience at Microsoft?
Yes, I spent 14 years at Microsoft and I was involved in many exciting projects. I will highlight one. Two-thirds of my career has been in research and the last one-third in building products. It was at Microsoft that I made this transition from Research to Product development.
When I joined Microsoft in 1997, Microsoft software was facing a lot of security and reliability issues. At Microsoft Research, we started looking into how to improve the quality of Microsoft software. Our analysis showed that as the chips were doubling in speed every two years (Moore's law), software developers could now write complex software programs with these more powerful computer systems. The software development processes, on the other hand, were still mostly manual and didn't make the necessary advances to keep up with the hardware advances. Throwing more people at these manual processes was insufficient to produce high quality software.
I started as a Programmer Productivity Research Center (PPRC) in Microsoft Research to help Microsoft produce high quality software. PPRC was based on a very simple idea: use the hardware advances to develop powerful tools to automate the development process. Our goal was to develop software tools that will help developers write complex programs by identifying problems early in the development process. All the systems we built scaled to real world programs like Windows, which was about 64 million lines of source code. We hired a very strong group of researchers. The tools we produced were widely used across Microsoft.
While we were outlining how to automate the software development process, I was presented with a new opportunity. Bill Gates asked me to take over the development of Windows and change its development process. I was excited as I could now implement what I had been talking about for the last few years. I was also concerned that I had never shipped a product of this magnitude before. Windows was millions of lines of source code, developed by several thousand developers and testers. Of course, I took the job but it was both a technical and management challenge. I was given the freedom to make any changes I needed but was also reminded that Windows is the flagship product of Microsoft. That is a code for 'don't screw it up'. We automated the engineering process and brought Windows development on track. This engineering process was used to develop Windows 7 and its later versions. These were my toughest years at Microsoft (I'm sure I got many grey hairs by the end of it:))

Q6. You were the senior vice president of server and Cloud division at Microsoft Corporation. So, when did you develop an interest in cloud computing?
While I was shipping Windows, Ray Ozzie joined Microsoft to take over Bill Gates' role as the Chief Software Architect. I had a 'meet and greet' meeting with Ray late one afternoon. Ray and I had an engaging discussion and we started discussing how software will be delivered in the future. That one hour introductory meeting turned into a 4 hour long discussion on the future of software. After the meeting I was certain that software was going to change and it would no longer be delivered on CDs. There were a lot of unknowns but I was convinced that I would be wasting my time if I was not part of this massive transformation that was about to take place. There was a huge risk as I would be giving up my current role and pursuing an ill-defined area which was unclear by any means.
Steve Ballmer asked me to start with a small team to figure out what to do and then do it. That's how Windows Azure was born! The first person I convinced to join me was Dave Cutler, father of Windows. We built a highly talented team. The project was code named 'Red Dog' and I announced it at PDC 2008 as 'Windows Azure'.

Q7. How do you view the cloud computing market in India?
India is a big market and has a huge potential. India already has a vibrant startup and software development environment. The internet infrastructure is expanding and reaching the remote parts of the country. With the growing adoption of technologies like Big Data, AI along with government initiatives for cloud, India is poised to become a global hub for cloud computing.



(Keynote Address at NASSCOM, 2010)
Q8. What do you think of Microsoft's current cloud strategy compared to the time when you were there?
Windows Azure is now the centerpiece of Microsoft's strategy. Microsoft has aggressively moved all its products to the cloud. It is great to see all the advances to Windows Azure and I am really happy that we started Windows Azure when we did!

(Keynote Address at EMC World, 2013)
Q9. What would you like to advise students on making the most of the college time?
First, I would like to remind each student how lucky they are to receive a great education from such a reputed institution. From my experience of over 30 years, I can tell you what worked for me. By the way, I learned it from my father and I also taught it to my children.

Work hard. Hard work is never wasted.
Never compromise on your integrity
When opportunities arise take chances; don't play safe. Sometimes you will succeed and other times you will fail. But you will learn and grow with each experience. Only then you will realize your full potential.
Give back to the community with time, money or learning.
There are lots of unknowns and uneasiness in the world right now. Don't worry about the things you don't control, focus on the things you control. Use your great education to make this world a better place. We are counting on you!
Interviewed by: Kaustav Sen & Muskan Goyal