Aquatics
Hitting the swimming pool is a good repite to beat the heat. It is also one of the best forms of exercise.IIT kanpur has an olympic size pool for the students and also the campus residents. Read more...
---
Athletics
Athletics is an exclusive collection of sporting events that involve competitive running, jumping, throwing, and walking. The most common types of athletics competitions are track and field, road running, cross country running, and race walking.IIT kanpur has a very efficient team of atheletes. Team not only takes part in the sporting events held at IITKanpur,but also participates in the competitions held in other Institutes across the country. Read more...
---
Badminton
This racquet sport is one of the major game which is played by almost the whole community,both the students and the residents.This game is so popular that IIT Kanpur has 5 courts (3 in new student activity centre and 2 in old student activity centre). Besides these indoor courts almost all the halls of residences have a court in their premises. Read more...
---
Basketball
Basketball is one of the world's most popular and widely viewed sports.This game is very good to increase the stamina of the player and also the height if the player is a kid. IIT has a very efficient basketball team who participate in different matches in and outside the campus. Read more...
---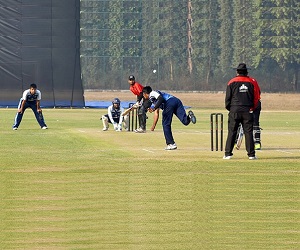 Cricket
Cricket is the most popular game our country plays.IIT Kanpur boasts of having four different cricket teams in the campus. Read more...
---

Football/Soccer
Although India is not a key player of football in the world scenario,IIT Kanpur has pretty strong teams.The sports council organises Institute Football League (IFL) every year.Almost all the boys hostels have their own football teams. Read more...
---

Lawn-Tennis
Lawn Tennis is a modern game which originated in Birmingham,England in the 19th century.Students at IIT Kanpur also play this sport.Besides being refreshing,a game of Lawn tennis is a very good form of exercise. Read more...
---
Volleyball
Volleyball is a team sport in which two teams of six players each are separated by a net. Each team tries to score points by grounding a ball on the other team's court under organized rules.This is a very popular game amongst the students at IIT Kanpur.Because of its popularity most of the hostels also have volleyball courts. Read more...
---

Table Tennis
Table tennis also known as ping-pong is a sport in which two or four players hit a lightweight ball back and forth using a table tennis racket on a hard table divided by a net at the middle.The game is very fast paced and demands quick reactions. This game helps in developing concentration. This sport is played by both the students and also the campus kids.Coaching facility is also provided for the kids. Read more...
---
Hockey
---
Squash Club
Squash is a racquet sport played by two (singles) or four players (doubles) in a four-walled court with a small,hollow rubber ball.The students and also the campus residents play this sport as it is a very good form of exercise inorder to stay fit. Read more...
---
Weightlifting
The sport of weightlifting is a muscle-building activity involving heavy weights. Besides being good students,the boys at IIT kanpur are extremely concerned about their physique.As a result of this consciousness weightlifting is a very popular activity at IIT Kanpur. Read more...
---