ISO 13485 : 2016 | Certified Device Development (DD)
In order to continue the practices of santizing learned through Covid-19, Imagineering Laboratory IIT Kanpur has developed an Ultraviolet (UV) sanitizing product named SHUDH. SHUDH has six UV lights of 15 Watts each that can be individually monitored from a distance. Initial testing has proved that the device at its full operation can disinfect a 10x10 square feet room in about 15 minutes. Features: 1. Bluetooth controlled device allows perfect placement 2. Easily portable UV sanitizer/sterilizer 3. UV-C Disinfection Lamp is disinfecting with dry cloth 4. Built-in motion sensor detects movement and flipping ON - OFF.
Controlled to a temperature range of 36 to 38 C (99 to 101 F), the Floor Mount IV Fluid Warmer delivers a thermal normal IV solution consistently. This helps to reduce the risk of induced or secondary hypothermia while providing greater patient comfort. Features: 1. Class - I protection against electric shock. 2. Fully wrapped IV Tube - no heat loss. 3. Operating mode - continuous. 4. Power supply - AC 100 - 240V / 50~60Hz.
Handheld ear wax suction device when used by an ENT specialist, he fixes a ear suction probe to one end of the silicon tube. The bottle is used to collect the wax and disinfectant used by the doctor while handling the patient. The maximum suction pressure generated by the machine is about 600 - 700 mm of HG. Features: 1. Automatic smart electric easy ear wax removal 2. An economical portable device 3. The design concept was to squeeze the air bladder which would create a suction pressure to pull out wax from the ear
The Jaw Opening Device is a portable device used to open the jaw to treat hypomobility, dysfunction, and trismus. The user's jaw, joint, and facial tissues are stretched using the device which work with a passive motion to improve mobility, flexibility, and function. When doing oral surgery on patients, a tool known as Gag is used to hold the patient's mouth open or to force it open. The mouth opening device is being developed in India to treat trismus, radiation fibrosis in patients with oral cancer, and restricted mouth opening brought on by eating foods like Pan Masala, Gutkha, betel nuts, and spicy foods. Features: 1. Made from durable & prescribed material approved by FDA 2. Made of high grade of stainless steel i.e. Rust free 3. Maximizes jaw range-of-motion with fast recovery 4. Easy clean for proper hygiene for a jaw opening device
EZY ampoule breakers are simple but effective devices allowing the tops of pre-scored ampoules to be broken, quickly and safely. Once broken, the glass ampoule top remains in the ampoule breaker for secure disposal. The ampoules are aligned on the dispensers in the machines where the contents are poured into the ampoules, and the next step is sealing. The top thin layer of the ampoule is melted down with the help of a flame, and it is sealed. These single-use polyethylene sleeve ampule breakers help protect your fingers from glass shards when opening 1 ml to 3 ml glass ampules. The EZY Ampule Breakers encapsulate the ampule top upon opening, making disposal of the glass top easy and safe. Features: 1. Designed to protect users from injury 2. Compatible ampoule sizes with different ampoule sizes from 1 ml - 3 ml 3. Make product durable and longlasting with flexible material 4. Ideal for breaking & opening ampoules for all types with score or without score
To ensure a sufficient supply of oxygen and prevent future crisis amid the probable third wave of the Covid-19 pandemic, the Indian Institute of Technology, Kanpur (IIT KANPUR), has developed an advanced oxygen concentrator named Sanjeevani. Equipped with the pressure swing adsorption (PSA) technique, the technology has been transferred and licensed to Albot Technologies Private Limited Bangalore. Features: 1. Works at a flow rate of 10 litres per minute (LPM) 2. With an oxygen purity of 92% +-3 3. The concentrator has an adjustable capacity of 1 to 10 LPM 4. MoU has exchanged b/w IIT Kanpur & Albot Technologies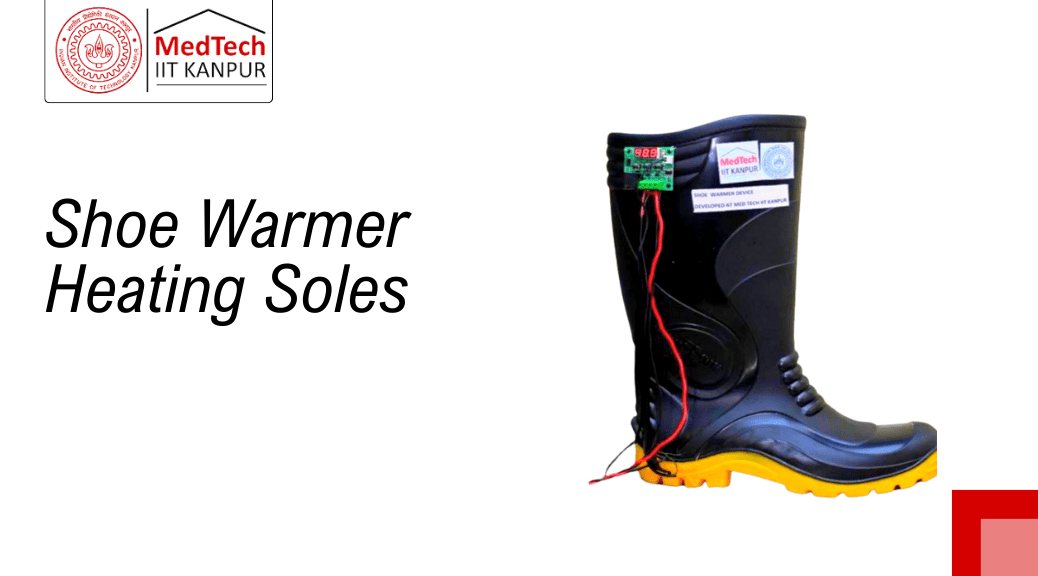 The battery powered heating foot warmer shoes provide basic-level settings to allow the user to regulate the degree of warmth according to their preferences. A small but accessible switch is provided for activating the shoes. The footwear includes robust internal adhesive covers and strips, and are waterproof for enhanced durability in the snow and ice. Features: 1. Shoe warmers can last up to 13 hours 2. Suitable and shock-proof for male & female 3. Convenient and easy to charge due to battery operated 4. Process robustness and versatile uses
To aid precise alignment and high-quality retinal imaging, the lens holder has three translational degrees of freedom, making the device compatible with all smartphone cameras. The simple design makes it possible even for a general practitioner to perform retinal imaging and send the results to a specialist for further diagnosis and treatment. Features: 1. The alignment can be frozen at desired position 2. Can be used with any brand or model of smart phone 3. Easy to align the camera and condenser lenses on one axis 4. Easy to handle with three translational DOF