Alumnus in Feature
In an interview with the DoRA Office, Mr. Sudhakar Kesavan (BT/CHE/1976) talks about his career growth as an industrialist with Inner City Fund (ICF), fondest memories of IITK, his childhood days, and the role of his parents in shaping his personality.
You retired as Chairman and CEO of Inner City Fund (ICF). You spent over 30 years with the company. What motivated you to stay with the company for so long and what were your major contributions toward the rise and success of ICF?
The work at ICF was always interesting. I worked with a variety of public and private sector clients on environment and energy issues. I developed strong and trusting relationships with our clients. ICF gave me increasing responsibility and therefore the nature of the job changed over the years. I did not have to look elsewhere for a 'new' job. It was available within ICF if I wanted a change. My contribution to ICF was to always ensure that the interests of the primary stakeholders of the firm - employees, clients, and shareholders - in that order - were clearly kept in mind as we grew. The firm has a strong set of values, it carefully chose its clients and it worked in certain domain areas. ICF is a specialist consulting firm and not a generalist one. It strives to always recruit the best talent that enables it to keep its edge and grow steadily with a diverse and expanding client base worldwide. I helped develop a clear strategy for the firm – stay focused on the industries and domain areas where the firm had clear analytical and domain knowledge, advise clients in these domains and be ready to implement the advice if the client desired to achieve the results.
ICF has long been associated with many social programs. Could you tell us more about it?
ICF works on environmental, climate change, energy, public health, housing, and disaster management issues. The solutions that the firm develops are focused on contributing to the public good. Therefore, the firm has been involved in developing and implementing social programs since its founding. Some examples include:
ICF developed and implemented the emissions trading system in the 1970s and 1980s that helped the US and Canada reduce the emissions of sulphur dioxide emissions to prevent acid rain;
It helped design the Energy Star energy efficiency program for the US EPA and US Department of Energy;
It developed the system to compensate victims of Hurricane Katrina and Rita and is now focused on developing ways to develop resilient infrastructure to deal with the impact of climate change.
ICF adopted many green-practice initiatives and has been carbon neutral since 2006. Can you give us a few examples of these initiatives?
ICF employees have always believed that if the firm is advising organizations on sustainability it should also 'walk the talk'. ICF has worked with its landlords to improve the energy efficiency of the buildings it occupies, sets up offices close to public transportation and reduce its travel footprint to the maximum extent, amongst other measures. To account for its residual emissions, ICF also buys high quality carbon offsets to achieve carbon neutrality.
What has been ICF's USP?
Employees join ICF because it has a mission they like - to improve the quality of life worldwide. They want to work in the ICF domain areas. Clients hire the firm because of its domain expertise. ICF provides a community of practice for employees and clients in these areas. ICF is not all things to all people and has a very distinctive brand in its specialty areas.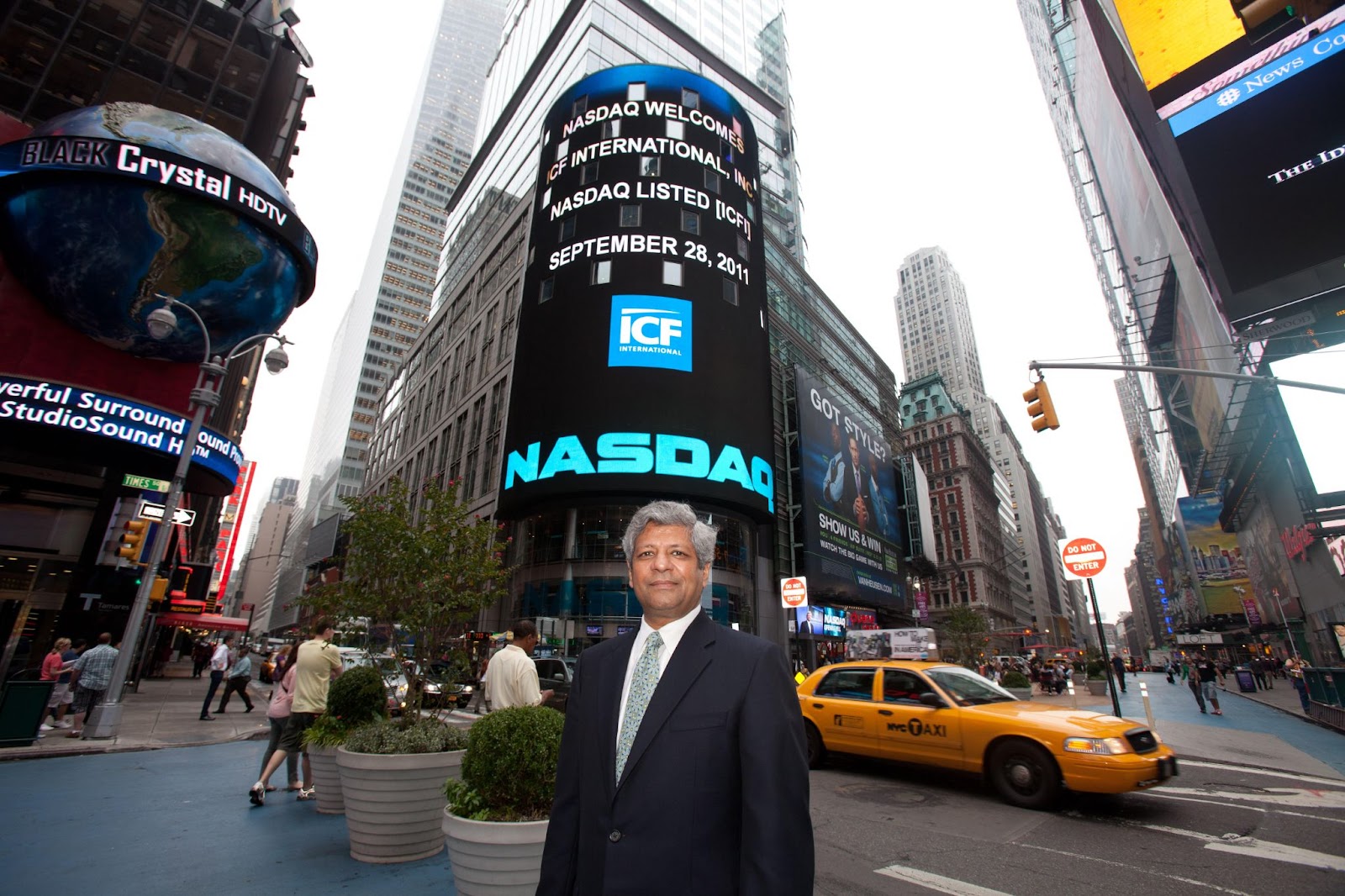 5 years since ICF goes public
How did working with ICF for over three decades shape you personally?
It has helped me understand that engendering trust in all interactions is key if you want to be successful.
What challenges did you face as an immigrant during your early career phase in the US? What motivated you to stay back?
I had no intention of being an immigrant when I moved to the US in 1982. After I graduated from IITK in 1976, I had an offer of a fellowship from Cornell University to do a Ph.D. in process control systems. I had a good GPA, or CPI, as we used to call it, but not nearly as good as some classmates. It was clear to me that I would make a better manager than a teacher. So, I decided that if I got an offer from IIM Ahmedabad I will go there. I did get that opportunity. I graduated IIMA in 1978. I then worked in India for 4 years in Delhi and Mumbai before I decided to get a degree from the US. The only reason I applied was because I was bored. My job paid well but was repetitive and opportunities in 1982 in India were limited. I applied for a master's degree from the Technology and Policy Program at MIT, because I was intrigued by the interdisciplinary nature of the Program. ICF offered me a job while I was at MIT and I have been here since.
Had you not been in industry, what would you have been rather?
I would love to be an architect.
How would you sum up your life so far?
I would say, it's a work in progress.


With wife, Mrs. Alka Kesavan, and sons, Mihir and Anant
What is your most favourite leisure activity?
I am Test match cricket watcher and if that is not available - reading.
Tell us about your childhood days.
My younger brother and I went to St Xavier's High School in Delhi. Great school, brilliantly run by Jesuits. In high school I took 'science' while my brother opted for the humanities. Parents worked for the central government and were based in Delhi. I grew up around government housing in central Delhi. We spent summer vacations in Jaipur at my Mausi's (Aunt) house, eating langdas and swimming in the Rajasthan University pool.
Dr. Chandrakanta Kesavan
What role did your parents play in shaping your personality, especially your mother?
My mother made sure that we always knew that she was the most educated amongst us all so that kept us humble. She was the disciplinarian but always practiced non-interference in school and college affairs if the grades were good! Always told us to study what interested us. My father engendered our interest in arts, literature, and cricket. He built two institutions and was always keen on helping future generations. We had the best of all worlds – north Indian married to a south Indian, science and arts, and a commitment to community.
What are your fondest memories of IITK?
The incessant bull sessions.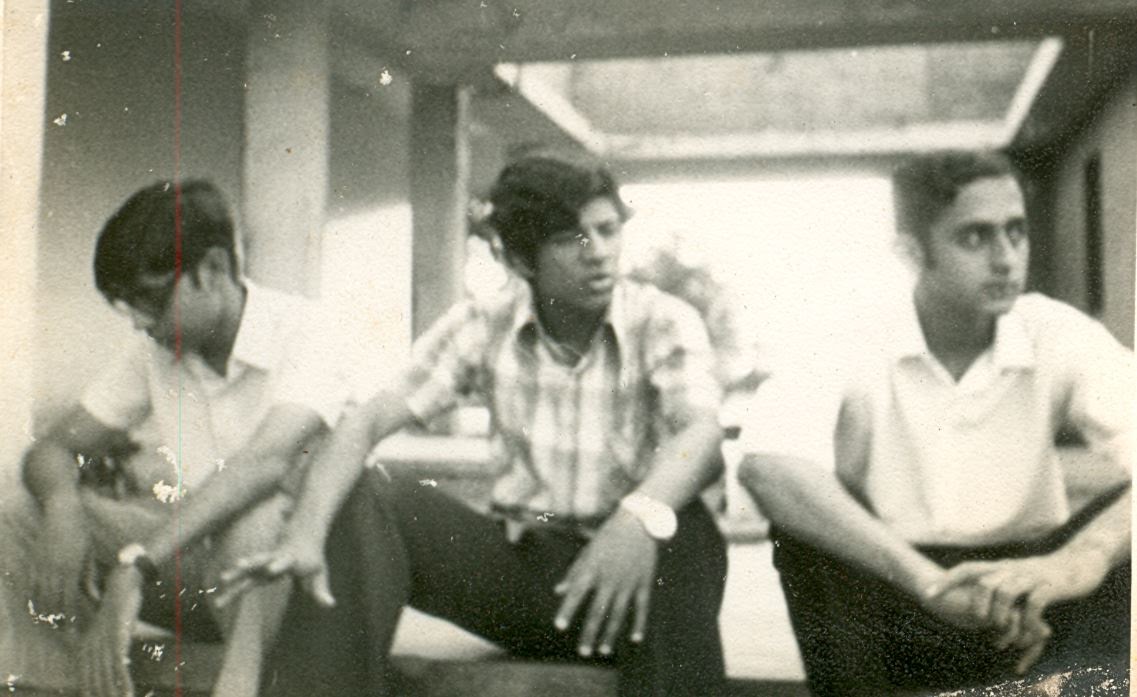 With friends (1975), Hall 1 at IITK
If you could go back in time and meet your younger self in IITK, what would you tell him?
I would tell him these are amongst the best years of your life – enjoy them. Get a pilot's license at the IITK airfield.


Hall 1, IITK (1975)
What extracurricular activities did you participate in while at IITK?
I was in the track and field team for all the inter-IITs- 100m, 200m, and triple jump. Captained the team in my last year. Also acted in plays for the IITK entry to the Cultural Festivals.
What role can alumni play in the image branding of IIT Kanpur?
Most alumni I have met have very fond memories of IITK. I am sure they say good things about the Institute. If IITK has a way of involving them, I am sure they will step up.
What message would you like to give to young IITK students who would like to emigrate to the US to either pursue higher studies or start a career?
Whatever you do, make sure you are doing it for the right reasons. Do what interests you. The 21st century is the Asian century, so the opportunities are likely to be in India rather than in the US.
What are your future plans?
To stay healthy!
Your message to IITK.
It is a great institution and has an important and significant role to play in India and the world's future. We all must contribute to make it even better.


1975 IITK