Unit Operations Lab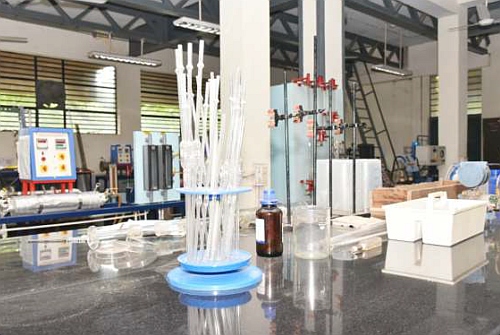 The objective of the Unit Operations Laboratory is to allow students to get hands-on experience in chemical engineering while studying the fundamental principles. The two laboratory courses help to improve the problem solving ability of students and hone their problem solving skills by encouraging self-directed learning. Importantly, they learn how to work in a team. These courses expose the students to variety of chemical engineering operations which are commonly found in variety of industrial settings after completion of core chemical engineering courses. The experiments are aimed to provide a practical understanding of various aspects of Thermodynamics, Fluid Mechanics, Mass transfer, Heat transfer, Reaction kinetics and Process Control. Students get to relate the fundamental and physical principles behind these chemical engineering processes to actual engineering operations
Major Highlights & Activities Undertaken -
First phase of Custom designed Experimental Setups.
Discussion and revision in the designs based on feedback received
Student led automated data acquisition system design and implementation for multiple setups.
Redesigning UOP lab space taking into account various safety concerns and accessibility for differently abled persons.
Executing UOP staff led in-house upgrades and modifications of existing setups.